Treble Chance
Host
Brian Johnston (1962-64)
Franklin Engelmann (specials, 1963-69)
Tim Gudgin (1964-66)
Brian Johnston (1966-67)
Brian Johnston or Alun Williams (1967-69)
Alun Williams (1969-74)
Peter Jones (1975-76)
Des Lynam (1977-81)
Co-hosts
Regular panellists included: Nan Winton, Ted Moult, Neil Durden-Smith, Charles Gardner, Wynford Vaughan-Thomas, Pamela Donald, John Jacques, Jill Bechley and Liz Ferris
Broadcast
Light Programme / Radio 2, 21 November 1962 - 30 March 1970 (122 episodes in 8 series + 4 specials)
Radio 4, 19 October 1970 - 25 January 1971 (12 episodes in 1 series)
Radio 2, 6 January 1972 - 12 April 1981 (142 episodes in 10 series + 1 special)
Forces series:
as Treble Chance Overseas, 22 April 1964 - 12 July 1966 (29 episodes in 3 series)
as Forces Chance, Radio 2, 5 July 1968 - 29 August 1969
as Forces Chance, Radio 4, 25 July 1970 - 7 November 1977
Synopsis
The radio replacement for Sporting Chance was a general knowledge quiz, in which the panel toured seaside resorts, trying to beat the local brainboxes. The top three teams in about ten heats came back in the semi-finals, and the two highest aggregate scores met, town to town, in the final.
Forces Chance (originally Treble Chance Overseas) was the same format, but travelled internationally to pit the resident panel against members of the armed forces.
After 1966, the seaside theme was dropped and the series toured universities instead. Towns versus the panel returned for the 1970-71 series, which aired on Radio 4. The show didn't fit the Home Service's highbrow ethos, and returned to Radio 2 for the 1972 series, pitting BBC local radio stations against each other. The panel had now retired, and Treble Chance became a town-versus-town show from 1973. By 1978, it celebrated the UK by inviting four teams from each of England, Scotland, Wales, and Northern Ireland.
The title referred to the fact that there were three styles of question: ordinary Q&A, true or false, and spelling.
Inventor
Michael Tuke-Hastings
Champions
(partial list)
1964-5 - Folkestone
1965-6 - Royal Leamington Spa
1966-7 - University of St Andrews
1973 - Great Yarmouth
1974 - Alkmaar (Netherlands)
1975 - Hereford
Forces series
1965 - RAF in Cyprus
1966 - Royal Navy in Gibraltar
Trivia
There were occasional challenge matches between the Treble Chance panel and the finalists of What Do You Know? (latterly Brain of Britain). These followed the series on 11 July 1973, 17 July 1966, and 8 July 1969, all chaired by Franklin Engelmann.
Two other specials were produced: a live edition on 17 March 1965 from the Ideal Home Exhibition, and Treble Chance in Europe on 13 June 1973, marking the UK's accession to the EEC. The entire 1974 series featured British towns and their continental twins.
Merchandise
A Treble Chance Quiz Book was published.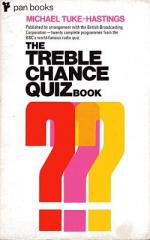 See also
Pictures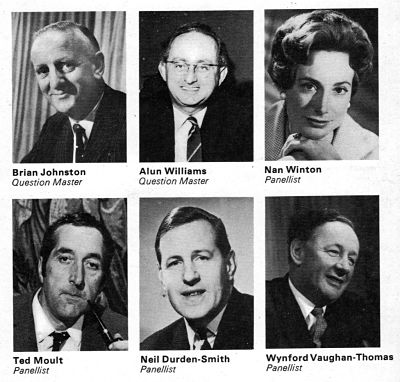 Some of the regulars
Feedback