Weaver's Week 2010-10-17
Last week | Weaver's Week Index | Next week
"I'm a serious journalist. Or I was before I came on this show."
Talkback for BBC3
We regret to report the death of someone. It could be the titular king of a very small nation. It could be that well-known giver of gifts Mr. Santa Claus. It could be, in the episode we've taken pictures from, someone far more important than all that – the Assistant Regional Head of Sales. Whoever it is that has shuffled off this mortal coil, they will be remembered. Not with wailing and gnashing of teeth, not with a chant from the choir eternal, not even with an increasingly silly sketch confusing the departed with a parrot, but with a misunderstanding between host Simon Bird and his cow-orkers Katy Wix and Nick Mohammed.
Within a couple of minutes, we're in the main studio, and Simon is heading up an interview panel, assisted by the two other comedians. Their role, quite simply, is to audition an interview possible replacements for the unexpectedly-vacant position. Will celebrity psychic Derek Acorah make a decent Father Christmas? Is BBLB's Useless Bloke a suitable replacement for the Pope? Does Dappy from N-Dubz have what it takes to be Mayor of London? Would the country's streets be safer if CBBC's Kirsten O'Brien ran the police? All, some, or fewer of these questions will be answered over the run of the series.
In a suitably over-the-top introduction, Peter Dickson uses Britain's second-favourite voiceover voice to voice a brief career overview of the candidates. This, apparently, is Kate Walsh, who has moved from The Apprentice to Channel Five. This is the world's best Stephen Nolan impressionist, Eamonn Holmes. And that looks like Mollie from Blue Peter's house band The Saturdays.
Round one kicks us off, and there's a brief run of questions for each of the candidates. Mr. Holmes, for instance, is quizzed about his ultimatum to GMTV producers: sack Anthea Turner or I go, which the interviewing panel describes as a win-win situation. After about a minute of this comedy knockabout, the competitor chooses one of three physical tasks. Well, they don't so much choose the task as have it linked by a connection so tenuous that we wonder if we've tuned into Only Connect The Radio Show by mistake.
Apparently, having the boss's mother die is bad corporate news, as profits decline by 15%. But having the chief's mother-in-law pass away is good business, it's linked with a 6% profit increase. Therefore, it's in the interests of a good assistant regional sales manager not to let any mothers-in-law die, and the best way to prevent that is to deliver an abdominal thrust to release a piece of halibut caught in the neck of the dummy. And if anyone knows how this links to a picture of Rula Lenska, can we have some of what you're on?
All of this takes up slightly more than half the show. Then we're into a grilling, in which one of the contestants is asked some particularly probing and difficult questions. "Patrick Kielty. Why?" A question to make even the Eye of Horus squint. There are short challenges for the other contestants, and the whole segment is wrapped up with a quickfire buzzer round. At the end of this, the lowest-scoring contestant is out of the game, and is shown the door. Quite literally: there's a door in the side of the set, used for comedy effect and to bring on other members of the company.
The final round is an all-or-nothing challenge, resolved in as little time as is reasonable. After this, the best performance is rewarded with the job, and there's a final comedy skit to bring up the closing titles.
So, what do we make of this show? When it's good, it's actually very good – the programme moves at just the right pace, there are little inserts and funny bits, and the contestants aren't so pompous as to take themselves very seriously. We weren't so impressed with every episode, some of the casting decisions didn't quite work out, and we found the jokes to wear a little thin in places. Humour is a very personal thing, and we found this hit the spot far more often than it missed; there are certainly more laughs in five minutes here than in a complete series of Mock the Week.
Has it got the job? We've seen far worse, it's an undemanding half-hour, and it raises more smiles than frowns.
Heat 14: Merton Oxford v St John's Cambridge
The story is simple, just as simple as it was meant to be last week before rain stopped play. Win, and go through to the next round. Lose with at least 155 points, and come back through the repechage, which we'll be seeing in the next two weeks. We'll begin with catch question of the week, there were three UK prime ministers during the second world war, not (as is generally assumed) two. Merton Oxford are not fooled by this one. Founded in 1264, JRR Tolkein taught there, T S Eliot studied, and there's some bizarre ceremony involving walking backwards while drinking port when the clocks go back.
But St John's Cambridge are no-one's fool, and they get going with the very next starter. 1511 was their founding date, and it's reckoned to be the richest college in Cambridge. Wordsworth, Wilberforce, and Derek Jacobi all trod the hall.
Hang on, aren't we meant to be finishing with two 60s universities this week? The rule is five from Oxford, five from Cambridge, two from London, one each from Scotland and Wales plus one more from the Celtic fringe, six or seven civic universities, one former polytechnic, two "is that really a university" institutions, and three or four from the 1960s expansion. This year, only York is able to join us, there's no Sussex, no Leicester, no Warwick, and still (still!) no Aston. Could it be that the producers have actually chosen the 28 best applicants, or was it just that the 60s institutions were so embarrassingly below par that they couldn't beat an egg? We shall never know.
The Little Billy Shakespeare question of the week follows shortly, the highest ordinal number in any of his play titles is "twelfth", as in "King of Denmark". The first visual round is on a geographically-accurate map of the London Underground, no-one can identify Oxford Circus, and Merton has a thin lead, 35-20. Come on, it's at the end of the Waterloo and City Line! And it's not Bank! Good grief, can we just declare Mornington Crescent and be done with it?
Q: If a ball bounces on to a floor with an angle of incidence of 45 degrees, and bounces off with a reflected angle of 60 degrees, what is the coefficient of restitution of the ball on the floor?
And the bonus questions are on locomotory structures of living cells. We'll stick to stuff we really don't understand. More from Little Billy Shakespeare, quotations from The Scottish Play. "These are famous quotes, you either know them or you don't." They don't. The audio round is upon us, and it's asking after entries in the "Trainspotting" soundtrack. St John's leads by 80-70 at this time.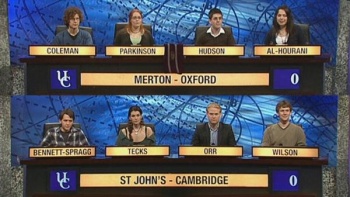 Merton Oxford: Tim Coleman, Verity Parkinson, Thomas Hudson, Kinda al-Hourani
St John's Cambridge: Elliott Bennett-Spragg, Caroline Tecks, James Orr, Mark Wilson
Shall we take Greek letter of the week? It's μ, and it helps Merton to a perfect set of bonuses and the lead. Varieties of Greek help St John's to a perfect score, and St John's are boosted by the second picture round, on early photographic subjects. They lead by 115-110, but that lead's shortlived. St John's struggle with the primorial function [1], but a lucky guess with nicotine give them the lead again. The Cambridge side has been struggling all night with the concepts of "getting the answer out in a reasonable time" and "not conferring during the starters", and Thumper is right to get a bit snippy with them.
The final repechage board:
210 Cardiff
185 St Andrews
175 St John's Cambridge
165 Exeter
Merton know about modern art, and reach the magic score of 155. St John's get questions about the head of organisations, Thumper is asking the side to hurry up. It's almost as if they want both sides to return. And with knowledge of The Beatles, Merton push past 155. They're both coming back, but who will win? Oh, hard lines. Just as St John's are settling into a groove on their bonus round, the gong goes, and Merton has won by 180-175.
Yes, it was good to see Merton enjoying themselves. More importantly, it was good to see every Mertonite getting at least one question correct, and the side completing 19/27 bonuses correctly with only one missignal. Tim Coleman's four starters are fewer than the best buzzer for St John's – Mark Wilson had six – but 17/28 bonuses isn't quite there, and two missignals really hurt them.
Next match: Cardiff v Exeter
[1] Definition from mathworld.wolfram.com We include this link so that someone more knowledgeable might declare if this is Numberwang or not.
Series 4, heat 6: Mensans v Bloggers
Dear BBC2, can you please encourage Thumper to shut the chuff up, otherwise we'll shove golf balls down your throat until kingdom come. The gong on University Challenge went during the opening title sequence of this programme, and that's quite simply not good enough. It meant that no-one saw the opening joke, and it might well have shaved 20,000 off the show's viewing figures, missing a whole minute like that.
Able to turn up at the right time are this week's teams: Paul Murphy, Martyn Smith, and John Paines represent the honour of Mensa, the club for people smarter than your average table. Chris Rubery, Ruth Deller, and Steve Perkins are flying the flag for bloggers; they are on the site Lowculture.co.uk, which isn't going to get mentioned on air but seeing as how we're not the BBC, we'll say what we jolly well like. This column is a member of precisely one of these clubs. We know who we're rooting for.
Not that that is going to help anyone in the slightest. Mensans start off with various representations of Four Seasons, and pick up a point. Bloggers have a rather useful question, knowing what's inside fire extinguishers, and that's worth a couple of points. Unknown names for the Mensans, perhaps explorers, perhaps sons of famous people, perhaps fathers of the atom bomb, perhaps authors. No, it's Herr Freesia, Mr. Dahlia, M. Magnolia, and Mr. Fuchsia.
The Bloggers are right that their question is about currencies, but it's not one pound's worth, but one euro worth when the countries formed the single currency in 2002. Bonus to the Mensans there, and they draw the Wick of Twisted Flax and the Music. They hear "Perhaps perhaps perhaps" and "Say say say" and go for three, and get three. The world doesn't get to hear Engelbert Humperdinck, which is probably a good thing. Now, what was the 1923 cup final famous for? Our equestrian correspondent got this here, the Bloggers reckon all four clues are "long" something, but the Mensans pick it up for another bonus, and lead 6-2.
Round two is upon us, and begins with the aftermath of Victoria getting drunk on a fiver. Mensans have blue-G, pink-E, yellow-H, and eventually reckon it's Trivial Pursuit. Fourth is brown-AL, not green-SN, so that's a bonus for the Bloggers. They have a question that is truly out of this world, starting with translunar space, and ending with intergalactic space. And then we reach the penumbra of Victoria's brain. Philosophers for the Mensans: Alexander the Great, Aristotle, Plato, so they guess Socrates. Not a clue why: each person was taught by the next in the order.
Oh no, it's the Wick of Twisted Flax, and it's enough to make the Bloggers say "fiddlesticks and flapdoodle", as Mice, Madeleine, and Gabriel lead the side to suggest that the last of Bagpuss's friends was a harp. Nyef nyef nyef nyef nyef nyef nyef nyef nyef. A bonus for the Mensans. Hats on for the next set, it's on the parts cast by the BBC / Lloyd Webber / Norton casting shows: Maria, Joseph, Oliver Twist, and most recently Dorothy. Two there. Bridges are the last set, according to the Bloggers, but is there a bridge over the Trent? My dear old thing, of course, it's where they play the cricket. No, this is the longest single-span suspension bridges in the UK, and the Humber is by far the longest. No points there, so Mensans still lead, 11-5.
Off to the walls, and the Bloggers are jabbing already, looking for horses. There's also a set of places in the Crimea, perhaps there's a group of Tom Stoppard plays. The side quickly eliminates a set of terms in dentistry, and gets the places in Ukraine. Not, as they almost said, Russia. Michael Frayn was the playwright, and there really were some military horses. That looks like a perfect grid, the Bloggers are right back in it. Ten points!
Mensans are also jabbing away, identifying the four members of Queen in no time at all. They get four different types of Ford motor car, and four religious people. The team uses the time to work out what might link the last four: has anyone heard of the power series, the Fourier series? We have, the team haven't, they reckon it's scales and measurement. Not close enough for the mark. Seven points!
So the Mensans preserve a small lead into the final round, 18-15. "See how it's demonstrated here with the words 'Only Connect'. You might have seen those words in the Radio Times". But no-one buys the Radio Times any more! Terms in criminal law are the first set, and that ends up in a 1-1 draw. People with millions of Twitter® followers is a bit low culture, so the Bloggers win 3-1. Dependencies is also up their street, winning 4-(-1) and taking the lead. But there's a long final round this week, Races is another good one for the Bloggers, a mere 4-0 win. Films that starred married actors? Bloggers have that one 3-0, and turned what looked like a losing position at half-way to a 30-19 win.
Joining us next time on the quiz so difficult it makes other quizzes look less difficult: Mountain Men v In-Laws
Heat 9
Last weekend, we were watching the repeats of Election '70 on BBC Parliament. Amongst the many stars featured was a young reporter from Manchester. Whatever happened to him, eh?
Chris McHarg launches this week's show, with the week's largest subject, The Solar System (est approx. 5 billion years ago). According to the Hitch-Hiker's Guide to the Galaxy, this is a family of eight planets, several dwarf planets, and many smaller objects, all revolving around one star. How will Mr. Humphrys pronounce the name of the seventh planet? "Yoo-rannus". Questions about moons, craters, and seas are expected, but so are ones about the human discovery of the area. It's an entirely decent score, 13 (1).
Pamela Woods is going to tell us about the Life and Career of Andy Kaufman (1949-84). Kaufman was an eccentric and popular American comedian, most famous for appearances on "Taxi" and his posthumous biographical film "Man on the Moon" (1999). We suspect that the contender saw this Elvis-impersonator towards the end of his television career, for she has a distinct North American accent. She's slightly lucky to get a question beginning on the buzzer, but there was no luck needed elsewhere – and not one error. A perfect 19 (0)!
Hamish Cameron will discuss the Scottish Covenanters (1638-88). Following the union of the crowns of England and Scotland in 1603, the English sought to impose their Anglican church on the Scots. This annoyed a group of Presbyterians, who believed that the kings weren't the direct descendents of any god, and that they should have the right to worship as they chose. They plotted against and then with the Royalists in the English Civil War, and seemed to lose every battle – that's until the accession of William and Mary, who really couldn't see the point in continuing the battle. The contender has a bit of a moment when nothing quite goes right, but presses on, and improves to 13 (0).
Iwan Thomas is going to tell us about The Byrds (1964-73), a five-piece band from Los Angeles. They rose to fame with folk-rock versions of "Turn! Turn! Turn!" and "Mr Tambourine man", had many changes of personnel, and eventually split up. While researching this blurb, we've noticed that there doesn't seem to be a decent fan site about the band. We must also note that this contender is not the famous athlete, but a science editor. There's a pass on the buzzer, and that concludes the round at 14 (1).
Mr. McHarg begins by wondering who was assassinated on 15 March of 44BC. He also picks up questions about 2001 (the movie), the symbol for copper, the lynx, and a hit single for Duran Duran. The scoreboard barely ticks over in the middle of the round, and comes to rest on 23 (7).
Mr. Cameron was a semi-finalist a few years ago, manages to pick up four points while we're having a bit of a sneezing moment, then remembers the original Big Brother housemate Winston Smith (voted out in favour of Anna Nolan), the shape of a hexagon, Barcelona FC's ground, and the Tuppenny Blue. See, the Royal Mail were after a quick buck even in 1840. The scoreboard keeps ticking over in this round, and — ooh, good score alert! — the finish is 30 (2).
Mr. Thomas has his work cut out to progress. Democracy, the banning of the fez, Surrey's cricketing home, and people waiting for Godot are all grist to his mill. Indeed, the contender is so eager to answer that he's beginning just as Mr. Humphrys is finishing his question. And the scoreboard continues to move, Ian Fleming puts him into the lead, Salisbury Cathedral, the luge, and Papua New Guinea push him further on. The final score, thanks to the Labour party leader's grandfather, Glenn Miller Band, is a stonking, remarkable, 37 (1).
The repechage board:
Hamish Cameron 30 (2)
Ann Skillen 30 (7)
James Collenette 29 (2)
Ian Packham 27 (4)
Chris Harrison 26 (1)
Laura Humphrys 25 (4)
Follow that! Pamela Woods needs another nineteen to win outright, twelve just to enter the repechage board (and surely come back). The oeuvre of the Marx Brothers is followed by a famous quotation by their brother Karl Marx. Then there's a question about the Ryder Cup, Aristotle's invention of logic, the CSI television shows, and the capital city of Alabama. But the score isn't moving well, the contender is making heavy weather of this round, and she finishes on 30 (6).
It's not quite enough to bring her back. With 23 (twenty-three!) correct answers in the general knowledge round, Iwan Thomas is one to watch in the second round. That's as many right as Jesse Honey in the Championship of Champions! Mr. Cameron goes top of the repechage board, and we believe there's no place for Pamela Woods, as only the runners-up are set to be invited back.
This Week And Next
Speaking of Mastermind champions, our congratulations to David Edwards and Myfanwy Jones, who have retained the Round Britain Quiz title for Wales, and this on their first appearances. There's one matter left hanging from this week's programme (or, in our case, shouting at the radio): Danny, Smiffy, Sidney, Spotty, Wilfred, Erbert, Fatty, Toots, Plug, and (as they said there were ten) Cuthbert Cringeworthy.
Congratulations also to Anthony Ogogo, the latest from Big Brother Celebrity Hijack's group of prominent young people to reach new heights. The amateur boxer won the silver medal in his weight division at the Commonwealth Games.
Changes in staff at BBC1, where Danny Cohen is the new controller. He moves over from BBC3, where he's had a keen eye for the channel's priorities – entertainment, drama, documentaries, and comedy. He must be doing something right, as the Daily Tabloid has found someone to say of his latest show, "It was so off-putting I switched off."
A full house of channels in the week to 3 October, and The X Factor was the most popular show. The Selecting Twelve of the Final Sixteen edition had 14.5m viewers, well ahead of Strictly Come Friday on 9.6m. Could The Cube attract more viewers than John Craven's Countryfile? No, Gopherman's 5.8m is well behind the Craven's 7m. QI picked up 4.9m pairs of eyeballs, and 71 Degrees North was seen by 3.85m.
This week's leading digital programme was The Inbetweeners on E4, as seen by 3.55m people. That's more than ITV's Millionaire (3.4m) and Family Fortunes (3.15m), and any show on BBC2 – University Challenge topped the channel with 3.15m tuning in. Masterchef The Professionals whisked up 3m, and Channel 4's best game show was the Wednesday teatime Come Dine With Me, seen by 2.15m. Pointless had its biggest audience of the year, 1.75m on the Monday.
Top rated game show on the digital tier was ITV2's Celebrity Juice (1.25m), and we really must review that at some point. Sunday's Xtra Factor had 1.05m, and the main show on ITV-HD (895,000) beat Come Dine With Me on More4 (825,000). A new record for BBC4's Only Connect, 570,000 wrestled with the questions, and that's 10,000 more than saw Hell's Kitchen on ITV2. The Slammer returned to CBBC, with 370,000 tuning in.
It's a relatively quiet week for new shows, perhaps the biggest is a new series of Never Mind the Buzzcocks (BBC2, 10pm Thursday). That's followed by Mark Watson Kicks Off (ITV4, 10.35 Thursday). Earlier, Party Wars (UK Living, 10pm Monday) is Four Weddings for things other than weddings, and Trapped is back (CBBC, 4.30 weekdays). Next week's Saturday call-in shows are Strictly (6-7.45) and Cowell (7.45-10), and next week's Week should be a work of genius.
To have Weaver's Week emailed to you on publication day, receive our exclusive TV roundup of the game shows in the week ahead, and chat to other ukgameshows.com readers, sign up to our Yahoo! Group.