Weaver's Week 2011-06-26
Last week | Weaver's Week Index | Next week
Two new productions from UKTV Dave this week. Later, Alexander Armstrong tells us about the size of his ask.

Avalon for Dave, from 19 May
This review mostly based on the opening episode.
Let's get one thing clear right from the start. This is a new commission for UKTV's male entertainment channel Dave. It's an entertainment. It's not for UKTV's snootier-than-thou channel Starch. Viewers who want a straightforward quiz are going to be disappointed. Viewers who want an esoteric quiz to make Only Connect (2) look simple, they're also going to be disappointed, though not surprised. Viewers who want to be entertained, particularly in a male-friendly way, they might be on target.
The opening title sequence contains a flying chicken. So what? It's not that unusual to see a chicken fly. Chickens, being birds, have wings, and the whole point of a wing is to provide aerodynamic lift to support the animal's weight against the force of gravity, allowing the animal to rise off the ground and travel through the air. There's nothing to stop a bird from remaining on the ground, it just sacrifices the ability to use the third dimension and makes life easier for cunning predators.
As we were saying, it's not unusual to see a chicken fly. What is a bit unusual is to see a frozen chicken hurtling through the air, in its traditional pose: chest puffed out, wings neatly folded by its side, stripped of skin and feathers, and even more pink than a pop star. Would that turn the dead chicken into a somewhat overdone barbecue by the end of its journey? Evidently not: trailing behind the poultry is a string of sausages, and that would surely snap from the wind shear.
The opening titles are a work of fantasy. To be exact, they're a pastiche of some other game show opening titles, depicting stars (geometric figures, or presenters, or both) travelling from outer space, through the London skyline, before crashing into the studio. There are shades of Ant and Dec's Saturday Night Takeaway Your Money, a resemblance to Chris Moyles' Quiz Night.
Even before the opening titles, we've met the host: Al Murray, in character as The Pub Landlord. He'll spend the first ten minutes chatting to some of the punters on the front rows, and to a bunch of F-list celebrities who have agreed to play along with the first couple of rounds. We're not entirely sure who any of these people are. Then Mr. Pub Landlord will bring on the teams, four teams of three, and he'll banter with them.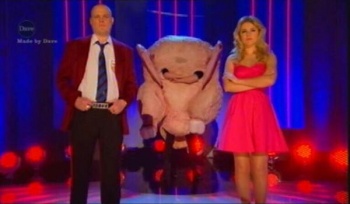 From right: Zoe Salmon, Mr. Giblets, Al Murray, who misheard the instruction to name himself after a meat.
Compete for the Meat really stands or falls on one thing: the quality of its host, and how well he engages with the players, and whether this is entertaining. The Pub Landlord is an insecure character, who hides this through pointed barb. He never misses an opportunity to put down the other person, always makes a joke at someone's expense. This is an honourable tradition in British comedy, in our view the best example is Basil Fawlty in "Fawlty Towers"; John Cleese's creation would have been nothing without his neuroses.
In small doses, this column reckons this is tolerable humour, but the belittling of others can get a bit wearing after a time. Even the ironic belittling, as seen here. We prefer a varied diet of comedy, picking and choosing from all sorts of joke groups and making sure we get our five puns a day. This elongated opening segment tries our patience, the surreal touch we saw in the opening titles has been forgotten.
Eventually, the comedy dam is broken, we're advised that the losing team will be dispatched to the Sin Bin. It's a converted dumpster, with the lid open and room inside for three people to perch. Literally, a bin. We're also introduced to Mr. Pub Landlord's glamorous assistant, gold Blue Peter badge winner Zoe Salmon. She'll do anything, she will, including holding up the night's star prize for all to admire. Do you see what they did there? A neatly-plucked bird being held aloft by a former Miss Northern Ireland. If Dave did feminist irony, this would be it.
After the break, there's a recap of everything that's happened in the quiz so far: absolutely nothing. It doesn't stop Jim Rosenthal's voiceover from describing things with lashings of hyperbole and making them far more vital than they actually are. Round one consists of four questions, to which the teams write down their answers. Five points for a completely correct answer, three points for one that's nearly right. The questions themselves are satisfyingly difficult, asking for the location of an obscure bone in the body. At least some of the questions are written to give Mr. Murray an excuse to make a joke. It cold be because the answer is intrinsically surreal, or because it's the specialist subject of one of the team members, or there's a high chance someone will give an entertaining answer.
As we foreshadowed, the lowest-scoring team after the first round of questions is confined to the Sin Bin, dispatched by the audience holding up foam hands and chanting "Thick and slow" in Gladiators style. Would we refer to Mr. Wolf in those terms? Not if we valued our life. The exiled team is replaced by three new contestants, recruited from the punters Mr. Pub Landlord spoke to earlier in the show. Round two follows a similar procedure to round one, four questions, such as "Which of these people is carrying the most change", or "What's in the pie?"
The team with fewest cumulative points is then in danger of elimination. One of the losers, along with one of the players from the Sin Bin, will take part in the Last Chance Saloon game. While the previous rounds have mostly been filled with dismissive humour, this part of the programme is far more surreal. The opening show played a game of shuffleboard. You know, that game they play on ships by pushing quoits with brooms. Except that on this programme, they play it with food from a Sunday lunch.
So, we're treated to the prospect of players drizzling down olive oil and goose fat, to help a bowl of roast potatoes travel down the runway. It's deliciously ludicrous, it's entirely bonkers, and the whole sequence benefits greatly by Jim Rosenthal providing his expert commentary. In all his years of commentating on top-flight sport, Jim hasn't seen anything quite as bizarre as a piece of ham careering down the runway and smashing into a gravy boat, forcing it out of play.
After this swerve into the unlikely, it's back on more familiar ground for the finale. The F-list celebrity team, who you'll recall had competed from the studio floor, have some points to distribute. They hand out the points on whatever whim they like, usually to make the scores approximately level before the three-minute finale. It's three minutes of general knowledge questions, all on the buzzers. One person from each team participates. Well, one person from each team apart from the one in the Sin Bin. To signal that they want to answer, the player pulls a beer pump. The highest score at the end wins the (somewhat defrosted) frozen chicken, and the show ends with Mr. Pub Landlord leading the audience in bad karaoke.
As we noted earlier, viewers who like Al Murray will like this show. Viewers who want nothing more than a good quiz will hate it. We find ourselves liking the idea and the principle behind it very much. Compete For the Meat is a satire of the high-stakes, high-pressure game show. It revolves around a nonsense conceit: that a competition for a frozen chicken is important. It shouldn't be able to fly, but Compete For the Meat is able to hover above the ground, helped by a little hyperbole. "Ultimate Shuffleboard"? If you say so, and this is surely the first (and last) time we'll see shuffleboard on national television.
Compete For the Meat is a broad-brush satire. It's not a pastiche, it doesn't have the acute eye and attention to detail of Britain's Got the Pop Factor. That'll be because Pop Factor was a scripted programme, it didn't have the random element, the improvisation necessary for a genuine quiz involving the public.
As we noted earlier, this new show depends on its humour. The Pub Landlord is a one-note act, and we're not convinced that it's the right note to chime with the slightly surreal pastiche. Make no mistake, this isn't a bad show, but we do have the nagging feeling that it could be a bit better.

So Television for Dave, 30 May
When we recorded this programme, it was a broadcast pilot, a show made to see if the ideas floated or sank when shown on the small screen. In the month since, it's been picked up for a full series, and we reckon that's a decent idea.
As seems to be the way with all Dave productions, Big Ask opens with dramatic shots of a city skyline, and the show's logo brought up in big type against the urban backdrop. Then we zoom in on Alexander Armstrong's flat, which we're told has views over Philadelphia. And Orlando. Wonderfully clear air. The host delivers a brief opening monologue, before introducing his guests. For the pilot, these were Numberwang host Robert Webb, comedian Katy Wix, and Griff Rhys Jones, the Man in a Boat.
But they're not alone: locked in a basement is the most-seen man on television, Mr. Dave Lamb. On the day of this broadcast alone, Mr. Lamb appeared on Dave, Dave Ja Vu, Discovery Real Time, Discovery Real Time+1, DMAX, DMAX+1, DMAX+2, Channel 4, Channel 4+1, More4, More4+1, and (as we'll see next week) the CBBC channel. Over the course of the day, he'll broadcast for almost 60 hours, sometimes appearing in five or six places at once, a feat to test even the most ambitious presenters.
Back in the main show, round one is upon us. Here, the panellists are given one topic from three, and invited to come up with an interesting question relating to it. From the quality of the questions, we suspect that the panelists were given advance knowledge of these topics, allowing them to research the subjects. If they weren't, they're clearly a lot more clever than even we thought they were, and the quality of their questions deteriorated as the recording went on. Points for the other contestants if they can come up with the right answer, points for the setter if they beat their opponents, bonus points awarded at the chairman's discretion.
Round two is a faster round, slightly at odds with the rest of the game. While the other rounds are all about coming up with questions in the hope that someone will answer them, this round takes famous people and asks them questions they'll never answer. Think of that lad who called up the telly and asked Five Star why they were so not good.
After the break, round three has Alexander coming up with a subject of his own, and the panel ask questions about it; the best question is then answered by the others. In the quickfire finale, the host throws out a series of topics, and the first person to buzz in can give a question, with points if it's mildly diverting.
Over the half-hour, Big Ask tries to be a lot of things. There are moments when it's showing influences from QI, asking difficult questions with obvious but incorrect answers. At times, particularly in that second round, the programme is more akin to Mock the Week. From time to time, the backdrop wobbles most visibly, and we find ourselves wondering if we've tuned into the Crossroads revival by mistake.
But most of all, Big Ask reminds us of a parlour game. It's incredibly simple, a discussion between four people who just need to spark off each other to remain funny. They're aided and abetted by Dave Lamb, who breaks off from narrating three episodes of Come Dine with Me at once to say, "Yes, that's right", and lob in the occasional extra joke related to the subjects under discussion. The discussion remains on the Dave channel's level, interesting and entertaining without ever being too clever – at one point, Griff makes it clear that we're watching UKTV Dave, and not UKTV Starch.
We're not at all surprised that Big Ask has been commissioned for a full series: not only is it an enjoyable half-hour, but it's also inexpensive without appearing to be cheap.
This Week And Next
Latest from the rumour mill is that Brian Dowling will host Big Brother when it resumes on Channel 5 in August, Emma Willis remains with Big Brother's Little Brother (or whatever they're calling it this year). It's also rumoured, without any proof, that competitors in the celebrity edition will include former Irish Eurovision entry Dustin the Turkey, former Conservative defence minister Michael Portillo, and a former civilian Big Brother housemate who cannot be named for legal reasons.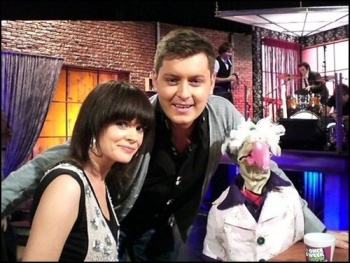 Plausible Big Brother host (centre) and contestant (right).
Rumours above are rumours: facts below are facts. The Weakest Link will see out its days on BBC2; after the Wimbledon Umbrella Convention (incorporating International Rainwear Expo '11) has completed, Link will swap places with Pointless, promoting the latter to BBC1. We're also advised that Perfection will resume on BBC1 later in the year.
Ratings for the week to 12 June. No Britain's Got Talent meant a clean sweep for the BBC – The Apprentice leads on 8.6m, Who Dares Wins had 4.75m (that's 100,000 viewers per element), and 4.55m for Have I Got News for You. Popstar to Operastar performances were seen by 3.8m, The Apprentice You're Fired by 3.6m, and 3.35m saw Harry McFly do his thing in The Cube. Channel 4's biggest game show was daytime Come Dine With Me, 1.95m there.
All change too on the digital tier – Come Dine With Me had 860,000 dodging the rain on Sunday, and Dave's repeat of Mock the Week just scrapes past Horrible Histories Gory Games for second and third – both had about 350,000 viewers. Dating in the Dark is attracting 215,000 on UKTV Living, The Apprentice You're Fired 190,000 on BBC-HD, and what "B" were 125,000 viewers watching on Challenge during Sunday teatime? That's Blockbusters!
The coming week has the Counterpoint final (Radio 4, 1.30 Monday), the return of I'm Sorry I Haven't a Clue (Radio 4, 6.30 Monday), and Improvisation My Dear Mark Watson (Dave, 10pm Tuesday). Readers may also be interested in a young Konnie Huq on Blockbusters (Challenge, 5pm Sunday), and repeats of the Dick Strawbridge editions of Scrap Challenge (C4, 4.15am Wednesday).
To have Weaver's Week emailed to you on publication day, receive our exclusive TV roundup of the game shows in the week ahead, and chat to other ukgameshows.com readers, sign up to our Yahoo! Group.