Weaver's Week 2016-08-28
Last week | Weaver's Week Index | Next week
Compare and corentrast.
BBC2: "It's the guy from Only Connect. Close the pencil museum."
ITV: "A museum of pencils. In Keswick. [odd look]"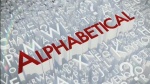 Gameface (an ITV Studios company) for ITV, 15-26 August
The second summer trialist is based on daytime show The Alphabet Game. It went out on BBC1 in the late 1990s, one of many decent but forgettable daytime programmes in the period between Going for Gold and The Weakest Link. Since then, The Alphabet Game has been sold around the world, it works particularly well as Pasapalabra for Castilian Spanish speakers. Passaparola did well for those speaking Italian.
If you remember The Alphabet Game, forget it. This show doesn't have Frank Bough going through the alphabet giving sensible advice on what to do with lottery winnings. "High-interest savings. Investment bonds. Just stick it in the bank." Nor does it ask the players to guess what each loves to do. Alphabetical isn't that random.
For this new edition, Jeff Stelling has taken the reins. He's best known for his work on Channel 4, hosting Countdown a few years back, and before that he did sports bulletins on the Channel Four Daily. Jeff is brisk and competent, he can read an autocue and not be flustered by unfamiliar words.
Four players take part in each edition. One of them is the defending champion, winner from yesterday's final. They're guaranteed a place in today's final, but will still have to play the preliminary rounds. The other three will be eliminated until just one takes part in the final.
The first round harks back to another BBC daytime show, First Letter First. The players are given a letter. Jeff then reads off questions and definitions to words that begin with the letter. One minute of questions for each player, one point for each correct answer.
Contestants don't have to give an answer, they can pass. But they don't pass by saying "pass", they pass by saying "alphabetical". Two reasons for this. One, it chews up the clock a bit, contestants need to enunciate five syllables not one. And two, it's a not to the Spanish format where they pass by saying "pasapalabra". It sounds a bit like "pass", perhaps.
After the break, round two is Last Letter Last. The players are given a letter. Jeff then reads off questions and definitions to words that end with the letter. One minute of questions for each player, one point for each correct answer.
Initial Letters make round three what it is. Jeff gives a category, and a set of initials. He'll give clues, all pointing to the same answer, worth 5, 3, 1 points. Responses need to be quick, just three seconds to consider the clue and start speaking. The lowest score amongst the qualifiers after this round is out of the programme.
The second ad break (and plug for local news magazine Bang On Targett) comes in the middle of this round. Jeff has to slow the pace and reconstruct the round for viewers who joined, or who got distracted by Bobby the three-legged cat who has been taking hopping lessons.
The final round is Thirteen Letters: thirteen questions beginning with the indicated letters of the alphabet. Two points for a correct answer. Get one wrong, and you're wallied out of the next question – the others cannot pick up for a bonus. Lower of the qualifiers is out after this round.
On a typical day, the winning qualifier will have earned a score in the low 30s, the champion seems to be in the mid-to-high 20s. Alphabetical spots all contestants 100 points at the start of the show. And they always refer to the score as "seconds" not "points".
The final round uses these seconds. Jeff starts at A, and asks questions around the alphabet. The champion plays first. Players can pass on any question by saying "alphabetical". This stops their clock, and hands play to the opponent. Play also stops if the player gets a question wrong.
The bulk of passed questions are left unresolved – the answer isn't shown on screen. Not answering a question is disrespectful to the audience, and it's easy to solve. Put a caption at the bottom of the screen.
Alphabetical has a large jackpot – it starts at £5000, and increases by £100 for each correct answer by the winner of the final round. Within six days, it had grown by £10,000. To win the jackpot, the player needs to answer all 26 questions correctly. They can pass as often as they like, but one wrong means they won't get the jackpot.
Most days, both players are going to make an error. Whoever scores the more (or the reigning champion, if it's a tie) is the daily winner. They'll come back on tomorrow's show, and take home a consolation prize of £250. For the loser: nothing.
Going round the alphabet is supremely difficult. In the Castilian version, they can go a whole year between jackpot wins. This English version may be impossible. Jeff asks questions quickly, but not spectacularly fast. With players guessing wildly, he can squeeze 11 into the First Letter First minute. But there's more chrome here. It might go:
Player: Banana.
Jeff: Right. (beat) C (beat) What city is the administrative centre of Essex?
Player: Colchester.
Jeff: Right (beat) D (beat)
Note how this question couldn't be answered for certain until the very last question. It's another trick to slow down the player.
Last week, we introduced the idea of the Quiz Percent as a measure of speed. 100% is 100 questions in 24 minutes, and ten questions per minute is 240%. Most quiz hosts can sprint at 240% for a minute. In this final round, Jeff is a little slower, averaging 220%.
To win the quiz, a player needs to answer 26 questions in about 140 seconds, a sustained speed of 268%. That's faster than the usual going rate, and might be faster than Jeff can do. The jackpot might not be unwinnable, but it's very very difficult.
In terms of prizes, Alphabetical is cheap. The jackpot wasn't won in the pilot run, so the total prize across two weeks was £2500. Tipping Point can rack up £2500 in the first round alone. Winners of the daily contest who lose the final leave with nothing, not even a token tenner for each right answer in the final.
We have another problem with Alphabetical. It lacks variety. Pasapalabra, for viewers who speak Castilian, has varied rounds. They have Chain Letters, Hangman, and some synonyms. The Italiano version has elements of Turnabout and Call My Bluff. We get trivia, trivia, trivia, and yet more trivia.
They get brisk definitions in the final round, and play at a rate of knots. It feels like the jackpot can be won any day, and we never felt Jeff was going to pass over the big bucks.
There's nothing wrong with the structure of Alphabetical. There's a lot to improve in the execution. Less trivia. A small prize for the daily winner. An end game that feels winnable, not impossible. A host who can go like a rocket.
One final note from the closing credits: "All questions accurate at time of broadcast." Are they going to re-record the show when something changes? Or will they never ever repeat the programme?
We found the show to lack sparkle, and had no good reason to watch it. We don't expect anyone will go for the £22,000 jackpot in "the next series".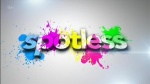 Spotless, or The Problem With Insular Television
Possessed (an ITV Studios company) for ITV, 20 August
Spotless was a broadcast pilot last Saturday night. The rules are simple: don't get neon paint onto your pristine white clothes.
Two pairs took part. Paint-filled balloons were thrown over walls, and paint guns fired as a bodyguard protected his teammate. There was a round of Rock Paper Scissors Paintgun Soft-seating-area, and the winners went over an obstacle course to claim their prize.
Our reaction is of cautious and qualified interest. There's a viable show in here, though it was often an effort to see it. The programme was white clothes in a white room, and this overpowered the picture. A greyer room would emphasise the pristine clothes and help us see the edges of the players.
The main challenges came across well, though we wouldn't like to see any of them every week. There's lots of room for more inventive games, and perhaps some more where teams go against each other.
The sound editing was unusual for primetime ITV. They cut the show to very contemporary pop music, and it worked here – the right beats appeared, built a story, and stopped at the exact right moment.
Only in review did we notice how there was no event commentator. Redd Pepper used his Voice of Doom to explain each game, and we heard from the players as they did it and in retrospect. Blue Peter gets away with this trick because Lindsey and the others make expert voiceovers. These amateurs haven't had the practice.
This felt like a show that could do well on export, it's big and brash but in a way that the ITV audience doesn't get. Like Pick Me!, we can see Spotless doing well as a family show, and doing well in a very risqué version.
And then we read a note from the interwebs. "Recent new UK gameshows seem to be so woeful because producers just have their eyes on international sales, and not making a decent show."
Fair point. This column doesn't agree that Spotless was irredeemably poor, but we accept that we're in a minority on that.
We might take the commentator's point in the abstract: what works internationally doesn't work in these islands. There's a taste gap between these islands and the rest of the world.
Pasapalabra is a lively and varied show where anything can happen, Alphabetical is a run-of-the-mill quiz. I Love My Country (RTL4) was spontaneous fun with real people, I Love My Country (BBC) over-formatted celebrity bobbins.
Why is there such a large taste gap between these islands and the continent? In part, it's the broadcasters, who have isolated themselves from practices elsewhere. In part, it's the political climate, disparaging anything European.
In larger part, it's the fact we speak English, and can watch programmes from the other side of the Atlantic. American-English and Proper-English are close enough to require no dubbing or translation.
But mostly, it's the viewers. They – we – watch things that are familiar. The simple fact is that viewers don't watch challenging programmes. A risk-averse company will buy up cheap tat and throw it out.
Viewers have forgotten what it's like to watch something different, to have to work with the television. It's easy to make conservative programmes, it's easy to make undemanding shows. It's easy to settle for "enough" viewers. But that leads to staid television that people tolerate, they don't remember it.
Without innovation and challenge, we'd still be watching Spelling Bee (1) and What's My Line?. Some experiments work – Bake Off and Only Connect (2) were small shows that grew, Strictly Come Dancing was a risk at the beginning. Some experiments are less successful, such as The Bank Job and Shafted.
This column welcomes innovation. Spotless has room to improve. We hope that it can be better, and become another huge success – whether shown here or not.
This Week and Next
Blankety Blank is back. David Walliams tries (and fails) to be the new Wogan. That's a one-off revival on ITV at Christmas.
ITV2 wants a companion show for Love Island. They seek "a stripped series that would touch on the themes of relationships, gossip, sex and friendship, potentially with a competitive element. And it's got to be broadcast in real time."
The final names on Strictly Come Dancing. Louise Redknapp and Anastacia (both singers), Danny Mac (from Hollyoaks), Daisy Lowe (model), Naga Munchetty (breakfasteer), Claudia Fragipane (gymnast), Robert Rinder (from Raising the Bar on Radio 5), Lesley Joseph (Bird of a feather), Greg Rutherford (jumps for distance), and Tameka Empson (from The Eastenders). Strictly Come Dancing introduces its participants on 3 September.
On University Challenge, the blokes of Balliol Oxford (Freddy Potts, Jacob Lloyd, Jay Goldman, Ben Pope) took on Imperial College of London (Rupert Belsham, Lottie Whittingham, Jasper Menkus, Nas Andriopoulos). After a low-scoring first part, it turned into a one-sided affair, Balliol won by 220-55.
The verb count: reading 4, studying 3, doing 1.
Only Connect went straight into the repêchage for section A, with the Bardophiles and Taverners. The Bardophiles have been researching gin, the Taverners have been watching Dr Who and listening to the Pet Shop Boys. And Victoria has a nice simple diagram to explain the new tournament structure.
The Taverners won 21-16. This looked unlikely after Connections, when the Taverners' youth meant they don't know Keith "Cheggers" Chegwin or Mel and Kim. But then they worked out a connection involving the NATO alphabet leading from last letter to first (so Zulu is followed by Uniform then Mike...), and aced the wall.
Mastermind continues to pump up the scores. Frances Slack won this week's heat, 29 (0 passes) following the Musicals of Rodgers and Hammerstein. Jack Bennett, John Millar, and Kester Ford all scored 25 (specialists: James Bond films, 44 Scotland Street novels, 20th century US presidents). After seven episodes, it looks like 27 is required for a high-scoring loser.
BARB ratings in the week to 14 August.
Kenny and Trott went up to 8.2m on Sunday evening. Expect a series. Top game show was Catchphrase on ITV, 2.6m on Saturday.
Dragons' Den went up against the cycling and scored 2.35m, but Robot Wars was crushed below 1.5m. A full 2m for "Celebrity" Big Brother on Channel 5.
Cash Trapped and Only Connect share fourth place, with 1.85m each. University Challenge fell to 1.65m, only beating Pointless On Two by a hair's breadth.
Catsdown had 1.35m, and Channel 5's It's Not Me It's You had 620,000 viewers on Friday night.
A quiet week on the new channels is good for More4: 335,000 for Come Dine, 240,000 for Four in a Bed. Mock the Week on Dave had 250,000.
Thanks this week to Adam Beckwith and Adam Bowie.
It's not just Strictly Come Dancing (BBC1, Sat), The Chase (ITV weekdays) and Pointless (BBC1 weekdays), there are many new shows this week.
Music fans have All Together Now The Great Orchestra Challenge (BBC4, Tue). Great British Menu returns (BBC2, weekdays), so does All Star Mr and Mrs (ITV, Wed).
And it's a good week for fib-detectors, the prize quiz Celwydd Noeth (S4C, Thu) and the panel show Would I Lie to You? (BBC1, Fri).
We'll look at Taking The Next Step in the next Week, which will be with you on Friday.
Photo credits: Gameface, Possessed (both ITV Studios companies), Parasol
To have Weaver's Week emailed to you on publication day, receive our exclusive TV roundup of the game shows in the week ahead, and chat to other ukgameshows.com readers, sign up to our Yahoo! Group.