Weaver's Week 2016-09-04
Last week | Weaver's Week Index | Next week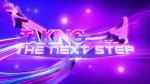 CBBC in association with Temple Street Productions, 13 June – 24 August
The nation is divided as never before. There are some people who believe in the power of the elite, who trust their future to oily squeaks with silly names like Lucien. And there are those who want to advance under their own steam, a gang all over your telly, led by someone with impossibly bouncy hair.
And there's a third way, the disenfranchised. These people don't watch CBBC and know nothing of The Next Step. For these people, here's a very short primer.
Young people,
dance studio,
soap opera characters,
soap opera arguments,
lots of dancing,
rivalries and crushes and exs.
And pieces to camera from the studio chair, we recognise that from Big Brother.
The Next Step is tremendously popular. New episodes pull in some of CBBC's biggest audiences, old episodes are on a loop in CBBC's evening block. Temple Street Productions and CBBC both know this, and reckon that a British guest star could somehow make The Next Step even more popular than it already is. How is there room to improve?
Taking The Next Step is hosted by Lindsey Russell, the Blue Peter presenter. In a subtle nod to game show history, Lindsey got her job through a talent search show. The panel of judges is John Partridge (Rum Tum Tugger from Cats), Kimberley Wyatt (one of the Pussycat Dolls), and Simeon Qsyea (choreographer to the stars).
The initial selection was off-screen: about 1300 applicants sent in a video of themselves dancing. Around 200 were invited to "Regionals", a set of auditions around the country. Fans of The Next Step will recognise the term: "Regionals" is the first level of dance competition for the troupes.
The young performers had one solo dance to impress the judges. The judges provided feedback and constructive criticism, and all needed to agree that the contestant was worthy of a place at "Nationals". Four episodes came from Regionals, most used the standard talent show format of audition and critique and result. On the way, we'll learn about characters who will appear in later episodes, and if there's a sob story we'll hear it here first. And everyone will get a quick chat with Lindsey as they come out, before running to tell their parent the news.
Two little details caught our eye from this phase. The judges had an approximate quota to fill, they'd want to take *about* one in four from Regionals to Nationals. But the exact number didn't matter: the process would work as well with 40 as with 60. Other talent shows have a fixed number of places – precisely 45 spots in Britain's Got Talent, precisely 24 on The X Factor.
Also, the judges didn't quite know where to set the bar at the beginning. Some dancers were going to be in the top quarter, many were not. Where they were uncertain, "callbacks" took place. The contestant came back and performed again, later in the day. By now, the judges were more certain of the standard, and could make a firmer decision.
Nationals began with 53 competitors, each learning a choreography from Simeon. The challenge was two-fold: learn the planned dance, *and* show the ability to make the steps your own. The Next Step is a semi-scripted drama, the beginning and end of each scene is known, but the detail is up to the actors. The winner will show their dance talents, that they're a quick learner, and that they can stamp themselves onto a routine.
The remaining 20 were tested on their acting and improvisation skills, chopping to a group of 12. One further solo dance cut the field to 6. Boom, we've just shot through two episodes in two sentences. Again, the usual talent show motifs here, picking characters to tell us about. The acting challenge was the first fixed point – it had to be 20 to keep the judging manageable. The solo dances allowed all of the semi-finalists to introduce themselves, and tell their stories so far; a good point to jump in, a recap for viewers dazzled by the numbers.
If we hadn't got to grips with the six finalists, they were going to become very familiar. Each had an interview at home, explained what dance meant to them, about their love of The Next Step, and what this visit meant to them.
At this point, the action shifts across to Toronto. A nine-hour flight from Manchester. While we wait for the attendant to offer a fresh lemon-scented napkin, here's some in-flight entertainment.
"We're tipping Lindsey for a long and successful career," wrote Creamguide the other week. Proof – as if it were needed – comes from Taking The Next Step.
Let's look at the qualities of the best host. They will advance the story, but won't influence the competition. They'll be the viewer's representative – explain what we're about to see, perhaps give commentary as events happen, and ask the questions we want answered.
The best host will coax out the competitor, help express their feelings right after the emotions of the judges' decision. The best host will share the delight, empathise with the losses, and make sure new viewers aren't confused.
Lindsey Russell does all these things. And she makes it look so easy. It's not easy, performers of any age can be fragile, and here the host knows when to push further and when to step back.
The tour around The Next Step studio is a joy to watch, the youngsters' happiness gets amplified by Lindsey's honest enthusiasm. It's a Mobius strip of pure squee.
Joy was unconfined. Here's the cafe! Here's the rehearsal room!
Each of the finalists got to dance with Riley and West in Studio A. And that is a memory each of the contestants can treasure. OK, it's not the formal prize, it just goes straight to everyone's personal Best Bits Of A Lifetime.
Competition resumed with various challenges – dancing and choreography and improvisation. Two had to leave, and we weren't *that* surprised at the result – we'd spotted weaknesses compared with the other contestants. Julia and Khalid were good, but half-a-beat behind the other four.
The semi-final was a mix-up: learn some choreography, block an improvised scene with more stars of The Next Step, and be prepared for them to mix it up a little. Harriet left the competition here: she's a classical ballerina, and formal dancing seemed to put her at a very slight disadvantage. In a game of very small margins, that's enough.
And so to the final. Recording the character's introduction scene – possibly the take they'll use on the new series. One final dance to wow the judges, and input from show boss Frank van Keekeren. It's like getting Russell T Davies to judge your Doctor Who contest.
If we're to believe the judges' deliberations, one of Joe and Erin was rejected early on, for being visibly less good at the acting than the others. We have to agree: Joe had always been a stronger dancer than actor, and his performance was wooden and stilted. Erin had to receive direction to not bounce so much, Joe couldn't be coaxed into life.
Khyrese emerged as the winner. On the day, he had the better acting performance. This column was more impressed with Erin's dancing, but she'd been brilliant throughout, and when you're starting from such a high base it's difficult to improve. Khyrese put in his personal best dance just when he needed it, closing the gap to almost nothing.
We can understand the result, and we see where the judges came from. We don't particularly concur with their decision, but they explained their workings to the viewer. By explaining their decision, the judges show that they understand what they're looking for, and they're talking from a place of genuine knowledge. Other talent shows (Master of Photography, to take a recent example) need to learn from this good practice.
For Khyrese, the tale is not yet finished. He's recorded some scenes on The Next Step, and we'll be able to see them during the new series. It starts on CBBC on Monday.
This Week and Next
To the Crystal Dome! The Crystal Maze is coming back to Channel 4, just for one night. A group of celebrities will go around The Crystal Maze Live in Islington, and their efforts will be shown on Channel 4's Stand Up for Cancer telethon later this year.
Filming inside the chambers is technically easy. Select two or three of the more televisual games per zone, stick tiny little gun cameras into the rooms, and into the players' lapels, and cut the footage later. If they can stick cameras on those drone aircraft, they can put them in little cells. As a one-off, and because it's for charity, they can get away with slightly dodgy technical quality.
Inevitably, there was discussion of a full series. As good as it is, The Crystal Maze Live isn't good enough for a full television series.
Stephen Mangan will host the one-off revival. If there's to be a series, Susan Calman to host, please. Not so much Manic Pixie as Laconic Pixie.
University Challenge rolled on with yet another Oxbridge match. It's vitally important for Oxbridge graduands, completely dull for the 99% who didn't study there. Robinson Cambridge (David Verghese, Catherine Hodge, James Pinder, George Barton) took on Wadham Oxford (Vivian Holmes, Edward Lucas, Vivek Ramakrishna, Thomas Veness). Robinson won it by 155-95. Verbs: reading 4, studying 4.
For the last time this series, Only Connect is at a different place from that other Quizzy Mondays show. Verbivores and Channel Islanders returned in the Section A repêchage. Verbivores have been to see the Dr Who tourist attraction, Islanders plan to get more right.
Islanders did get more right, but not quite enough. The Verbivores sounded the Five Point Klaxon twice: they scored on anagrams of prime ministers, but missed on the word of the year for 2015 – confusing the "smiley face" and "crying with laughter" emoji. The Channel Islanders had kept the scoreboard ticking over, one or two on their own questions also stops the opponents from scoring.
Verbivores were seven points behind after the walls, surely a step too far even for Countdown glitterati. But the Verbivores played quickly and flawlessly, and squeaked home by 23-22.
As we're publishing on Friday, no recap of tonight's Mastermind, as it's not yet gone out.
BARB ratings in the week to 21 August.
8.55m people saw the BBC1 ident re-enacted on Tuesday's finale of Lots Of Cyclists Going Really Slowly Around A Circle. Expect a series. Top game show was Dragons' Den, 3.45m on Sunday night.
Catchphrase came second, just under 2.5m viewers on Saturday. 2.1m for "Celebrity" Big Brother. Only Connect had just under 2m, and beat Robot Wars (1.85m).
University Challenge may be in trouble, just 1.5m could be bothered at 7.30. Or maybe they preferred to see fit young men performing on the pommel horse. Viewers, eh?
It's Not Me It's You finished with 700,000 viewers, a decent figure for Friday nights. How well it would have done without Big Brother on both sides, that's another question.
Coach Trip Road to Ibiza continues to rise, 510,000 saw Wednesday's episode. Hell's Kitchen brought 420,000 to ITV2, and repeated Catsdown 310,000 to More4.
It's all happening this week. Strictly Come Dancing introduces this year's dancers (BBC1, Sat). The BBC declines to show Eurovision Young Musicians (youngmusicians.tv, Sat). Hive Minds caters for intellectual viewers (BBC4, Thu), and The News Quiz does its thing (Radio 4, Fri).
Celebrity Juice is back (ITV2, Thu). We Love Sitcom is a one-off for BBC1 (Fri), and Mock the Week resumes (BBC2, Fri).
On CBBC, we've Rank the Prank (Sat). S4C's block for younger viewers has Y Gemau Gwyllt (Mon).
Technology fans have Go 8 Bit (Dave, Tue). Over on Spike, it's Battlebots (Sun), Robot Wars for Yankees.
Daytime highlights include Who's Doing the Dishes? (ITV), and Yes Chef (BBC1).
Photo credits: BBC / Temple Street Productions
To have Weaver's Week emailed to you on publication day, receive our exclusive TV roundup of the game shows in the week ahead, and chat to other ukgameshows.com readers, sign up to our Yahoo! Group.