Weaver's Week 2017-07-02
Last week | Weaver's Week Index | Next week
This week, three shows from Channel 4's history.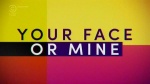 Talkback for Comedy Central, from 7 June
"This show puts the 'super' into 'superficial'." A favourite from the early days of E4, Your Face or Mine is just the latest show to take a modern revival. We originally wrote "take an ironic revival", but it was ironic to begin with.
Little has changed in the gameplay. We begin with a video of the couple at home, and get to know them with a chat in the studio. This takes up a chunk of time, something like four minutes – and it's only a 22-minute programme.
But this much chat is very necessary – it sets up some of the jokes we'll see later, and gives us a bit of an insight into the couple. How do they tick, where's the power balance. To whom will Steve Punt walk up and say, "you could be doing so much better"?
Round one is a nice simple starter. Celebrity Face Off shows two celebrities. The audience votes in the studio, and if the players can match the audience's decision, they win £100. So far, so simple.
"Tom is a dancer. He can do the splits. He's tall, lean, and handsome. The audience agrees, but will the contestants?"
Face the Nation comes next. One of the couple goes forward, and will compare themself against a gallery of other people. The other player sits on the couch and makes remarks. £150 if the player can put facts ahead of his ego. Or if the audience is being suspiciously racist and marking down the black woman because she's black.
After the break, It's Not You, It's Me, the rubbish relationships quiz with Eamonn Holmes. No! Which of the couple is more attractive? £200 if they can get this one question right.
Back on E4, this was the final question of the show, a double-or-nothing round that ensured lots of people left with nothing. Comedy Central has bigger budgets, and all contestants leave with something.
"-Who would you say is better?
-Jake.

-Take your time, you don't have to answer straight away."
The double-or-stick final question comes at the end of Face Your Demons. The couple judge their looks against some people from their past. Her best friend. His ex. The man he broke up with in order to date with her exclusively.
And here, we have something a little different. Back in the Channel 4 days, the comparator round was "is the player more attractive than this random person from the audience?" The revival's producers reckon the original was a bit unpredictable; we reckon it was a bit flat.
Now, there's people the contestants know. There's a back story Katherine and Jimmy can use, they can produce some emotional engagement. We've gained an insight into the contestants' lives, and here we're going to use it.
It would be very easy to turn this into an exploitative show. It would be easy to be cruel, or to be nasty. Your Face or Mine skirts about this trap: it wobbles, but never quite topples in. It's snarky without being seedy, its judgements are as much for giggles as a serious commentary on the people. We're not convinced that events happen in the right order – after round one, the player makes their decision and then we see the audience vote – but the result doesn't seem to be altered.
Katherine Ryan is the lead host, she is as sharp and witty as ever, and really in her element. Jimmy Carr is the other host, he has been going through the same schtick since 2002, and we sometimes think we've heard his jokes before. Jimmy tries to play up the very real chance that the couple might split before the end of the show, but this is at odds with a respectful and caring attitude to the players. The couple are certain to leave with a grand or more. That should ease any qualms: sure, we met some of our exs on pay-tv, but we won this rather nice holiday.
The programme moves along at a cracking pace, after the initial interviews there's a decision every minute. Fleet of foot ensures Your Face or Mine is entertaining while it lasts, ephemeral afterwards.

Series 76 finals
Yorkshire Television for C4, 21-30 June
From a Channel 4 reject to something that's never been away for long.
Stephen Read, this series' top seed, took his ninth win, defeating eighth seed James Slater by 92-60. James won a couple of rounds in the middle of the show and – for the first time in his run – Stephen looked vulnerable. There is a way he can lose, can anyone exploit it?
An intake of breath in the next match. Lawrie Cunningham's first offer – Fauvism – was legal for a number of years, but has acquired a capital letter in the current dictionary. We're not sure where from, all the OED's example sentences use a lower-case initial. This put the 7th seed at a disadvantage; second-seed Jeff Clayton redressed the balance when "analogs" was ruled "US spelling". Jeff won it on the numbers – and very nearly lost it it on the numbers. Lawrie was close to the final round but couldn't quite reach the target. Jeff Clayton wins by 86-68, and can consider himself lucky.
A ding-dong battle in QF3. Moose Rosser fell behind Wesley Jardine after a disallowed word and losing a numbers round. He levelled after winning a letters round and having Wesley's word disallowed. Wesley pushes ahead with "novelist", but Moose hits back with the niner "ethnicist". That's a word? Student of ethnicities. "Mediant" is another winner, but Wesley pulls within ten. The conundrum will force a tie, the conundrum evades both players. Moose wins by 81-71.
Are there no Daffy Duck fans in Dictionary Corner? "Yoicks!" was a winner, as shouted in "Robin Hood Daffy". So, while we waited for Colin Murray to catch up with a classic film, Annie Humphries won a letters round with "Primula", Elliott Mack won a numbers round to level the scores. Annie opened a lead of 24, Elliott scored with "inputted" but the conundrum was too late. The better player on the day wins. Annie takes the match by 94-88.
Semi-finals
Could Annie Humphries take it all the way to the final? A risk from Stephen Read is disallowed, giving Annie a six-point lead. But the stronger player wins through in the end. Stephen picks up a pair of quality numbers solves, and offers "Sleazoid" for a slimy winner. Stephen is on excellent form here – apart from his disallowed word, he misses just one letters maximum all night, and hits all the numbers targets. He scored the maximum in 13 rounds, Stephen wins by 115-67.
Moose Rosser gets off to the best start in semi 2, "Maudlin" is a winner. Jeff Clayton strikes back with a six-small numbers game – had us slapping our head with "of course that's how". Moose is no "Lapdog", though that's a winner – it's a "massive" six according to Colin Murray in the corner. Building up his part? He's going to deliver a tribute to Susie Dent, who is marking her silver jubilee in Dictionary Corner. Twenty-five years of Susie's brilliance? Doesn't feel like a day.
Back at the game, Moose wins with "Airdrop", and opens the gap to ten. Jeff pulls back with "Senate", and Nick reads out a fan letter. "Congratulations on your 25 years" from Arsène Wenger of Arsenal FC. It's a semi-final for the ages: Moose's four point lead lasts to the numbers, when Jeff solves the game to take a lead of his own. The conundrum remains crucial, and Moose buzzes on 12 seconds to say "Cytoplasm". Amazing scenes! Moose wins! 88-84 the score.
Final
Stephen Read is the top seed, he passed 1000 points in his quarter-final. Moose Rosser is the third seed, and he passed 1000 points in the first round today. The numbers rounds have been good hunting for Stephen throughout his tournament, and it's no different today: victory in the first, the closer failure in the second, and with a letters winner in between, Stephen had a substantial lead going into the anecdote.
Later in the game? Another numbers round, another win for Stephen, and the game looks lost by the second ad break. Moose has to offer "Sportage, which I have no confidence in," and he's right to be wrong. Colin builds up Susie's nine-letter word, but he has to correct himself. "Susie is brilliant with words, but she's rubbish at counting."
There's no nine in the last letters round, and that bare fact seals Stephen's victory. Moose puts up a hail deity pass with "Outmailed", but the last desperate play fails. Stephen, though, has a target of his own: another 13-max game. The conundrum is missed – so it's only (only!) a 12-max game. 108-66 the final margin of victory.
"He mashed me," says Moose afterwards. He mashed us all. Stephen was a cut above all other players in the heats, and he's been unbeatable in Finals Week. And that's why he's won it.
More Countdown in the new series on Monday.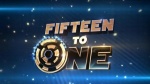 Revival final 8, 30 June
Now than. Police in Glasgow would like to hear from you if you know anything about The Great Quiz Massacre. Between 3pm and 3.15 last Friday, six players in the Fifteen-to-One final were cut down by some Really Difficult Questions. Their efforts in the final lasted seconds, as their second wrong answer ended the dream.
Max Espenson had finished on top of the finals board, with a score of 223 points. He wins the Finals Board Trophy, identical to the Show Winners' Trophy given to everyone who wins an episode. Top of the finals board, bottom of the finals board, this column's sister: all winners shall be equal.
From this heavy start, we'd expect the middle round to be swift. But these are grand finalists, they got something like 200 questions right in their finals alone. There were correct answers, nominations, correct answers, nominations back. The current format can be a little soggy before the final, and we watched most of the round at double speed.
The final, though, has to be fast and furious. Questions on the buzzer, all of them. Ewan Dawson, Andrew Diamond, and Max Espenson took their places in the final. Ewan is at a disadvantage, starting with just 1 point for his remaining life; Andrew and Max have 2 points.
Ewan puts himself at a further disadvantage, losing his first life early on. Max gets off to a better start, opening a two-question lead. Ewan loses his second life, and then his third. That's a third place finish.
The game picks up speed when it's just Andrew and Max. Both are slapping the buzzers like it's 1985 and they're playing The Sandwich Quiz. With nine questions and a lead of 5, Max misses a question, but that's all he's going to miss. Max Espenson takes home £40,000 to sit with the Top of the Finals Board trophy.
More Fifteen-to-One later in the year, we expect.
This Week and Next
Barry Norman has died. Best known as the host of the BBC's Film 72 programme, Barry had a habit of being diplomatic and polite where he could. He was there to spread cheer, not jeer. In the world of game shows, Barry was the first host of The News Quiz back in 1977. After retiring from television in 1998, Barry contributed to the Radio Times. Barry Norman died on Friday, aged 83.
Another "modern" revival has us asking a question of the sky. "Is it a bird? Yes, it is." Raven is coming back to CBBC, and in a new shape. Raven was the CBBC Channel's first breakout hit, running from 2002 until 2010 in all sorts of convoluted styles.
There's a change of staff, now made of wood with gold edging. There's also a change of actor: Aisha Toussaint will play the title character, with previous host James Mackenzie in some sort of role we'll have to see. Raven returns to CBBC later in the year. Please don't mess it up.
BARB ratings in the week to 18 June.
Coronation Street (ITV, Mon) the top show overall, seen by 7.7m viewers. Have I Got News for You (BBC1, Fri) the top game show on 4.5m.
The Voice Kids (ITV, Sat) had 3.45m, and The Chase (ITV, Mon) 2.5m. There's no sign of Pitch Battle, BBC1's high-profile Saturday choir show.
Love Island (ITV2) is next, 2.115m saw Tuesday and Wednesday's shows. It's the most popular dating show, ahead of the new Blind Date (C5, Sat, 2.05m).
Big on BBC2 were Great Local Menu (Tue, 1.95m) and Mock the Week (Thu, 1.35m). Both shows came ahead of Big Brother (C5, Wed, 1.3m).
Other non-PSB hits include A League of Their Own Roadtrip (The Satellite Channel, Mon, 1.19m), Taskmaster (Dave, Tue, 690,000), and Go 8 Bit (Dave, Mon, 370,000).
July brings a slowdown in new game shows; the new run of Counterpoint (R4, Mon) looks like the biggest event of the week.
Photo credits: Talkback, Yorkshire Television, Remedy / Argonon, BBC.
To have Weaver's Week emailed to you on publication day, receive our exclusive TV roundup of the game shows in the week ahead, and chat to other ukgameshows.com readers, sign up to our Yahoo! Group.