Weaver's Week 2017-07-16
Last week | Weaver's Week Index | Next week
A quarter pound of potatoes, some cooking oil, a fryer, vinegar, and a dash of salt. This week's Week tasted lovely, and it cost £1.65. Cheap as chips.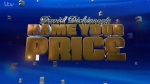 ITV Studios for ITV, from 24 June
Or, as we'll be calling it, "Name Your Price".
The conceit of this daytime show is that we cannot trust David Dickinson. The larger-than-life expert describes three antiques. He's telling the unvarnished truth about one of them; for the other two, he embellishes. Under the show's rules, only the most expensive antique is worthy of an honest description.
For the teams, the task is simple. Which antique was worth the truth? Where was Dickinson telling facts? There are no obvious lies, no outside knowledge to betray Dickinson's falsehoods. It's just a hunch, some guesswork. The reasons are intuitions.
This round is played three times, for 10-20-30 points. We notice that Dickinson always asks the teams in the same order, from left to right as we see it. This might give an advantage to those at the end of the row. Or they might have to write down their answers ahead of time, but we're not told this.
A tie-break may be required. It's to value a really expensive antique, shown only on screen. The teams take their guess and write it down, but we may not see their boards on screen. Leslie Crowther had this down to a fine art: "show me and tell me". Dickinson – doesn't.
Round two, and we suddenly start to give the teams a name. Imaginative to the last, "Team A" and "Team B" have not-very-contrasting colours (dark red, dark green). Dickinson describes five antiques – all of these statements are accurate.
The teams have five prices, and attach the price to the item. 20 pts for each right answer, added to scores from round one.
For the final round, the winning team sees two items. One is worth £5000, one worth "a lot less" (£200 or so). David is again telling the truth about both items. They're to pick one, and win the value of it.
But first, Dickinson offers a cash inducement to not take that value. Will they take £500? £1000? More? This section reminds us of Take Your Pick: Dickinson will up the bidding to a point, hand over the cash, and then whip it away.
We're guaranteed a climax, did the team make the right decision? Have they won £5000, have they taken a good buyout, or have they messed it up?
There's a studio audience, and they're used to enhance the soundtrack. Raucous "ooohs" while Dickinson reveals the prices, and the audience shouts "advice" while teams are picking, and matching prices, and throughout the end game.
Dickinson makes no secret that he's reading from cue cards, and spinning a tale from a few known facts. He's had a think, he's improvising and not reciting a script. It's a natural way of speaking, but every other show on television would cut out the ums. There's more umming on here than on Love Island.
But there are other little missed cues. We may not find out the cheaper value in the final, and we don't see that the first round is above board. (We're sure it is, but modern telly grammar is that we must see it.)
Dickinson often misses the cameras, he looks down one lens while we're seeing action from another. Forgiveable on a live show, but looks sloppy on a recorded programme.
Name Your Price doesn't live up to its title. At no point do the teams get to name the price of anything, unless there's a tie break.
We didn't enjoy the programme, and have two problems. The minor problem – Name Your Price stands and falls on David Dickinson. He both describes the antiques *and* runs the show. He will talk a lot, it's almost incessant chatter during the hour. A voiceover artist gives the rules, recaps each round, and gives the scores, but this is the only break from Dickinson's voice.
Dickinson calls himself "the duke", though we can't find His Grace in our list of nobility. He doesn't talk about "lies" but speaks of "porky pies". The final round is the "bobby dazzler", for reasons never made clear. If you don't like him, or don't like his style, this show will grate.
We found his style to be implausible – except for the final act, where he's trying to get the team to take his money. Only here does Dickinson appear convincing.
But there's a bigger problem, and one that stops us from taking the show seriously. During the show, Dickinson is both to be trusted and not to be trusted. He flips in and out of liar mode so often that we wonder, "is he lying now?" Is he giving an honest valuation? Is he accurate about the scores? Does he know the values in the final round, and does this influence his offers?
We're fine that Dickinson plays a slippery and untrustworthy character; we're not fine that the show looks like it's hosted by a spiv. It lacks credibility, it feels like it could be a lie.
Both of these would be cured if the show had a co-presenter. Let someone else give the answers. We viewers can believe that they're an honest broker, and we can trust them. It would improve the final round no end. Dickinson has lied about the antique, but Honest Ron will take the teams to one side and offer them cash to avoid another run-in with the expert.
With a co-presenter, we still wouldn't love Name Your Price, but we might be able to like it.
A question from Belle's Dreams piqued our interest.
"Interesting to see how BB has lost the a lot of the young viewers. I'm intrigued to know how many older viewers for both LI and BB there are."
Let's take the editions of both shows from Tuesday 27 June. Not the week's top episode, but the only weekday episode for which we have full data on Big Brother, and where there wasn't football on ITV.
Who's watching Love Island?
1.218 million people watched live, 620,000 on +1 or on same-day catchup, and 499,000 time-shifted the show to later in the week. That's a total of 2.337m people, and we'll dissect the total in more detail.
Of those, 664,000 were in the "Adults 16-24" box. We don't get a split of this by sex.
1.373m were in the "Adults 16-34" segment, so we can quickly deduce that 709,000 viewers were 25-34.
We *do* get this segment broken down by sex: 856,000 women, 517,000 men.
The total score for this episode of Love Island was 1.473m women (so 617,000 women over 34), 711,000 men (so 194,000 men over 34). The other 153,000 viewers were "kids", not further divided.
So what of Big Brother?
An hour later, Channel 5 attracted 683,000 live viewers. There were 166,000 on +1 or same-day catchup, 286,000 time-shifters. A total of 1.135m saw this show.
The episode had 127,000 "Adults 16-24", barely making that segment's top 50.
Amongst "Adults 16-34", 346,000 viewers. So that's 217,000 viewers 25-34.
There were 239,000 women 16-34, and 135,000 men.
We don't have a division of the whole viewing figure by sex. How irritating. For our chart, we've suggested 468,000 women over 34, 275,000 men over 34, and 48,000 "kids". These are very rough numbers, and likely over-represent men.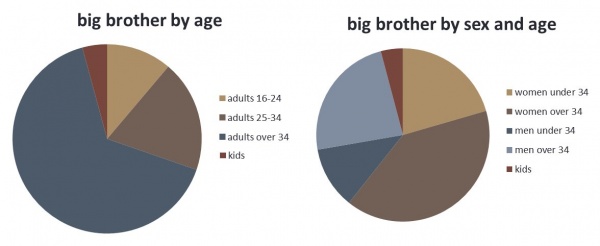 We also see that Love Island is slightly above average amongst ABC1 (office workers and managers). This is good for advertisers, who know this group have more disposable income. We don't have comparative data for Big Brother.
Let's compare the shows
Percentages are all very interesting, but we think the real story is in the raw numbers.

What does this show? Love Island is hitting a mass market. It's also getting young viewers – around 40% of those seeing any television in that slot see Love Island. Big Brother does well to get over 15% in the young demographic.
Love Island seems to be loved by young women, and doesn't turn off young men or the affluent. Big Brother viewers skew female, and the series does less well amongst young men.
Can we hypothesise that Big Brother attracts an audience that's grown up with the show? It looks like the average Big Brother viewer is in her early 40s – picked up Big Brother at the start with Davina and Brian and Kate, and never stopped watching. Love Island is a decade younger, and the average viewer can empathise with the contestants. Big Brother casts people markedly younger than its viewers.
Love Island can be watched by teens and their mothers, perhaps talking about some of the questions it raises. Critic and columnist Caitlin Moran says it's an education. "It's basically an hour of people just talking about their feelings. I can point things out, like, 'Actually, this guy is gaslighting this girl.' My girls are almost taking it all down on a notepad."
Big Brother, it appears, is what the mothers watch after the kids have gone to bed. It'll be interesting to see what the demographic figures are like when Celebrity BB returns later in the summer.
And while we're at it, the full BARB ratings in the week to 2 July. The figures above include the +1 channels – the notes below do not, as is our usual house style.
Coronation Street (ITV, Mon, 8m) the most-seen show. BBC The Voice Kids (ITV, Sat, 4.2m) top of the game show pops.
Catchphrase (ITV, Sat, 3.35m) takes second place. Bronze for The Crystal Maze (C4, Fri, 2.75m). Great Local Menu (BBC2, Tue) celebrated its final week in a later slot, and peaked with 2.65m viewers.
The Chase (ITV, Thu, 2.56m) just finishes ahead of Love Island (ITV2, Sun, 2.55m). What a choice: beauties or The Beast? Over on Channel 5, Blind Date (Sat, 1.3m) is still ahead of Big Brother (Wed, 1.2m).
A League of Their Own (The Satellite Channel, Mon, 985,000) continues to pull the viewers. Dave has a slate of shows around 350,000 – Mock the Week (Wed), Have I Got A Bit More News for You (Sun), and Go 8 Bit (Mon) were all vying for multi-channel bronze.
A useful 195,000 for Your Face or Mine (Comedy Central, Wed). Lip Sync Battle pulled 65,000 to Comedy Central +1 (Wed). ITVBe's Spa Wars (Wed) kicked off with 145,000 viewers.
This Week and Next
Counterpoint continued. This week's contender of note was Isabelle Heward, the reigning Mastermind champion – and a finalist in the recent Fifteen-to-One series. She lost the heat to Ian Clark, who we believe to be one of the best players in the Quiz League of London.
At a loose end on 1 November? We might catch The Great CBC Baking Show, which begins on CBC at 8.30 that night (8pm in the far West). Daniel Levy and Julia Chan are the hosts, with Bruno Feldeisen and Rochelle Adonis passing judgement on the soggy bottoms. Gosh, if only we had a local version of this programme.
What? Channel 4 has announced its plans for The Soggy Channel 4 Baking Show. There will be less baking, so we can concentrate on the contestants' personalities.
Channel 4 has added another show to its list of revivals, reboots, and stuff they picked up from a bin round the back of Broadcasting House. Next on the reheated list: a daytime edition of The Million Pound Drop Live. There will be fewer zeros in the prize, so we can concentrate on the contestants' personalities. The Million Florin Drop will be on screens in 2018.
Expecting a review of The Crystal Maze from this column? Hold your horses. We think the celebrity versions are closer to francophone Fort Boyard than Channel 4's earlier show of the same name. There's enough faffing about that the games are not the stars. There are enough references to a specific culture to confuse people who don't live in that culture. Our review will wait until the civilian series is well under way.
New to teatimes: Letterbox on BBC2 weekdays, with Mel Giedroyc. The Question Jury is in session (C4 weekdays). University Challenge (BBC2, Mon) kicks off a new series.
And we can sing a lot. The live final of BBC The Voice Kids (ITV, Sun). Pitch Battle (BBC1, Sat) has its live final. And Côr y Flwyddyn Eurovision 2017 (S4C, Sat) comes live from Riga.
Photo credits: ITV Studios, Remarkable Productions (an Endemol company).
To have Weaver's Week emailed to you on publication day, receive our exclusive TV roundup of the game shows in the week ahead, and chat to other ukgameshows.com readers, sign up to our Yahoo! Group.