Beat the Chasers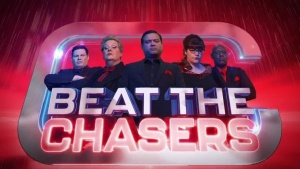 Host
Co-hosts
Chasers:
Darragh Ennis (2021-)
Anne Hegerty (2020-, not series five)
Mark Labbett (2020-)
Jenny Ryan (2020-)
Paul Sinha (2020-, not series three)
Shaun Wallace (2020-)
Issa Schultz (series five)
Broadcast
Potato (an ITV Studios company) for ITV, 27 April 2020 to present
Synopsis
An excursion into primetime for ITV's biggest quiz.
Our civilian contestant takes on an abbreviated "cashbuilder" round: each question's worth £1000, but they stop after they've got one wrong, or they've got five right. Get the first question wrong, and it's been a bit of a wasted journey.
But these are just the stakes. To win the money, the player will need to have to beat two or more Chasers in a head-to-heads contest.
Initially, the contestant is offered the money they earned from the cashbuilder, and can play against two Chasers. The Chasers will offer a certain head-start: the contestant always has 60 seconds, the Chasers might start at 40 seconds.
The choices come later: a third Chaser will offer more money, a different head-start, but it's an extra brain for the final. A fourth Chaser offers even more money, and the biggest reward comes from beating all five of 'em. The time the Chasers offer always rises: more time, more money.
Our player makes a decision, and the big-money chase is on.
In a nifty reversal of the usual format, while the solo contestant doesn't need a buzzer, the Chasers all need to ring in. Jenny Ryan told TV Times, "It's quite a learning curve. We thought it might be a bit easier than it actually was!"
Our player will answer questions while their clock ticks, and the clock will stop when they get a question right. Play then passes to the Chasers, whose clock will stop when they get a question right. The first team to run out of time loses.
Each show contained five or six games; rinse and repeat until the hour is complete.
Beat the Chasers was louder, bolder, and brasher than its daytime counterpart. They'd chosen contestants with big personalities to match the Chasers, and with plenty of anecdotes for Bradley to bounce off.
Viewer reaction was positive, the show hooked 5 million viewers live on its first night, and kept them through the week.
Key moments
Mark Labbett laying into Shaun Wallace after he buzzed and took six seconds to answer a question on the first episode of the second series and subsequently having to apologise on the next episode for doing the same thing.
Trivia
The first series was recorded at Elstree Studios, while the second onwards was recorded at LH2 Studios in West London and lacked an audience as a consequence of the COVID-19 pandemic. The third series lacked Paul Sinha, who was too ill to film, and was effectively 'replaced' for that series by Darragh Ennis. The fifth series lacked Anne Hegerty, as she had tested positive for COVID-19 two days earlier, and was replaced by Australian Chaser Issa Schultz, the only other Chaser in the world with a work permit (he is a dual national on account of having been born in Cornwall).
Voted the Best New Show in this site's Poll of 2020.
Two celebrity episodes aired on 27 March and 29 May 2021, with Joe Pasquale, Christine Ohuruogu (£30,000), Katherine Ryan, Radzi Chingyanganya and Shaun Williamson (£120,000) and Dom Joly (£50,000), Brenda Edwards, Jake Wood, Krishnan Guru-Murthy and Gregg Wallace (£50,000); Williamson's £120,000 was at the time the largest amount ever won on the show. On 16 October 2021, a Super Offer celebrity episode was parachuted in to replace series 4, episode 5, with Russell Kane (£25,000), Dr. Zoe Williams, Gyles Brandreth, Kaye Adams and Matt Allwright (£75,000); said civilian episode actually aired in New Zealand on 2 March 2022, and wouldn't air over here until 3 September 2023. Further celebrity episodes aired on 10 January 2022 (Omid Djalili, Richard Whitehead (£24,000), Jenny Eclair, Clive Mantle (£100,000)) and 11 January 2022 (Carol Vorderman, Joel Dommett, Adrian Chiles, Samia Longchambon and Simon Weston (£40,000)).
Emma Williams, the actress, appeared on Mark's humble pie episode, series two, episode two, broadcast 4 January 2021.
See also
Feedback