Weaver's Week 2016-08-14
Last week | Weaver's Week Index | Next week
One of the answers on University Challenge confused Cole Porter with Bo Diddley. That's nothing. On Counterpoint, a contestant thought the warblings of 80s popstar Terence "Trent" D'Arby were in fact by Dionne Warwick. Only out by 63 miles.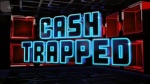 Possessed for ITV, 1 – 12 August
It's 4.58, and time for Bradley Walsh to host a quiz show. But it's not The Chase! Yes, the Chasers are doing summer things. Paul Sinha has his suits dry-cleaned. Anne Hegerty takes her charges to fly a kite. Mark Labbett cleans the outside window of his flat atop The Shard. And Bradley Walsh presents a show he devised himself.
Cash Trapped has an unusual twist. The same contestants take part, day after day after day, until someone wins the endgame. As soon as someone does, all six contestants leave the show. So get used to these people, they could be on screen for a very long time indeed.
Each day begins with scores at zero. This fact wasn't explained, some commentators thought that money banked would remain in play for the next day. But no, each day's competition is self-contained, the rollover money only comes back at the end.
Round one features six categories. To begin, all six players are in. Bradley asks the question, and someone buzzes. A correct answer earns £100, and that player nominates someone else to sit out – they won't be allowed to buzz again until after the first category question. On an incorrect answer, the player who buzzed in gets frozen out of the category.
Whoever's out, their box turns from light blue to dark blue, and they appear only in silhouette. We play on, until one player remains. They get to pick one of the six categories, and see six possible answers to a question. Which of the offered answers matches the question?
£1000 for a correct answer. Also, a correct answer allows that player to "cash trap" an opponent – they're out of round one entirely, and will not be able to play any of the remaining categories. An error on the question: that player is "cash trapped". The "cash trapped" player gets a red background.
All of the other players who were only "frozen out" come back into play, and we continue. Five face the first question. And so it goes, round and round in a spiral until one player is left for the final category.
The round can look confusing on screen: at various points, there are players in light blue, dark blue, and red. It's clear that some are out, but not who will return when. And this round will take some time to complete: fifteen buzzer questions plus six categories takes at least 15 minutes. By the first ad break, viewers might think "Too hard! Who's on Pointless?"
Round two is similar to round one, but faster. Just one buzzer question to find a starting player, then they pick a single opponent, and pick from six potential categories. Again, six possible answers are shown. This time, the players will alternate guesses from the options until one of them gets the right answer. Whoever picks the correct answer wins £2000 and stays in the round; their opponent is cash trapped.
Rounds where players repeatedly guess at options allow for some obscure facts, and for some difficult questions. Players don't need to know the answer, they can narrow it down to a few possibilities.
The question setters are able to include some more interesting questions, and we're pleased to see that they take up the opportunity. Few people are likely to know the name for a bayonet's sheath, but we can work it out from options. And we can shout the answer at the screen – except that we don't see the alternatives on screen for more than a few seconds. If only they put the options as a caption, along the bottom or down the sides.
There's a slight change for the final question: the remaining player has no opponent, so will only win £2000 if they can give the right answer on the first guess. Unlikely, but it does happen.
Round three is familiar from The Chase: it's an individual solo round. 45 seconds of questions against the clock, £500 for each correct answer. They play bottom-to-top, so players can advance up the leaderboard – and we'll see all the totals displayed on Bradley's big screen. Ties are possible, but unlikely, and we haven't seen a tiebreak.
With perfect play, it's possible to get over £20,000 on a day's show. Usually, the winner will have about £7000. That player – and only that player – is able to win money today. They're playing for the money won today, plus whatever they brought forward from previous episodes.
To win that money, the player needs to trap all five of their opponents. The clock is set at 60 seconds, Bradley asks a question, and something happens.
The winner buzzes, gives a correct answer, and chooses an opponent to trap. A step closer to victory.
The winner buzzes, gives an incorrect answer. Ten seconds is run off the clock – plus the length of time Bradley spoke, plus the length it took to give an answer.
Another player buzzes, gives a correct answer. Bradley says "correct", the clock continues, play continues.
Another player buzzes, gives an incorrect answer. The clock stops, and that player is trapped. A step closer for the winner.
Another player buzzes and gives no answer. The clock stops, but only after three seconds. They've trapped themselves, but they've taken time off the clock.
And at that last option, the internet gets annoyed. We're at five seconds, two players left to trap. Bradley asks, "What is..." and player 1 buzzes. Says nothing, just lets time run down. Two seconds, one player. Bradley begins "Which...", and player 2 buzzes. Says nothing, time's up before they can answer.
It's fair, it's within the rules, but it feels unjust. The obvious rule patch is to discourage speculative buzzing: if you buzz, you must answer straight away. Say someone's wrong after one second of silence, or force players to complete their answer within three seconds. Or put time back when there's no answer.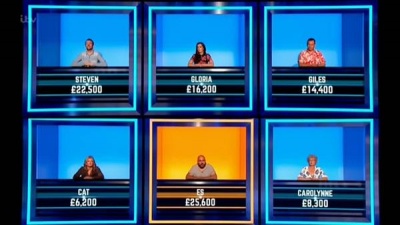 Today, Es is going for £25,600. Other players will carry forward these amounts — if they're still around.
Anyway, we have a result. Usually, the player has failed to trap all their opponents, and lost the final round. That player loses all the money in their bank – everything from that victorious day, and anything they'd built up from previous days when they didn't win. The other players add that day's total to their bank. And they all come back tomorrow to do it properly.
The six contestants sit in booths, with individual lighting behind them. On the floor, two rows of booths; on screen, often stacked on top of each other, like a cross between University Challenge and Blankety Blank.
To fit this stacked shot on screen, the contestants are quite small in their boxes, dominated by the score underneath them. We see the score, we see the lighting, only then do we see the contestant's face. We're not convinced by this: would it be possible to have a tighter shot of the face? Would this fit into the 4:3 safe area, for viewers still using cathode ray televisions? Does it need to?
For whatever technical reason, we're disconnected from the contestant. Their emotional reaction is less important than the score, or the lighting. On a show where we're seeing the same contestants for some days, that's not going to help build the rapport, get the viewer care enough to come back tomorrow.
Bradley, however, is able to bring something out as the show progresses. From group shots to individual close-ups for each answer, and that establishes a link: we're going to see some sort of reaction to the question. Bradley can also banter with the players, talk tactics within the day's show, and strategy for the match as a whole.
We've already said that early rounds need to show the options on screen while a player's thinking about them. The final round needs to have a clock on screen throughout, not just on shots of Bradley. Show us time ticking by. Keep tension visible. Doesn't need to be a number clock, a line along the bottom of the screen could work as well.
It's unusual to have the same contestants come back day after day. Don't think that's been tried since Qd - The Master Game back in 1991. Cash Trapped have cast for big personalities, and they've managed to find big personalities. Bradley brings his experience, and the players don't get stale: we warmed to them as the week went on.
The flip side: would the show be as much fun with a new set of players? The second Monday was an obvious jump-off point, go and watch sport on the other side. And it had a one-day wonder, a team that generated a winner on the first try. The third set, which began on Tuesday, had characters, and began to build some recurring themes as they stayed for a few days.
Overall, we're impressed with Cash Trapped. The show picks up pace with each round, and the final is almost always a nerve-jangler. We think the recurring contestants gimmick works, but the shot direction needs to be improved. Another run? Possible.
This Week and Next
The Fifteen-to-One final went down to the last question again. Ken Key had been the king of the middle round, dispatching six of his opponents. Brian Chesney and Huw Pritchard avoided the wrath, and all three players took two lives into the final. As seems to be a tradition, the players were buzzer-happy early on, Ken was down to one life in no time, Brian followed in short order. Huw kept his powder dry, perhaps hoping that the others would knock themselves out and he would emerge triumphant.
Fifteen-to-One is not the Conservative party leadership, Huw wouldn't be gifted the £40,000 prize. He took control of the buzzer in the middle of the final, and took a two-question lead. Ken was behind the pace, and lost his final life with five questions to go. By then, Brian had caught up and passed Huw. On the penultimate question, Huw drew level.
So Brian would have to buzz in and get the answer right to be assured of the win. Otherwise Huw would take the title, on the greater number of lives left. Brian buzzed in, and got the answer wrong. Huw Pritchard earned his prize the hard way.
The klaxon has sounded! Once again, the BBC is drip-feeding the competitors in Strictly Come Dancing. The first five are Ed Balls (internet meme), Will Young (Pop Idol), Laura Whitmore (MTV News), Ore Oduba (Newsround), and Tomorrow's Star Melvin Odoom (Basil's Swap Shop). Expect more hoofers to be announced over the coming weeks.
Junior Bake Off is back! Back!! BACK!!! The new series will be judged by Nadiya Hussain (senior Bake Off champion in 2015) and Allegra McEvedy (food writer). Sam and Mark will host the show, and it will go out on CBBC in the autumn.
Less long to wait for the BBC1 edition, it begins on 24 August. We're also hearing that Think Tank (3) returns, and 500 Questions may happen on ITV that week.
The EBU wants to make a new Eurovision Choir of the Year contest. Haven't we been here before? Indeed we have, the radio contest Let the Peoples Sing has been going for more than half a century. It's Radio 3's biggest game show, and (er) we didn't have an article until this week.
More blokes on University Challenge (Eoin Monaghan, Alec Siantonas, Nathan Helms, Tobias Thornes) representing Oriel Oxford. They went up against Manchester (Aaron Morrison-Griffiths, Jane Scanlon, Joseph Bath, Owen Michael).
In 2014, Richard Osman described Manchester as "the team everyone wants to beat." Since then, Manchester have won just one match out of five. Oriel's men won by 150-95, and Osman's nickname now looks like a curse. Manchester: the team everyone beats.
Over to Only Connect, where the Shutterbugs (Jasmine Leonard, Adam Ardron, Jenny Skene) took on the Highgates (John Aldersey-Williams, Stephen Bowden, Tom Bannatyne). The Shutterbugs won by 15-11.
A low-scoring match, thanks to some very difficult walls. The Highgates won the first two rounds by slim margins (two and one points), though the Shutterbugs were always close to the mark. Highgates gave three right answers in Missing Vowels, but incurred three penalty marks. Shutterbugs picked up six in the round, to turn the match in their favour. Difficult to say that the better team lost.
High scores on Mastermind, won by Adrian Staton – 13 on Michael Caine gave him a lead, and a total of 28 (3 passes) is about par for the series so far. Owen Dawson slots in as a high-scoring loser, he took Faith No More to 25 (2). No return for Phil Ryder (Mad Men, a total of 23) or Angela Bell (who took Wilfred Owen).
BARB ratings in the week to 31 July.
Coronation Street the top show, with 7.3m viewers. Celebrity Masterchef the top game show, with 5.7m seeing the final – that's the best score of the series.
Dragons' Den pulls 3.05m, The Chase 2.7m, University Challenge and Catchphrase both 2.6m.
Big Brother finished on Tuesday with 1.7m for the main show, just below the second night gimmick. Bit on the Side closed with 760,000, its series high. Two nights later, Celebrity Big Brother started with 2.6m; BotS retained 760,000. Not such hot for It's Not Me It's You, barely half a million.
Top on the digital channels was Hell's Kitchen on ITV2 (455,000), followed by QI XL on Dave (325,000) and Come Dine on More4 (295,000). Coach Trip Road to Ibiza had about 250,000 on E4, and a further 100,000 on E4+1.
Series bests for Master of Photography on Artsworld (115,000), and Four Weddings (35,000 on Living It +1).
Alphabetical (ITV, weekdays) asks Jeff Stelling to go everywhere from aardvark to zzyzyva. The Big Fat Quiz of Everything (C4, Monday) is almost as wide-ranging. Leap to I-player for a new series of Airmageddon (CBBC, Sun), and the wireless for the BBC New Comedy Award (Radio 4, Sun). This column respects embargoes, so we cannot say more than how ITV's listings next Saturday look interesting.
A couple of specials on the radio: Nadiya from Junior Bake Off talks about her life on Desert Island Discs (Radio 4, Sun). Nicholas Parsons and Gyles Brandreth go Behind the Scenes of Just a Minute (Radio 4 Extra, Mon).
Photo credits: Possessed, Love Productions / BBC.
To have Weaver's Week emailed to you on publication day, receive our exclusive TV roundup of the game shows in the week ahead, and chat to other ukgameshows.com readers, sign up to our Yahoo! Group.