Weaver's Week 2017-02-05
Last week | Weaver's Week Index | Next week
We're cruising the talent show freeway at the moment. Last week, the BBC managed to pick a decent song for Eurovision. In a few weeks, we'll take a look at Let It Shine, and in due course there's a review of BBC The Voice.
This week, we're heading to a virtual studio in Amsterdam.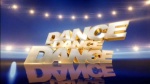 Talpa / ITV Studios Entertainment for ITV, from 8 January
Let us travel back to the early days of the new decade. University Challenge had a new quarter-final structure that the host didn't understand. So You Think You Can Dance brightened up primetime BBC1 with some real talent. Barney Harwood was presenting Bamzooki Street Rules, a show that mixed computer graphics and the real world in a process they called "augmented reality".
Enough history, back to today.
"Augmented reality" was the calling card when Talpa started pushing Dance Dance Dance to the world. A Talpa bigwig said in a press release,
"We pulled out all the stops to create the ultimate, mind-blowing primetime show, from amazing choreography to an LED wall, from the best backup dancers in the world to a next-level augmented reality."
The press release then wittered on about the programme's app, which had new footage from behind the scenes. Apps are good for the committed fans, but few viewers will bother with it. Dance Dance Dance must work as a television series in its own right.
And, by golly, it looks tremendous.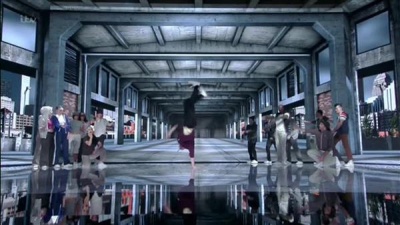 For the casual viewer, "augmented reality" has become realistic video wall backdrops. You might have seen the picture of London behind Ben and Susanna on Good Morning Britain. It's television trickery, it isn't always sunny on the South Bank, but you could easily be fooled.
Dance Dance Dance takes that sort of backdrop, and does it bigger. We're not just talking about a screen the size of a window, we're adding another by the side, another on top, some floor projections, and a couple of side projections too. The visuals come from a computer, and they're convincing.
The backdrop is the star of the show. It's used to recreate famous dance routines from screen and pop video. One minute, we can be with Janet Jackson in the Industrial zone. Then we can go to the bright lights of a 1950s garden party. And then we can be with Fred Astaire dancing with many copies of himself.
There's excellent attention to detail, it's not just the backdrops. Performers' costumes are just right, props are there for a good reason. The result is performances that capture attention – we cannot consider looking away during them. Yes, it's all fake backdrops, but so what? The producers have crossed the uncanny valley of virtual reality.
ITV's press release oversold the show. "It's using technology in a way that I've not seen done before on one of these big shows." OK, we'll let you have Bamzooki, because CBBC productions don't get the credit they deserve. But have you not seen the Eurovision Song Contest in the last few years? Remember how "Heroes" won because of this video effect?
And we've seen this sort of idea before. Celebs dancing to "iconic" dance routines was what they did on Let's Dance for Comic Relief. And that was entertaining.
Looks and feelings
Now, this sort of staging is expensive. Like, it costs a packet. And it's not easy to move about. The easiest thing is to leave the stage in Amsterdam, and move the contestants to it. Less chance of anything breaking, or getting caught up at customs.
One upshot of this is that we're going to have an Amsterdam audience. Even in London, the audience might have difficulty remembering who some of these competitors are; in Amsterdam, they've even less chance. The audience is just there, prompted to clap at the right time and sweetened in post-production. It makes the show feel a bit cold and clinical.
We said that the competitors were a bit obscure. Who are these minor celebrities?
Coronation Street and Wild at Heart actor Lucy-Jo Hudson and her friend Rohan Pinnock-Hamilton
TOWIE reality star Jessica Wright and her friend Duane Lamonte
JLS singer JB Gill and his wife Chloe Gill
Eastenders actor Jonny Labey and his girlfriend Chrissy Brooke
Emmerdale star Fiona Wade and her friend Ronnie Del Barrio
All the competitors are young. All have a dance background. And this is a problem: there's no light and shade. There's no difference in ages, there's no tremendous difference in experience. We're not going to get an Ed Balls style journey from inept to sort-of-competent. Everyone is decent from the get go, no-one is rubbish.
ITV's promo pack tried to make a positive out of this flaw. "There's no, 'Here's the journey and we're going to try and take somebody who's never danced before and make them into a brilliant dancer.'"
But this completely misses the point. Why did we watch Let's Dance for Comic Relief? We watched for the inept and the useless. We wanted to see something cringeworthy. Or we wanted to see something fantastic, the superlative to appear on the year-end clip reel.
It wasn't for the decent, the passably talented, the credible. There's enough of this adequate dancing on Dance Dance Dance.
And that is a problem. We're blown away by the visuals, and celebrity has got to fight for attention amongst the CGI and the backing dancers and the camerawork. Too often, the celebrity gets lost, and we don't see them. Oh, they're on screen, but we have to make an effort to find the competitor, our eyes get distracted by other things.
When we do see them, the competitors are OK. Nothing special. Not as grabbing as the backdrop. Not as skilled as the backing dancers. They're just there, doing their thing. Not falling over, not out of time, not as good as the original.
Judgemental
Each performance is judged by three dance experts. Again, quoting from the ITV promo pack:
Tina Landon, a choreographer who has created routines for Michael and Janet Jackson, Britney Spears, Rihanna, and Jennifer Lopez
Timor Steffens, a dancer and choreographer who has judged Dance Dance Dance across Europe. He has worked with Michael Jackson, Madonna, Beyoncé, and Usher
Ashley Banjo, of Britain's Got Talent-winning street dance crew Diversity.
These judges know what they're talking about. They're experienced, sometimes they worked on the original routines. They deliver practical critiques, they'll help the performers improve. The judges aren't showing off to the crowd, like on Strictly Come Dancing.
It is a contest, scores are kept. Each judge gives marks for each routine out of ten, to the half-mark. Lowest total score after three weeks was first to leave the contest, then lowest total each week.
The hosts are Alesha Dixon and Will Best. She's front of stage, he's backstage. Again, no ground broken here. BBC The Voice and Strictly Come Dancing pioneered this split role in 2011-12, and this year it's become the fashionable thing to do.
Like the competitors, both hosts are competent without being in any way memorable. Best is able to ask "how do you feel" ten times without ever repeating himself, but that's as far as his interviews go. Dixon introduces the performances, and manages traffic on stage. She's never put a foot wrong, but again we cannot find a single memorable part of her performance.
On a show that has such great attention to detail, one little point irks us, and it irks five times every show. The programme is sponsored by a theatre production, which promises "you'll be dance-dance-dancing in the aisles". That's "dance" with a short A, and emphasis on the "d".
Then the titles roll, a choir sings "dance, dance, dance". That's "dance" with a longer A, and emphasis on the sibilant "ce" at the end of the word.
And then Alesha welcomes us back to Dance Dance Dance. That's "dance" with a really long A, the vowel sound is emphasised.
None of these ways of saying "dance" is wrong. We hear the same word, said three different ways, in ten seconds. It's the sponsors not knowing what the titles not knowing what the host says. It feels like they've missed a bit, and it's annoying because it happens so often.
Which show rules?
Technically, Dance Dance Dance is a marvel. Emotionally, we get nothing. A parade of anonymous young people come on screen, do rehearsals, do their thing, get critiqued, and drop backstage. Done, done, on to the next one. It's a conveyor belt of talent. No peaks, no troughs, no fun.
We can compare Dance Dance Dance to other shows in the same genre. Strictly Come Dancing is the obvious comparison, it also has a conveyor belt of performances. But some people are better than others, the judges bring out an emotional reaction. The audience in the studio gets involved, their cheers feel natural. There's a reason to watch from week to week.
Strictly is an entertainment show about dancing. What about dance shows that entertained? Non-celebrity formats – So You Think You Can Dance (BBC1, 2010-11) and Taking The Next Step (CBBC, 2016) – put the performance first. The critiques improved the dancers, and the judges showed no favouritism at any stage. And it's good for people's careers – Lizzie Gough, an alumna of So You Think..., is a credited choreographer on Dance Dance Dance.
ITV has tried a dance show before. Stepping Out (2013) was bright and frothy, and a complete lark from start to finish. Davina McCall treated the show – for celebrity couples – with the irreverence it deserved. A shame they haven't commissioned another series.
For our money, Dance Dance Dance has a similar emotional impact to Airmageddon (CBBC, 2016). Both shows are technological marvels – Airmageddon with drones, Dance Dance Dance with its video projection stage. Both made a lot out of their technology -- too much, in fact, as neither was entertaining.
Ultimately, Dance Dance Dance is made for clipping. All the performances are going to turn up as short-form video. If you only want to watch the performances, you can see the entire show in 22 minutes. It may well be best as video clips.
Semi-final 3
Back after its short break, Mastermind had a strange week. There were five competitors, but just two distinct specialist scores. 10 points, which is good; or 13 points, which is perfect. As ever, it's all coming down to general knowledge.
Michael Ward scored 10 with Radiohead, and we knew he didn't score well in his heat's general knowledge round. So it was tonight, the final of 18 (3 passes) was not going to win. Let's remember, it's an achievement to be in the semi-final tonight.
Pamela Culley took 10 on the author Alison Uttley, in her heat she got questions right or passed. Passes tonight will be deleterious, and after the third pass we pretty much gave up hope. Within moments, it felt like the contender knew she'd lost. The closing score: 16 (5 passes).
Andrew Craig took Field Marshall Montgomery, again for 10. He's our runner-up, from the opening heat back in July. A strong display then, a strong display now, 20 is a leading score.
Ross May had the first perfect round, 13 on the films of Powell and Pressburger. His general knowledge round is stuttering, and filled with passes, just as it was in the heats. 22 (3 passes) could do, perhaps, just.
Steven Marc Rhodes hit perfection with Herbert Howells, and we knew he stormed the general knowledge round in his heat. Not quite the same tonight, but he did enough to win: 23 is only one point ahead, but it felt larger.
So Steven Marc Rhodes will be in the final, about a month hence.
This Week and Next
The website Reality Blurred made some enquiries after Hunted, as shown on CBS. Their conclusion is that it's almost all staged.
The show is simulating possible behaviour – which makes sense, but also opens up a world of questions about how the hunters are receiving information, and what is provided to them by production, and under what circumstances. Crucially, though, it is not being transparent about that with viewers.
Democracy season continued with the Broadcast awards, voted by readers of the television trade magazine. One game show won: The Question Jury took Best Daytime show. Producer Will McDonald said that he hoped to make a primetime edition of the debate-a-quiz show. Put seven celebrities in the room, swap the tea and coffee for spirits and whiskey, and let the fireworks commence. We'd be interested in that.
Even before The Jump begins, we've had to fire the cannon. The show's logo will be projected onto the snowy mountain tonight, then it will dissolve into a picture of Vogue Williams. She was injured in training, and will not take part in the show proper.

Warwick and Emmanuel Cambridge on University Challenge, where the host still doesn't understand the quarter-final structure. Can we replace him with The Adorable Mimi (left)?
Warwick had the best of the early minutes, 65-0 up at the first picture round, and the lead swapped each minute around halfway. Then, as last week, fortune took a swerve:
Q: Which two letters appear at the end of short names given in alchemy to the element mercury, and in the book of Genesis to the third son of Adam and Eve? The same...
Warwick, Rudd: Um, ETH.
Emmanuel, Hill: TH.
Paxman: TH, is correct, yes. I only asked for two letters.
First of seven starters in a row for Emmanuel, turning a tight game into a 200-90 rout. (200-55 if you are a xenophobe who doesn't want foreign students.)
Psmiths and Oscar Men on Only Connect (2). We knew it was going to be one of those games when the Psmiths chose to buzz rather than call "Next". At this not-quite-the-quarter-final stage, OC has some variable questions – "performer of song shares name with AMPAS best 'picture' in these years" rubbed shoulders with "song titles contain 'rose'".
Some questions are solid knowledge – groups in the periodic table, wives of Kings George, Eton's three "halves". A lot of pop music this week – keyboard players in bands, and overlapping duets (from the Eurythmics and Aretha Franklin, most roads lead to George Michael and/or Elton John).
The walls were just as hard, and the Psmiths won by 14-12. Next week: last chances for the Fire-eaters and Verbivores.
BARB ratings for the week to 22 January, and we take a deep dive into Friday afternoon.
Call the Midwife returned (BBC1, Sun), and went straight in at number one with 9.8m viewers. BBC The Voice of This Territory (ITV, Sat) was the top game show, on 5.85m viewers.
Let It Shine (BBC1, Sat) was close behind, seen by 5.75m. Pointless Celebrities (BBC1, Sat) brought 4.9m. Dance Dance Dance (ITV, Sun) was seen by 3.8m; like its Dutch original, the show did well amongst twentysomething viewers.
The Chase (ITV) peaked on Monday with 3.7m viewers. University Challenge (BBC2) had 3.4m, and Pointless on Friday scooped 2.4m on BBC2. The 1000th edition of Pointless went out on BBC1 Monday, but didn't make that channel's top 30.
Back on BBC2, The Great Interior Design Challenge (Tue) scored 2.3m viewers. Mastermind (1.95m, Fri) and Only Connect (1.9m, Fri) were down; Eggheads was boosted on Friday to 1.65m, up about 300,000 on its recent figure.
Celebrity Big Brother (C5) continued, peaking with 2.45m on Wednesday. Catsdown (C4, Fri) had 1.6m, Lip Sync Battle (C5, Fri) 1.4m, and Bit on the Side (C5, Fri) 820,000.
Lower down the EPG, Coach Trip Road to Marbs is a hit for E4 (660,000 on Wed). 8 Out of 10 Cats (More4, Wed, 385,000) and Four in a Bed (More4, Sun, 330,000) are next, with Mock the Week (Dave, Sat, 325,000) the biggest show by any other operator.
By not showing The Chase, ITV threw away over 2 million viewers on Friday. The BBC1 audience was also down from the Pointless average, but only by about 100,000. Of these 2.1m viewers, almost a million followed Pointless to BBC2, and half a million jumped to the "news" channels, hoping to see something unexpected.
The other big winner on Friday at 5pm was a surprise. On the Disney Channel, new episodes of Bizaardvark and Best Friends Whenever almost trebled the slot average, to 120,000 viewers. The latter show revolves around time travel, and our fanfic brain wonders about an episode where Cyd and Shelby prevent a nasty incident involving some cornmeal and a turkey baster.
Ireland's ratings showed little change. Dancing With the Stars (RTE1, Sun) remained on top, with 529,000 viewers. Another 125,000 for BBC The Voice of This Territory (TV3, Sat) and The Cube (TV3, Sun).
Good news for hospitals across Europe, The Jump is bringing extra business (C4, Sun). Great news for morticians everywhere, Release the Hounds comes back (ITV2, Thu).
Better news for talent fans, Got What It Takes? returns for a new series (CBBC, Tue). And if it's live entertainment you're after, Let It Shine (BBC1) moves into the live shows.
Photo credits: BBC, ITV Studios Entertainment / Talpa, ÖRF/EBU, Monkey Kingdom
To have Weaver's Week emailed to you on publication day, receive our exclusive TV roundup of the game shows in the week ahead, and chat to other ukgameshows.com readers, sign up to our Yahoo! Group.