Weaver's Week 2016-04-10
Last week | Weaver's Week Index | Next week
"University Challenge and The Archers are trending. Did I wake up 20 years ago?"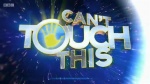 Stellify for BBC1, from 26 March
Some years ago, the BBC had a hit with Total Wipeout. It was people trying to get from the start to the finish without falling in the water. The show hit a sweet spot, pure entertainment that appealed to every generation.
Total Wipeout had one problem: you couldn't tell one episode from the next. All the elements were there, in the same order every week. The bit with the punching wall. The bit with the big red balls. The bit with that strange rotary arm thing. The bit where they do a course at night and declare a winner.
Almost as surely as night follows day, Total Wipeout spawned imitators and "successor shows". Splatalot worked, Don't Scare the Hare didn't. Splash! got renewed, The Getaway Car seems to have spluttered out half-way through. Can't Touch This is very much one of these imitators. And it seems to have forgotten many of the points that made Total Wipeout a hit.
We begin with a line-up of fifteen people. Fifteen people. That's a lot. The opening round's going to last about half an hour, so these people are going to be on screen for about two minutes each. And, whaddya know, each of them is on screen for about two minutes each.
Can't Touch This avoids the obvious trap, it doesn't follow one person all the way, then the next, then the next. After the first player shows us all the obstacles, we then cut and change between various people. We'll compare players on a particular obstacle, or cut between two people the producers want to link. There are fast bits and slow bits, introductions and finishes. The tempo varies, it's not as monotonous as Strictly Come Dancing.
Less "can't touch this", more "hands on the prize".
But like October episodes of Strictly, we're looking more at people's failures than their successes. Ha ha, Chrissie has fallen off the travelator. Hee hee, Simeon failed the pole vault and – guffaw! – fallen into the water.
And here's a big difference from Total Wipeout. When people fall off an obstacle in Argentina, they're going into the water. Sometimes it's more mud than water, but wet is certain. For Can't Touch This, the bulk of the obstacles fall into a pit of foam blocks. They'll absorb the landing, they'll guard against injury. But foam blocks aren't water, they won't leave people dripping wet.
"Yeah, but where does the not touching business come in?" asks the viewer. At points along the obstacle course, there are "touch points", marked by a hand symbol. The players are to get along the course, touching as many of these touch points as they can. There's a time penalty for each one missed, and a prize stored for each one hit. So, the show isn't "can't touch this" but "hands on the prize".
But what of the course? It begins in spectacular fashion, the player's fixed to a catapult and fired into the Splatalot castle moat. Except, as this isn't Splatalot, they're going to be fired into a pit of these foam blocks. And they're not going to be fired out of the area – Can't Touch This takes place indoors, in a dark warehouse.
Then it's a travelator, one point above the flat belt, another some distance down it. Unless the player's very careful, they'll fall into a shallow pool of water at the end. Then a construction challenge: pile blocks on top of each other, and use one to clamber up to the next level.
Then comes the difficult pole vault, and then the show's signature obstacle: a crawl along the balance beam, while punchbags swing in your direction. The course ends with a slide to reach two swinging targets, then wade across a pool to the finish. A good player can complete in three minutes, plus penalties; six minutes including penalties might see a player through.
All things considered, we'll see more than half the action on the course. For our money, it's a little too repetitive, we'd rather see a longer course and fewer contestants. But because we do see the bulk of the action, the players all get a fair airing. On Splatalot and Total Wipeout, the producers could show one minute's action out of a ten minute effort, and edit the performance to fit their storyline. Can't Touch This has to be more honest.
We also get to appreciate the design: a yellow-and-blue colour scheme. Reminds us of ITV circa 2005. There's a useful chime whenever someone reaches a touch point, and the soundtrack cuts between obvious and slightly clichéd pop hits to fit with Sue's commentary.
The rounds are the same every week, so if they're a bit dull...
We've spent over half an hour on the opening round, and the remaining four rounds have to be squeezed into a quarter of an hour. This feels unbalanced. They could make the show longer, but it's long enough already. Or cut down the early round and give more substance to the later stages. The rounds are the same every week, so if it's a bit dull, the show's scuppered.
Top six progress to round two, and round two is complete in a flash. After being spun round, the players go over some tangled netting and take a chair – slowest is out. Then it's down a slope into a water slide, and across some wide rings – slowest is out. And then over a water tank, using ropes that may not be attached to anything – slowest is out.
Three remain. They're given a task to collect three items from a spinning circuit, then climb to the top of a small plastic mound. Again, this comes across as trite and trivial. The collection task is simple, and even the hand-holds that come off the mound don't stop a player for more than a moment. Even at this late stage, Sue's commentary is as much joke as "wow, we're near the big prize".
The losers will return home with nothing. All fourteen losers leave with nothing. The winner has accumulated a bank of prizes – at least five, likely near the maximum of eleven. These prizes are displayed on boxes, which bob up and down above a dual travelator. Yes, it's good to see the star of Gladiators return to Saturday night. But the travelator is going to be trodden on, the winner moves up and down to touch as many of the items as they can. Gets touched, gets winned. Won.
And there's a bonus round: one leap into the void to touch a truck or car. Touch the vehicle, win it. And, naturally, this is played with the maximum of tension, slow-motion replays and winding time backwards as often as possible.
Zoe Ball and Ashley Banjo are the hosts, they go along the course with each player and make snarky asides to camera. After two episodes, it's difficult to remember what Ashley Banjo has added to the show; Zoe could host this on her own, but her style is always better when she's someone to bounce off. Commentary and description and voiceover are from Sue Perkins, whose Don't Scare the Hare is a legend in its own teatime.
Can't Touch This isn't as bad as the hare. The show knows it is a frivolous exercise until the last moments, and goes through with a glint in its eye. In small doses, it's light and entertaining. This column came to the first episode about fifteen minutes in – no problem understanding what was happening, and it proved to be the right length. The whole of episode two dragged much more.
Can't Touch This has problems, it's not well balanced, the middle rounds feel very rushed. Sort these out, perhaps cut the contestant pool a little, mix up the obstacles, and there could be a hit programme here.
The key moment in this week's programme came just over 6 minutes in. Having already incurred two penalties for incorrect interruptions, Peterhouse Cambridge wait – and wait – and wait until it's absolutely clear that the host has finished. Only then do they dare buzz in.
This dead air arises because teams are scared of getting harsh penalties. It's the right strategy, it maximises the teams' chances of winning. But it's wrong for the viewers.
We expect the semi-final to be a red-hot contest, two teams going at each other like finely-tuned armies. But this is tepid, it's an insult to the teams, it's an insult to the viewer.
All of this stems from bad production decisions.
University Challenge no longer entertains. To avoid penalties, the match has to proceed at a funereal pace. Starter questions drone on and on and on. They might reach their point and then spend forever flying around it, like a plane killing time over Walthamstow before heading into Heathrow. Bonus questions – which are written to be a little more direct – get eclipsed by a sneering and monotonous host who makes no effort to understand the questions he's reading.
This column is no longer entertained. Worse, far worse: we are not interested. The adjudications are capricious and have no base in fact. The host is a bore, and comes across as a boor. The format is over-exposed: at 47 episodes per year, Paxman is on more shows than Ant and Dec. After the next tournament – we think it's already in the can – Paxman will have hosted as many series as Bamber Gascoigne.
The contestants deserve better. They deserve to be part of great entertainment. University Challenge is not entertainment. At best, it is basic, functional television. It fills half an hour, it brings people to BBC2. At worst, it puts people off good television companies – both the BBC and Granada are far better than this.
The students this week did their best to make the show entertaining. The producers tried to stop any sense of fun, throwing lots of penalties for incorrect interruptions – including at least one that was not an interruption by any reasonable standard, but the producers have long stopped being reasonable.
Peterhouse Cambridge recovered an early deficit to beat York by 145-100.
This Week and Next
"What is so wrong about showing it matters to you?" asks the Life After Mastermind blog. Londinius writes about Oscar Powell of Peterhouse, who has been putting his all into his University Challenge experience. When he gets something right, Oscar is pleased; when he's wrong, we see he's unhappy. Oscar Powell is a character, he has emotions, he is a rounded person. He's not a quizzing automaton, he's human.
Success mattered to Mike Clarke on Brain of Britain. He scooped six points in the opening round this week, and never looked like being beaten. Mike Clarke takes the first place in the series final, which will air on the May Day bank holiday.
Coach Trip is driving over to E4. The international reality-and-tourism show has been an occasional visitor to Channel 4 for over a decade; the next series will doubtless have a younger focus. At least it'll have a higher profile than Brendan's Love Cruise, so bad it went out in a dead slot on More4.
And speaking of 2005 coming back, The Satellite Channel has ordered "Spelling Star". It'll be children spelling words, a less fun version of Hard Spell Abbey. Spelling Star will be made by Remarkable Television, in which The Satellite Channel's owner has a stake.
Not coming back: Bring the Noise. The Satellite Channel's music panel game has not been picked up for another run.
BARB ratings in the week to 27 March, Easter week. And the shortest week of the year.
The Night Manager remains top of the pile, 9.1m viewers on Sunday night BBC1. Masterchef returned, and was the most-seen game show with 5.6m viewers.
The Voice is off the top, but only just – 5.5m. Saturday Night Takeaway went out an hour earlier than usual, and had 4.7m – plus 1.55m on ITV-HD, and 460,000 on ITV+1.
Big Star's Little Star (3m) beat University Challenge (2.85m), so there is some justice. The Chase With Celebrities came back with 2.35m viewers.
1.75m for Catsdown (C4), 1.4m for Celebrity Juice (ITV2) and 950,000 for Fool Us in Vegas (C5). We don't have figures for The Satellite Channel.
Look who's back! Wild Things (The Satellite Channel, Sun) asks who is under the hood. Bang on the Money (ITV, Sat) sees two teams get things spot on.
Also this week: Fifteen-to-One (C4, weekdays) for a summer series, Chopping Block (ITV, weekdays) for cookery fun, The News Quiz (Radio 4, Fri) for comedy, Sion a Sian (S4C, Fri) for attached couples, and Play to the Whistle (ITV, Sat) for Richard Osman fans.
The last ever Pop Idle Us (4Music, Mon and Tue) – a British show made good. We made Will Young and Michelle McManus, they gave Kelly Clarkson and many others. Last in the series of Airmageddon (CBBC, Sat).
Photo credits: Stellify Media.
To have Weaver's Week emailed to you on publication day, receive our exclusive TV roundup of the game shows in the week ahead, and chat to other ukgameshows.com readers, sign up to our Yahoo! Group.