Weaver's Week 2019-02-10
Last week | Weaver's Week Index | Next week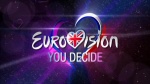 Do we have time to go back to the songwriters before the meaningful show?
A Song For Europe
BBC Studios for BBC Music, shown on BBC2, 8 February
"I'm back, you know what that means! Graham Norton said no again." Måns Zelmerlöw returns. So does Mel Giedroyc, still unable to find the right camera on network television. In another universe, Måns co-hosts with regular BBC commentator Christopher Price; in our universe, the Liquid News host died in 2002, just as he was about to become the next big thing. We miss him.
What's a Songov, Mel?
This year's contest has a new format, the Songov. It's a relic from the 1977 Intervision Song Contest. As we all remember, this took place after the Five Year Plan failed to produce the requisite number of patriotic and toe-tapping ditties, a dark time known as the Soviet Song Shortage. The Five Year Plan to produce Mediocre Talent had reached quota, so there were more performers than songs. To fill the gap, each combination of tune-and-lyric was arranged in many different ways, with the best arrangement advancing to the finals. It helped that the Politburo were tone-deaf, and in many cases stone-deaf.
Tonight, we'll hear three songs performed in two very different arrangements. It's a bit like the final from Chwilio am Seren, the same lyric with a different tune. The BBC's hand-picked judges choose their preferred arrangement of each song. The 100% public vote will determine the winning song (and hence performer). The judges represent three corners of the radio market: Marvin Humes (from Capital FM for the tweenies), Mollie King (from the thinking young people's station Radio 1), and Rylan Clark-Neal (from old people's Radio 2).
"Sweet lies", written by Lisa Cabbie, Maria Broberg, Esben Svane
Before each performance, the vocalist speaks about their favourite Eurovision Song Contest moment. Kerri-Anne nudges "Fuego", the ESC bubble hit from last year. She brings lots of energy on stage, something the BBC entry has lacked for many years. The performance is with four backing dancers, Kerri-Anne and two ladies are in short dresses, two gents have full trousers.
Vocal capacity? Check. Kerri-Anne belts out the song, hits some high notes. Not very many, this isn't a complicated performance, it's going for the televote from people drunkenly tapping the Eurovision app (available from all good app stores right now!) Energy is there, but the song there is nothing: it'll get completely lost amongst 25 other performances.
A burning grand piano is the abiding memory for Anisa ("Playing with fire" from TVR "Romania" in 2010). She's sat behind a grand piano (non-flammable), it's classy, it's static – at least until Anisa rises from her stool after the first chorus. Didn't connect with the camera, but that can be learned – see Softengine a few years ago. We still don't get anything from the song.
"I've got to go for the most memorable, and that'll be Kerri-Anne," says Molly. A contradiction in terms, there. The uptempo version goes through, decided 3-0 by the judges.
"Freaks", written by Jon Maguire, Corey Parkhouse, Corey Sander, George Tizzard
Jordan Clarke is a lad from Essex, and he remembers "Lie to me" from last year, not for the ambitious pop video performed on stage but for the muted trumpet. Which might fit in the BBC budget?
Surprise! It's the video on stage. After a fashion: Jordan turns up in an elaborate velvet jacket, leading a small army of dancers who "Throw" "Shapes". It's all a bit Peter Brame Does The Greatest Showman, which is no bad thing. Jordan finds the camera, has something for the juries, and there's a really good hook in this arrangement.
Remember the Russian grannies? Jade Ewen? Both are namechecked in the video for Maid, a three-piece girl band. They're colour-coded for our convenience, and perform the song with minor key arrangements, something we don't get much from the BBC. Sadly, "minor key" turns into "off key" too often. They're static until the second chorus, that's just too long. The whole performance feels like something at Junior Eurovision from a broadcaster that doesn't *really* want to host the contest next year and reckons ninth place would be just fine.
"It's twenty years since we had a girl band through," said Mollie, voting for Maid. That isn't a judgement on the song, but on the BBC's selection process. The other jurists vote on what they've heard tonight, and plump for Jordan.
"Bigger than us", written by Laurell Barker, John Lundvik, Jonas Thander, Anna-Klara Folin
The X Factor quarter-finalist Holly Tandy talks about Kristian Kosov, a 17-year-old contender. Being 17 is a big thing for this performance, apparently; two years old enough for the Senior Contest, but positively ancient compared to Manw and twenty-one others last November. Holly's performance starts on a Medium Chair they've borrowed from Strictly Come Dancing, and features two cowboys bucking their hips for no obvious reason. Is this meant to be slightly country 'n' western? Apparently so.
Holly delivers the best vocal of the night so far, perhaps a little shrill at the end. The BBC's camera angles are as useless as ever and there are flags blocking the performance. This is why the BBC needs to do Top of the Pops weekly – get practice in how to put disposable pop music across on television. And not hand out any flags to the audience; it's a celebration of songs, not nationalism.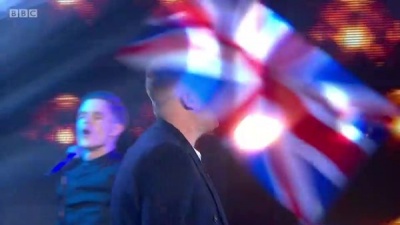 Some suggest lowering the lighting rig on people who wave flags like this. That's unfair on the lighting technicians.
Michael Rice is the reigning champion of All Together Now, and has taken inspiration from "Amar pelois dois". A starfield backdrop, finger-clicks, four backing vocalists in the background, stage lights going right up for the chorus. The verse is a little too low for him, could raise a notch. There's a gospel effect to wow the juries – a lot of echo on five vocals – and there's a massive note towards the end. And he connects with the viewers, leaves nothing on the table.
Not a huge surprise that Michael progresses 3-0: we sense that had Holly been up against anyone else, she'd have gone through.
The Stupor Final
"Build up the tension, gang." While we prepare for the final performances, Netta offers an insider's holiday guide to Tel Aviv, and some of the songs already selected. Interesting that they've not cleared any footage from Destination Eurovision, an ITV Studios France production.
"The next time you sing that song could be at Eurovision," suggests Måns. Hope not, that would be a shockingly under-rehearsed song, like the time that couple met their staging for the first time when they got into the Vienna arena. Which broadcaster was responsible for that, again?
The choice. Identikit 90s dance from "Sweet lies"; the producers will use it as sorbet between better songs.
"Freaks" is ear candy, it could smash the televote, and that's a memorable staging; it's spiky and could go places. Good, but we can see how producers might use it on a sawtooth before a killer ballad.
"Bigger than us" feels like "Nobody but you" from last year, the light gospel we never expect to hear and enjoy when we do. Here's what we said about the 2018 bronze medallist:
The performance only works because Cesár Sampson is such a good performer. He sounds as though he believes what he's singing, he is convincing, he is authentic to the song. His gospel training – and gospel-inspired backing vocalists – turn a creepy lyric into an optimistic song, full of longing and passion.
"Bigger than us" is not creepy, it goes straight into the optimism. There are rumours that the BBC turned down "Nobody but you"; they've certainly not let a carbon copy slip between their fingers.
Here's the Single Transferable Vote from this column
"Bigger than us" – Michael Rice
"Freaks" – Jordan Clarke
Re-open nominations. Look, you could have asked someone to perform "Perta" in other arrangements.
"Freaks" – Maid
"Bigger than us" – Holly Tandy
Sinan doet niks. Just don't bother sending anything.
"Sweet lies" – Anisa
"Sweet lies" – Kerri-Anne
For the voting, it's good to see the song title given more prominence than the performer.
Interval act
While Mel and Måns read the voting disclaimers in English and Welsh (except they don't bother with the Welsh translation, slackers!) we'll turn to the correspondence pile.
On the interwebs, someone asked, "Can anyone remember whether Maxine Peake, Mike Leigh, Peter Gabriel, Julie Christie, Vivienne Westwood, AL Kennedy, or Roger Waters urged the BBC to boycott Eurovision when it was held in famously human rights friendly Russia?"
We did the research. No, there were no significant calls to boycott the 2009 Senior Song Contest in Moscow. Not from these luminaries, not from anyone. The entry from GBP ("Georgia") was knocked back, on the flimsy pretext that "We don't want to put in" could possibly perhaps be interpreted as a reference to the Russian leader Vladimir Putin, who had ordered troops into GBP's broadcasting area the year before. Gordon from De Toppers said he wouldn't take part in the final if local police used violence against a pride parade, but he didn't take part in the final because AVROTROS ("Netherlands") lost earlier in the week.
There were calls to boycott the 2012 event in Baku. AMPTV ("Armenia") stayed away, citing fears for the delegation's safety. Amnesty International and Human Rights Watch issued sharply-worded statements in March, and the president of fan group OGAE Denmark muttered about concerns over homes being demolished to make way for the new arena. The EBU harrumphed, and a statement said "There was some talk of boycotting England [sic] in the 1970s over what was happening in Northern Ireland. But Eurovision can act as an agent of change."
Since then, nothing beyond a spat between C1R's singer and the Ukraine government in 2017. We're not aware of any calls to boycott the 2018 event for young performers. Lest we forget, it was held in a city under a distant, autocratic, remote, and generally despised regime. The unelected masters give bribes to secure favourable votes, dish out baubles to political friends, follow damaging policies without a clear mandate from the inhabitants, and where the regime rescinds citizenship on a whim. Nor were there calls, a few months later, to boycott Junior Eurovision in Minsk.
Back at the show
Right, that's quite enough meaningful votes with a vague European connection for one week. While we were away, the BBC showed Netta performing "Toy" (incorrectly billed as 'reigning Eurovision queen': what a dum-da-dum-da-dum statement). Graham Norton looks back on the more outlandish performances (and insults Eldrine), praising Conchita and RTÉ last year.
Surie performs "Storm" at a piano with a string quartet playing, and Måns does a medley of some of the BBC's winning entries and other big hits. No mention of the "United Kingdom" victory in 2013, co-writing for DR; nor of Lulu, it's as if the BBC has already accepted independence for Scotland.
The BBC doesn't give first-second-third, we just find out the song chosen by 100% public vote. "Bigger than us" has the vote. If it's performed well, if it's staged well, this could – perhaps, possibly – end on the left-hand side of the scoreboard.
Michael now has a pension for life, on the Eurovision party circuit. We'll be surprised if the song wins in this form, but taking part is the important thing for all European endeavours. To shine together, to discover, to light up our worlds. We all gain when we do things together.
Winners' octofinals
In this second round proper, the heat winners come back for direct passage to the quarter-finals. Losers of this round are not out, they will meet the winners from the First-and-a-Halfth round, which we covered four weeks ago.
Poptimists and LARPers met in the first match, and the Poptimists got the better of a tricky opening round. Original names for internet companies proved decisive, three to their cause. The margin wasn't altered much by the Sequences round, in which motorway cats eyes were illustrated by the eyes of a cat; both sides solved their Wall without problem. Both sides are good at Missing Vowels, and that concluded a 27-20 win for the Poptimists. LARPers face the Motorheads next, and should progress.
Pyromaniacs and Time Ladies clashed, and the Time Ladies won it on their Sequences. The wives of Rupert Murdoch and events on 1/4, 2/5, 3/6, 4/7 yielded five points, as the Pyros were fizzling out. The Time Ladies failed to recognise a rock full of Fraggles on their Wall, but aced Missing Vowels to win 19-11. Durhamites might give the Pyromaniacs a tricky tie.
A surprise return; the Forrests were unable to continue in the tournament, so were replaced by the top-scoring losers from the First-and-a-Halfth Round, the Brews. The Dicers did return in the normal fashion, and won 26-23. The Bristol stool scale attracted much comment, Scrabble tile values in groups of four proved surprisingly fun, and this column beat the teams on Bob and Carol and Ted and Alice. Brews were never in front, but never out of it. We think they have the Dragons in the next round, that will be fun.
Finally, Ancient Alumni and Westenders met this week. Alumni aced the early rounds, hitting deaths in Reservoir Dogs and Tombs of Unknown Soldiers for three, and picking up a bonus on Radio 2 breakfast hosts. Cor, remember when Cliff Evans was on the radio? The Westenders cut the gap in Missing Vowels, but were too far behind to win; 21-18 the Alumni's margin. Westenders face Birdwatchers next.
We'll cover the Last Chance Matches in four weeks.
This Week and Next
Last week, we promised an update on mole activity later in the series. We didn't mention mole inactivity.
TV Hashtag of the Week comes from Wie is de Mol. Our feed exploded last Sunday morning with #watgaatsinandoen What will Sinan do? Absolutely nothing: if there's a way to put his feet up and duck out of a challenge, Sinan will take it.
Meme-makers ran with this idea. If there's a park bench to test, Sinan's your man. A balcony that needs standing on, call Sinan. Living statues for your event, Sinan will just stay there. Try to wake him on the coach?
Black Chair Removals Inc Mastermind is moving to Belfast. The long-running show was put out to tender last year, and the winners are Hat Trick Productions and local company Hindsight. Two series will come from the new studios, beginning late this year, and they'll try to attract 80 famous faces for the celebrity editions.
Pilot season appears to be amongst us. There's Something About Movies is being made for The Satellite Channel by CPL Productions. Alan Carr hosts a panel show about movies.
Gagging Order will be hosted by Ellie Taylor, where the challenge is to make jokes about the week's most controversial news stories. We'll be told more about the show if it's picked up for broadcast, apparently.
Success on Friday's edition of The Chase, where Judith set a single player record of £70,000. Twenty is the fun zone against Jenny Ryan, and the Vixen chased her tail – nine incorrect answers, eight pushed back, and Judith ended the winner by ten clear questions.
BARB ratings in the week to 27 January.
Call the Midwife remains television's most popular show (BBC1, Sun, 8.85m). Dancing on Ice the top game (ITV, Sun, 6.9m).
ITV games hold the next three positions: BBC The Voice (Sat, 6.1m), Catchphrase (Sat, 4.85m), and The Chase (Tue, 4.45m). BBC1's top game is The Greatest Dancer (Sat, 4.2m).
A little lower down, Pointless (BBC1, Fri, 3.07m) barely beats off the challenge from Tipping Point (ITV, Wed, 3.06m). Some lateral movement would be useful.
University Challenge is still ahead of Only Connect (BBC2, 2.7m to 2.6m); both beat Dragons' Den (Sun, 2.58m). On Channel 4, SAS Who Dares Wins (Sun, 3.2m) and Hunted (Thu, 2.55m) lead all comers. The Countdown Championship of Champions finished with 530,000 (Tue).
Digital leaders: A League of Their Own (Satellite Channel, Thu, 1.04m), Celebrity Coach Trip (E4, Thu, 780,000), and Hell's Kitchen (ITV2, Tue, 560,000).
New creative shows are the order of the week. Masterchef goes large once more (BBC1, Mon), and Joe Lycett takes time for Sewing Bee (BBC2, Tue). Even more sedate, there's a new run of Portrait Artist of the Year (Artsworld, Tue).
Next week's Week expects to look at Dermot O'Leary's Small Fortune. That's if we can find our magnifying glass...
Photo credits: BBC Studios, EBU/Íctimai, AVROTROS.
To have Weaver's Week emailed to you on publication day, receive our exclusive TV roundup of the game shows in the week ahead, and chat to other ukgameshows.com readers, sign up to our Yahoo! Group.