Weaver's Week 2019-03-10
Last week | Weaver's Week Index | Next week
First divide, then conquer?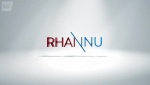 Cwmni Da for S4C, from 20 February
Let's take in 16 S4C viewers. Yes, *of course* there are 16 S4C viewers, especially when we start waving piles of cash around. Our host greets them all, and explains the format of the show.
Each pulls a plunger from a bank: the hidden end is coloured red or blue. To the side of the studio are two soundproof waiting rooms, one coloured blue, one coloured red. The players gather in their room, which the show calls "sheds".
Pick a team
Once everyone's inside, we hear the first category. "Liverpool FC", the example from the opening episode. In the red shed, there's a discussion about who knows the most; in the blue shed, there's one superfan and seven people who would rather watch the rugby.
Eventually, one person emerges from each shed. They'll represent their colour in the round of questions. The questions are quite difficult, they're unlikely to be something you know from general knowledge. But, to help out, there are three options. For instance:
Which other famous team is owned by the same owners as Liverpool FC, the Fenway Sports Group? A) Boston Red Sox, B) New England Patriots, or C) Boston Celtics?
Up to 2018, how many times have Liverpool been English champions? A) 16, B) 17, or C) 18?
(The correct answer of "2" is not an option, so we must assume they're talking about Liverpool men's football club.)
There's a question for the red team and the blue team, in turn. Questions will continue ... and continue ... and continue, until one player gets their question right and the other gets their wrong. It's like the rounds on Eggheads, only with much narrower subjects and with every question as multiple choice.
Hosting is leisurely and companionable, there are plenty of asides to the camera from the host. The contestants are encouraged to think through their answers, and verbalise their thought process. We cut back to the soundproof shed to pick up some reaction – they're watching everything happen on their big-screen television.
Red... or black?
Eventually, just as we're beginning to lose interest, we find a winner of this segment. Their team will progress in the game, the losers are eliminated and will come back for the next show.
After the break, the remaining players are again split in half, and another category is named. Again, each shed puts forward one player to answer questions – this time on Welsh castles. Again, there are pairs of questions until a winner emerges. Same as round one.
Sixteen became eight who are now four. There's a difference: the player who just answered goes straight through to the episode's final, and gets to choose their opponent. "Why should Jasmine choose you?", the question asked to each of the three potential players.
Jasmine makes a choice, and the remaining two players drop out until next week. They haven't done anything to lose, but nor have they done anything to win.
Our finalists then learns that the final subject is Hollywood Stars. Once more, matching pairs of questions until a winner emerges. That person takes £2000, and comes back in the series final where £10,000 is on offer.
Not just a quiz
What do we think of the show? It's slow and deliberative, particularly when the quiz finishes early. Our opening episode featured just ten questions, six of them on Liverpool FC. After the break, both rounds ended on the first go. We can tell from the pace how much quiz there will be. Later episodes had twice as much quiz, and seemed to flow much better.
Ideally, they'd have shuffled the broadcast order, and begun with a cracking episode. But Rhannu is like Going for Gold, everyone who loses in one episode comes back in the next show. The first episode they film has to be the first they transmit, otherwise continuity is going for a burton. And when your first episode isn't the best, tough luck, you're stuck with it,
Rhannu is more than a straight quiz, though. Even when there is plenty of quizzing, we get a lot of discussion within the sheds, choosing their nominee, prepping their nominee to think about the subject in hand. And there are some class reaction shots. "Oh, we discussed that earlier, she should remember it... please remember it..."
All the losers come back next week (and one new player to make up the numbers). Over the weeks, we get to know the characters a little. Like on !mpossible, like on Cash Trapped, we can pick people to root for, or root against. We get to work out the best quizzers, the lucky players, and those who are cheated out of victory.
The curveball of "winner chooses their opponent" threw us, we weren't expecting it at all, but it does represent this different dimension to the programme. Rhannu is not just a test of knowledge, but of social grace as well. This added dimension is enough to keep us watching through the series. And the series builds to a clear conclusion – the winners of each show come back for a series final, and a potential £10,000 prize. Tasty.
Rhannu goes out at 8.30 on Wednesday night, immediately after Brightest Family on ITV. The shows make up a different hour of relaxed and sociable quizzing, as far away from the impersonal vam-vam-vam of University Challenge and Mastermind as it's possible to get.
How (not) to be a Millionaire
Who Wants to be a Millionaire returned to ITV, and asked a question for £ONE MILLION. Which prime minister was never foreign secretary: Churchill, Eden, Home, Macmillan.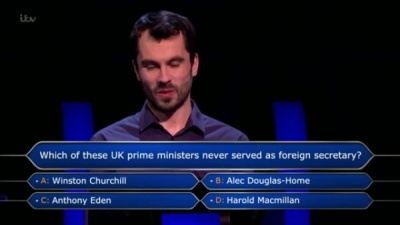 This column's thought process ran as follows: "Eden was FS under Churchill, Home returned under Heath, rule them out. Was Macmillan the FS under Eden? Who was FS under Eden? Rab Butler?
"Look at this from the other end. John Simon was the Liberal FS in the 1935 coalition, replaced by Lord Halifax who somehow didn't succeed Neville Chambermaid as PM... Would Churchill have been able to criticise policy circa 1938 if he'd been in government? Probably not, but couldn't be sure he wasn't. And wasn't he a big beast in the Liberal government during and before WW1? Might he have been FS then?"
"How sure are we about Churchill? Feels unlikely, but there are gaps. How sure are we about Macmillan? He was senior in the cabinet, not sure what he was doing. Wasn't he – like Callaghan and Major – in three Great Offices? Bits of quiz trivia we half remember. Leaning towards Churchill."
"Can we read anything into the question? 'Winston Churchill' is an answer your casual viewer will have heard of. If this had been a £16,000 question, or on The Chase, it would be a signal to consider. Not at this level; if anything, the writer might put Churchill in as chaff to distract.
"What are the outcomes? Walk away for a guaranteed £500,000, offer Churchill for a likely but not certain £million, offer Macmillan for a likely but not certain £64,000. Are we sure enough to offer Churchill at 1-to-16? Not at all; 1-to-5 would be closer to the mark.
"Walk away, final answer."
The contestant followed similar thought patterns, wasn't confident enough to go with any answer, and went out with a very healthy cheque for £500,000.
We subsequently researched: Macmillan was foreign secretary for a few months under Eden, replaced by Selwyn Lloyd. Churchill was home secretary in 1910, finance minister in 1928, and only joined cabinet after war was declared in 1939.
Some suggested that the pace was markedly faster than in Chris Tarrant's day. Not sure we agree. This week's million-pound chase filled three segments of the show; Tarrant might have spun things out a little more, so that the final decision would include his catchphrase, "We'll take a break..." Only during the autumn 2000 run, in the lead-up to Judith Keppell's victory, was the pace notably slower.
How would other shows use this fact?
On any quiz show, we would expect any question to cover at least two of these bases: interesting to the casual viewer, obscure enough to merit the reward, and with enough clues that we could hazard an answer if we had to. This question is certainly obscure trivia, and it certainly has enough of a path that we might make a reasonable answer.
If a nugget from this question were asked on The Chase, or on Rhannu, we might get "Which future prime minister was foreign secretary under Anthony Eden? — Alec Douglas-Home, Harold Macmillan, Harold Wilson" While the Chaser – and perhaps someone from the Rhannu sheds – will be able to rule out one answer straight away, a little knowledge could be a dangerous thing. We'd get an interesting monologue, if that fits the format.
University Challenge might use the same nugget in a different way. "Here are the ministerial jobs held by prime ministers since 1832, before they became prime minister. Name the PM from the list of jobs." So the list "Air minister, housing minister, defence minister, foreign secretary, chancellor of the exchequer" leads to the same answer. There are enough clues – "air minister" hints at the Second World War, a long apprenticeship suggests we're not talking about someone who rose quickly to power. We might quibble over whether this is interesting to the casual viewer, though no-one watches University Challenge expecting easy entertainment.
Could this question be asked as an open-ended one? No; there are many possible answers of prime ministers who were foreign secretary. If there were a quiz that used the Popmaster-style three-in-ten round, this would be a good question, but we've not seen it since 500 Questions. And that was such a failure they brought back Millionaire.
Final Chance Round
Winners from the First-And-A-Halfth round take on losers from the Second Round Proper. Winners of these shows go through to the Group Phase (First Round), losers go home.
Motorheads and LARPers met in the first match, LARPers won it by 25-18. Pictures of things found on the internet gave three points to the LARPers, but they lost the advantage through some outrageously lucky guesses from the Motorheads. A much stronger wall was the difference between the teams: luck might get you places in this show, but knowledge takes you further.
Durhamites beat Pyromaniacs 27-19. Ways the CIA tried to kill Fidel Castro, first Brits in space, and the arm gestures for YMCA all fell to the Durhamites, while the Pyros were sputtering. After some excellent walls from both sides, the Pyromaniacs had a scent of victory in Missing Vowels, but the Durhamites recovered their poise for the win.
Brews beat Hotpots 21-16 in an unorthodox match. Both these sides had been eliminated in the First-and-a-Halfth round, both returned because a side had to withdraw from the tournament. It was a low-scoring game in the early rounds, and a perfect wall gave the Hotpots a fortuitous lead. Excellence in vowelling was the difference for the Brews, who go into the Group Phase with a win, a (losing) draw, and two defeats to their name.
Birdwatchers beat Westenders 19-16 this week. The questions fell for the Birdwatchers from the off, starting with a chestnut about military leaders' horses. States with lots of "i"s helped the Westenders pull back, but the Birdwatchers pulled a little ahead on the walls, and survived the Westenders' late vowel attack.
More from this Cardiff studio next month.
This Week and Next
Alex Trebek is receiving treatment for advanced pancreatic cancer. The host of Jeopardy! is one of the most familiar and well-loved television stars in North America, thanks to his warm personality and calm delivery. as has been evidenced by the outpouring of good will after the news broke. We wish him every strength, and endorse these words from Jep! champ Ken Jennings:
Alex Trebek is in a way the last Cronkite: authoritative, reassuring TV voice you hear every night, almost to the point of ritual. One thing I know for a fact: Alex is very aware of how much he means to millions of people, and how we will be pulling for him...I hope that's a comfort. And I hope some very good L.A. oncologists are getting ready to have their mispronunciations corrected.
The death of Magenta Devine, a flamboyant interviewer and travel guide; her game show connection was as narrator on the second series of Wanted in spring 1997.
Gdzie jest Gliwice Śląsk? A centre of heavy industry between Krakow and Wroclaw, noted for its parks, wooden radio tower, and model village. And, for a week at the end of November, home to the Junior Eurovision Song Contest. Calibrate your calendar: this year's event takes place on 24 November, the weekend before Thanksgiving in parts of North America.
Nominations for the Royal Television Society awards are out. What games might win?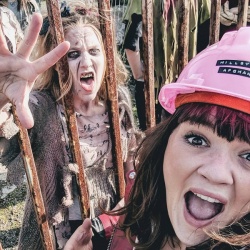 Children's Programme – Prosiect Z flies the flag for S4C, up against CBBC's My Life and Jacqueline Wilson's Katy. It feels weird to be cheering on the shambling undead, but it's about time an entertainment won this award. (And if you've not understood the Welsh-language version, get to the CITV player, because the English-language version is airing, and it's just as good.)
Entertainment – Don't Hate the Playaz and Got Talent, with The Last Leg also up. We're barracking for Don't Hate the Playaz: far more fun than we dared expect.
Entertainment Performance – Jennifer Hudson on The Voice, up against Big Narstie and Michael McIntyre on their eponymous shows.
RTS Channel of the Year is between BBC1, Cbeebies, and Channel 5. It's going to the five.
And the always-billable RTS Daytime Show of the Year will be Moving On; or Murder, Mystery And My Family; or The Repair Shop.
Awards will be given out on 19 March.
BARB ratings in the week to 24 February.
Call the Midwife is still the most popular show on television (BBC1, Sun, 9.05m). Dancing on Ice still the most popular game show (ITV, Sat, 5.25m).
The Voice remains just behind (ITV, Sun, 5.1m). The Greatest Dancer finished on BBC1 (Sat, 4.75m) and barely beat Masterchef (Thu, 4.65m).
A great score for The Chase (ITV, Mon, 4.15m), streets ahead of Small Fortune (ITV, Sat, 3m). This is what they need: Dermot on Small Fortune and Mark Labbett on The Beastly Challenge.
BBC2's top game was Only Connect (Mon, 2.15m) ahead of University Challenge (1.95m); both were hurt by live football on BBC1. A repeat of Catsdown was Channel 4's top game (Sun, 730,000), surprisingly close to the main Countdown (Mon, 540,000).
Top digital shows were Hell's Kitchen (ITV2, Tue, 530,000), Portrait Artist of the Year (Artsworld, Tue, 525,000), and Coach Trip (E4, Thu, 390,000).
BBC Scotland has us thinking of the best endgame ever in Wonderball (weeknights). Stripped across the week, Masterchef and its Round of 16 (BBC1, from Sun). Comic Relief on Friday, and the BBC2 break is Comic Relief Does University Challenge. End of The Bachelor (C5, Thu). Replacing Wie is de Mol on free-to-watch Dutch language internet streaming thingie BVN – it's The Big Escape (http://bvn.tv, Sat).
Photo credits: Cymni Da, Sony / Stellify Media, Boom Plant.
To have Weaver's Week emailed to you on publication day, receive our exclusive TV roundup of the game shows in the week ahead, and chat to other ukgameshows.com readers, sign up to our Yahoo! Group.