Weaver's Week 2019-03-24
Last week | Weaver's Week Index | Next week
Do moles thrive underground? Het grot!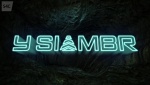 Boom Cymru for S4C, from 7 March
"The world's first subterranean show", according to the S4C publicity. This column doesn't claim to know every game show in the world, but we can't think of another show set completely beneath the earth. (But if you know of one, shout!)
Y Siambr translates as "the chamber", and is pronounced "ee SHAM-ber". It's set deep beneath the mountains of Snowdonia, in a disused slate mine. "Slate Mountain Blaenau Ffestiniog" is open to the public. After a rousing introduction, all action lines and stirring music, Aeron Pughe and his Hard Hat welcome us to the contest.
A contest wouldn't be a contest without contestants, and Y Siambr has six of them, split into two teams of three. They've applied as a team, and we have both an introductory voiceover and a chat with each team before the contest begins.
In its day-to-day life, the disused slate mine is now an outdoor pursuits kind of place: there are chances to abseil, walk along tight ropes and rock faces, and even some trampolines. Ever fancied going boingy boingy boing deep in the heart of Snowdonia? This is your place. And these existing facilities are used for the challenges in Y Siambr.
For instance, the one where they're to construct a jigsaw using sticky pieces dotted about a large trampoline. One player runs around the springy surface, through pipes and a spider's web and climbing nets to retrieve square pieces. Another player is on the end of the rope, and will be lifted to the jigsaw above the floor. The third player remains on the trampoline, and pulls the rope up and down to lift their team-mate.
Dylan Ebeneezer commentates on the events, perhaps he tells us what we can already see rather than what we cannot. Aeron is in the cave with the players, and can both encourage them and snark at we viewers. At times, we're reminded of Richard O'Brien's epic levels of sass in The Crystal Maze: Aeron will encourage teams when they need it but will criticise them alongside us.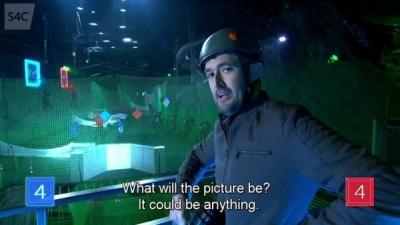 Other episodes have a different jigsaw game. Two of the players manipulate a computer screen, swapping pieces in a larger square picture. But the screen is only activated for a few seconds at a time, when their teammate presses a button in a two-level trampoline house. So we've got one player going up and down, the others solving a tricky jigsaw problem.
Every episode contains the rock game. Walk along a narrow ledge to some light switches. Press all of the light switches at the same time, and keep them held down for five seconds. Sounds easy on paper, but we're not playing on paper, we're playing at the top of a 150-foot drop. It's a challenge of nerve and tension, and the dark ambient lighting makes the lights stand out.
Another of the games is to clear a trampoline of coloured balls. Most of them go in a small box at the end, but five of the balls contain letters and need to go to the side where they spell a word. So it's a simple job of posting the balls through the slot in the box, while separating out the lettered balls, right?
Wrong. The players are tied together by bungee cords. As a player on one team moves towards their box, a player on the other team is pulled back towards the dividing net. A test of power and strength, with a little organisation.
And, like all of the games on Y Siambr, it's tremendously visual. These challenges are made for television. In the dark caves, contestants in bright colours stand out. Careful lighting cues add to the story and the mood without brightening the picture too much. Here is proof that game shows can be dark and gloomy, and still look good.
Each challenge has signature shots. The obstacles in the jigsaw game are designed so we can get close-ups of the players as they reach for the pieces, or push the buttons. They've worked out camera angles for the light-pushing game, and get close to the action as the teams move the balls. With each challenge taking about eight minutes on screen, we get a satisfactory amount of action without ever feeling rushed.
The final competition is a quiz between the sides, dressed up as a series of zip lines. Each correct answer allows the team's representative to go down the zip wire. The team ahead after three games gets a one-line head start, and the first to seven points wins. Oh, and the player going down the zip line has a chance to grab a light stick, and that'll send them down one extra line.
After this round, we lose one of the teams. They've done well, but not well enough, and the other side get a chance to escape Y Siambr.
Throughout the show, we've heard about the "power core", the beating heart of the cave. If it runs down, the power will go out, the lights will fail, and the team will be stuck inside. But if they can bring out the core, our team will win the show, and be lauded as great victors.
But once it's removed from its holder, the power core will start to run down. It'll take about five minutes to completely expire, plunge everyone into darkness, and the white walkers will be welcomed as friends. Best not to ask too hard how this works, just accept the mythology.
The final challenge is a compelling mixture of tasks. It begins with a skill task. Lift up this stick through a wiggly maze, or raise a plastic ball through a tube with holes for your arms. On the stick, or in the ball, is a key. The key will open a suitcase, and in the suitcase is a number. Remember that number, it'll come in handy later.
Then it's a long run through a path marked bouncy netting – unstable at the best of times, wobbly at slow speeds. When you've got three big heavy rugby players running through the passage, it'll go up and down like a yo-yo in a lift.
Eventually, they'll reach the second challenge, pulling out lengths of chain to reach the case. But only one of the chains is long enough to get there, and it's trial and error to find it. Can they move the case? No, it's securely fixed to the floor. Can they remove the keys? Er, yes.
Then it's another long run through the tunnel of nets. By now, the lads have run a hundred metres or more, uphill, bouncing all the way. They're shattered, and the last thing they want to face is a mental puzzle.
They face a mental puzzle. Form a word out of these letters, or solve a tricky maths equation. To make better television, Aeron might give a few clues, it's boring to watch people struggle and fail like this.
It's a flat run to the final challenge, a test of dexterity. Move a key through a thin wooden wall, by using a magnet on the other side – you can't see where you're going, and have to rely on the others to tell you. Or just extract the key from a complicated maze.
Now, remember how each challenge yielded a number? Type those four digits into the computer, in the right order, to escape. And do it before the last of the core runs down, otherwise it's lights out.
We really like Y Siambr. Ideally, we'd like to see at least one more challenge for variety – the mixture of five events out of ten proved a potent mixture for Gladiators. Perhaps they might make the first challenge one to break in to the cave.
But these are nit-picky improvements. The tight space could be claustrophobic, but the show is filmed in a way to make the seem much wider – and it seems to be larger than most television studios. Because there are relatively few places for the contestants to be, we get some very good angles and shots . And Aeron's commentary hits the right note, we feel like he's talking our language.
Best of all, we reckon the final challenge fits the show perfectly. It's easy to follow on screen, it's at the right space between "tricky" and "possible". It's exactly how we'd like The Crystal Maze to end if it were a new format.
We'll take these out of broadcast order, because the University Challenge producers make this section difficult to follow.
Losers' bracket
Glasgow fell out of the quarter-finals after losing to Manchester The Team Everyone Wants To Beat by 155-70. The teams were evenly matched for the first half, then Alexander Antao started to buzz more effectively than everyone else. Both sides were very poor on the bonuses, Manchester finished with just one from each set of three.
Emmanuel Cambridge also dropped out, defeated by Darwin Cambridge by 225-130. Darwin relies on the buzzer speed of Jason Golfinos. When he's hot, as in the first two rounds, the team wins; when he's cold, as in the group phase match, they lose. Tonight, Mr. Golfinos was hot, picking eight starters. The Darwin team stretched their advantage through high-quality bonus work, better than two out of three.
Winners' bracket
Durham qualified for the last four, beating Edinburgh by 165-110. Durham's advantage was on the buzzer, ekeing out their lead from a tough set of questions. Neither side looked as good as they were earlier on, this might be the first time we've seen Durham play really strong opposition.
St Edmund Hall Oxford defeated Bristol by 150-130. A rare come-from-behind win: the Oxford side received Paxman's dreaded "words of encouragement" in the second quarter, the quiz equivalent of the "vote of confidence" in a football manager who'll be fired in a fortnight. The fightback was aided by a notably lenient decision to allow one of Freddy Leo's answers: some felt he buzzed then paused to think, which is against the rules. Anyway, Freddy Leo had seven starters, including the last of the game
More UC in two weeks, as we complete the quarter-finals with the winners from the losers' bracket and the losers from the winners' bracket.
This Week and Next
Well, we didn't predict the big winners at the RTS Programme Awards. Cbeebies was the Channel of the Year. Ben Frow of Channel 5 won the Judges' Award. Lorraine Kelly was recognised for her Outstanding Contribution, particularly for playing the character of "Lorraine Kelly" on ITV Breakfast Broadcasting's Lorraine. RTS Daytime Programme of the Year is The Repair Shop.
Just one game show won: Children's Programme was won by Prosiect Z, another trophy to add to the Children's BAFTA.
From the sublime to the ludicrous, and the C21 Format Awards have announced their nominees. Three categories are reserved for the shows we call game:
"Best Studio-Based Gameshow [sic] Format": Child Support (Banijay for ABC-Disney), Confetti (B17 Entertainment for Facebook Watch), Have You Been Paying Attention? (Working Dog for Network Ten), The Curling Quiz (POSVIDEO for NPO), The Next Big Thing (Brainpool for Pro7), What Would Your Kid Do? (Boomerang for ITV).
"Best Competition Reality Format": All Together Now (Remarkable TV for BBC1), Beauty Match (TF1 for TFX), Big Bounce Battle (Endemol Shine Netherlands and Germany for RTL4), Dance Revolution (Quebecor Content and Fair Play for TVA), Making It (NBC Universal in-house), and The Four (ITV Entertainment for Fox).
"Best Returning Format" isn't a game award, but it feels like one. Dancing on Ice and Love Island (both ITV in-house), Strictly Come Dancing (BBC in-house), Masterchef (Shine for BBC2), and Who Wants to be a Millionaire (Stellify for ITV).
Other categories with game content:* "Best Brand-Driven Format" includes Back to Mine.
We may have missed some contests that we're not familiar with. Winners will be named on 6 April, when they'll also recognise Peter Fincham of BBC1, ITV, and now Expectation Entertainment.
BARB ratings in the week to 10 March.
With the midwife away, Coronation Street returns to top the viewing chart (ITV, Mon, 7.6m). Dancing on Ice was top game (ITV, Sun, 6.35m) in its final week.
Silver medal for Masterchef (BBC1, Sun, 5.15m), and bronze for debutant Celebrity Bake Off (C4, Tue, 4.85m). All the spoilers didn't work for Who Wants to be a Millionaire: 4.8m on Monday, and trending down.
The Voice always struggles in its battle rounds (ITV, Sat, 4.65m), but beat Pointless Celebrities (BBC1, Sat, 4.35m). All Together Now was really troubled (BBC1, Sat, 3.4m), and no-one saw Small Fortune give away a six-figure prize (ITV, Sat, 2.2m).
That's behind BBC2's growing Race Across the World (Sun, 2.5m), Only Connect (Mon, 2.42m), and University Challenge (Mon, 2.39m). Paxman more popular than Our Dermot? Shudder!
Top games on the new channels were Portrait Artist of the Year (pay-tv Artsworld, Tue, 445,000), ahead of Coach Trip (freeview E4, 435,000) and QI XL (freeview Dave, Mon, 390,000).
Sue Perkins is back! Gameshow of Thrones (The Satellite Channel, Fri) has celebrities and cast talking all things Game of Thrones.
Jimmy Carr is back! 8 Out of 10 Cats (E4, Sun) is a spin-off of Catsdown; instead of messing with words and numbers, the panel talk about news and culture and topical stuff. There's no Susie or Rachel, but there is Katherine Ryan.
Other old friends are back! The Family Chase and What Would Your Kid Do? (ITV, Sun), and Brain of Britain (Radio 4, Mon).
Photo credits: Boom Cymru.
To have Weaver's Week emailed to you on publication day, receive our exclusive TV roundup of the game shows in the week ahead, and chat to other ukgameshows.com readers, sign up to our Yahoo! Group.