Weaver's Week 2020-03-22
Last week | Weaver's Week Index | Next week
Strong stomachs are required for this week's shows. Later, we watch people try to clean up a massive mess of their own making, and then we turn over from The Parliament Channel.
Maverick for BBC3
A group of young people tour a disused shopping centre. It is full of jump frights, and every time they make a noise, they'll lose money. Will there be anything left in the pot by the end of the show?
The programme's set in the "Silent Oaks" department store, which hasn't been used for some years. It could be any old warehouse anywhere, as the team are led from one location to the next while blindfolded.
In each of three locations, they've a task to complete, and it's the same task in every room. Gather a number of items relevant to that department, and arrange them on the display table.
This is a horror show where the aim is to make the contestants scream, so what's scary about a scavenger hunt? Things leap out of walls, the mirrors crack, there are spiders and snakes and clowns and all sorts of unexpected surprises.
The production team have done their work, they've researched into the contestants' fears and have used those fears against the contestants. The player who is claustrophobic and afraid of rats is going to be tagged to crawl into a confined space with rats running about.
The show's host is Yung Filly, a rap performer who is known to the BBC II! viewer. He is in front of a bank of monitors, showing the team's progress from all angles. We also get after-the-fact pieces to camera from the contestants, explaining what they were doing while we're watching it.
Credit where it's due, the scenery was very good. The sparse props and décor made it feel like the team were in a shop that had been hurriedly abandoned. Incidental music was also made to fit the mood on screen. And while the central conceit – expose people to jump scares while they're doing a task – is something Fort Boyard has been doing since 1990, most of the BBC II! viewers won't have seen the French show, or its frightening remakes on Channel 5 and The Challenge Channel.
We have two problems with Don't Scream. One almost totally undermined the format: jump scares lose their impact very quickly. As soon as the human body can reasonably guess what's coming, it can adapt and form preventative responses. Don't want to scream? Sooner rather than later, the conscious mind will overrule the subconscious reflex. This wasn't discussed at all on the show.
The other problem is more interesting. It's tone – and a ricochet back-and-forth between two very different tones. The players on screen are either being frightened in real time, or they're telling us how they were frightened a short while ago. This is fine, it builds a mood.
Then we cut to Yung Filly, who is laughing and joshing with the camera, taking a lot of the edge off the situation. Often, he'll tell us exactly what the team have just said, or report what's coming up in a few seconds' time. While it's a way to ensure the dark show never gets too dark, we found it moved too quickly between dark and light, never quite settling on a single tone.
We're reminded of BBC 3's last effort at a horror game show, I Survived a Zombie Apocalypse (2015). That was another dark show, given subtle levity by many of the little character jokes, and overt humour from the cartoonish response of an incompetent government. That show picked a tone, ran with it, and is a good deal better than most people thought at the time.
Don't Scream doesn't know whether it's a comedy programme using horror as a metaphor, or a psychological experiment about the unexpected, or a horror show with comedy elements. That confusion showed in the final programme, sadly. If it moves from a pilot to a full series, Don't Scream would need a lot of ideas, and a lot of different ways to present the same material. And, of course, to pick a tone and run with it.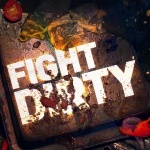 Fizz / Nice One Productions for BBC3
Two groups of young people have allowed their rented houses to get incredibly messy. The Party Boys have many friends over, with leftover pizza everywhere. Partners in Grime have takeaways and never clean up after themselves. Sinks are blocked, toilets are a state, and the windows haven't been cleaned since the invention of glass.
For the challenge, each group cleans the other's house. They've got five hours, instructions, and all the supplies you might need. Gloves, dusters, polish, a vacuum, and all the chemical concoctions you can need.
Being a BBC3 show, it's as much about the camaraderie and teamwork as about the challenge. We get to know the contestants through their pieces to camera and their work ethic (or lack thereof) as much as their mess. Why are there a zillion Buckfast bottles in the oven? Do the students throw a lot of parties, and other things?
There's an educational side to the show, demonstrating techniques for cleaning the house. This column learned how slugs like to eat mould, and we were reminded that cheap cola is spectacularly good to unblock sinks. Finally, a use for New Coke!
Narration comes from Jordan North, he knows when to crack jokes and when it's best to shut up and let the contestants speak. Unlike Don't Scream, the narrator doesn't repeat everything we've just heard, but draws our attention to details we might have missed.
Of course, the big prize is a cleaner house, and it's revealed in true Changing Rooms fashion – each side goes back to see it for themselves.
We're serious about how you'll need a strong stomach. The front half of this show is quite the grossest thing we've seen. The back half shows how much difference can be made in one day of effort, and how much difference a few parting gifts can make to a house. The winners will get £1000 cash, the losers have these gifts.
We haven't heard that there's a contest between this show and Don't Scream for a series commission, but we think this one would be much more fun to make into a full series. There are many ways for places to get unhygenically messy, and many tips to clean them up. Jump scares need to be strictly rationed.
Fight Dirty is a BBC3 show through and through. It's a fun and informative way to promote ideas to young people, with a clear social message at heart. Just a bit... ew. Now wash your hands.
The long third season of Richard Osman's House of Games concluded last week. It was 100 episodes, every night since early October apart from a short Christmas break. Every night, there's fun trivia games from the comfort of the studio armchairs.
With a hundred new episodes, there had to be plenty of new games. Here are the ones we noted, and some commentary on them.
You Spell Terrible A pairs game. One player answers a general knowledge question, the other has to spell the answer correctly to score the point. Typical answers include such simple words as "blancmange" and "Showaddywaddy".
Totes Emoji Another pairs game. Before the show, each player sent Richard a text describing something in emoji. The partner's task is to work out what was sent. Is it a literal description of the title, or the plot?
But what's the Question? One of the players is given a strange answer, and three possible questions that lead to that answer. Think Jeopardy! with multiple-choice questions, rather than Millionaire with multiple-choice answers.
Question Writers' Day Off While the regular question-writers went off on a corporate awayday in Scunthorpe, they let their children write some questions. Our panellists choose the writer, knowing their name and age, and fail to answer the question. This has divided opinion, as some of the questions tend to the completely random.
King of the Jumble Two questions are asked, the answers are anagrams of each other. We never knew that the Taoiseach's name was an anagram of an animal, and welcome the appearance of Leo Aardvark.
Two Clues in One The clues have the same initials as the answer. Think "Suaveley Hatted" for Sherlock Holmes.
Lucky Dip A question and four possible answers. The players give answers in turn. Their order is determined by drawing balls from a bag. Television has experimental rounds, and some television experiments can fail.
A Blast from the Past Tense Each of the answers contains one or more verbs; put the verb in the past tense. So don't say "William Tell", it's "William Told". Some interesting decisions on what counts as a verb here.
Win When They're Singing The producers start to play a song, then fade it out. Each players buzzes in when they think the singing is about to start: whoever's closest gets the point. Great one to play at home.
Opposites Attract What's the opposite of the clue on the board? We're given a category, so under "80s bands", the clue "Complicated Bodies" wants "Simple Minds".
Internet History The House of Games social media accounts have been around for years, sometimes even longer than the social networks themselves. Delving back into their archives, the researchers find how famous historical figures described themselves using #hashtags. Some viewers might remember a similar challenge on Anne Hegerty's Brightest Family.
Pop Art Song lyrics are presented in rebus form.
The Z List A pairs game – each pair gives an answer, and the point goes to the correct answer further down the alphabet. This feels like another experiment, it would work better as an individual round.
Can You Feel It? Our panel get a magnetic board containing letters. And a blindfold. By touch alone, they move the letters to form the answers. It's harder than it looks, and more fun than it sounds.
Outplay Osman We're given a category with lots of answers (for instance, Wimbledon champions since 1990), and our players write something down. Richard then has 30 seconds to think of as many answers as he can; match your answer and you sit down. Anyone still standing at the end scores a point – if their answer is correct.
The Two Wrongies A rock-hard pairs game. Before the show, each player was asked a difficult general knowledge question, and got the answer wrong. On the show, their partner sees the question, and must guess the wrong answer given.
House of Gamers A derivative of "Mouse of Games", except they add one extra letter to an existing title. For instance, "A group of New York puppets are encouraged by facts they've learned from a Sandi Toksvig panel show" clues "Avenue QI". It's "Avenue Q" with an extra letter.
Hose of Games As above, except remove one letter from an existing title.
The (Not Quite So) Nice Round A variant of The Nice Round, played in champion's weeks. The usual rules apply, except that a point can be deducted for the worst clue in the round.
The Too Complicated Round Richard gives a category, such as "Members of Monty Python". He then asks a completely unrelated question, such as "Which Spanish crooner had hits with 'Hero' and 'Bailamos'?" The correct answer is the member of Monty Python with the same initials, so it's not Enrique Iglesias but Eric Idle. Well done if you got that at home.
Reichard Ösmans Haus der Spiele ist der internationalrunde. All of the general knowledge questions are asked in languages other than English. Trois options pour alle questions en ce pairs round. Goed gedaan als je dat thuis hebt.
More House of Games (3) later in the year, where we're promised a new set of prizes.
In other news...
Be upstanding for Val McDermid and Alan McCredie, the Scotland team on Round the Island Quiz. Not only did they win the week's edition, they scored a maximum 24 points on their questions. Four of the toughest cryptic crossword connection puzzles, demolished like a hot knife going through milk. This is the rarest of rare achievements, it happens literally once every ten years or so.
The continuing health crisis has affected the shows we call game. Dancing with the Stars on RTÉ came to an early conclusion last week, with Lottie Ryan and Pasquale La Rocca winning the phone vote. It's not known if they'll take on the Strictly Come Dancing champions in a challenge match. Georgie won Got What It Takes?, but will be unable to perform on the main stage of this year's Radio 1 Big Weekend as the event in Dundee has been cancelled. The live stages of The Voice of Holland of ITV have been postponed until later in the year. Countdown recorded ten editions without a studio audience before filming was halted, and Eurovision Young Musicians has been postponed.
Bigger than any of these: the Eurovision Song Contest will not take place this May. While the EBU has considered many options – a series behind closed doors, remote videos from each broadcaster's studio – none of them would deliver the experience. The EBU will make available a way to honour the chosen artists and songs, but the songs themselves will not be eligible for 2021.
ITV has let slip its replacement for The X Factor. It's a revival of Harry Hill's Stars In Their Eyes, complete with smokey doors and giant pencils.
The Royal Television Society announced its winners at a star-studded webcam last Tuesday. RTS Daytime Programme of the Year was The Repair Shop, not a game. Entertainment went to RuPaul's Drag Race, Entertainment Performance to London Hughes of Don't Hate the Playaz. History went to Jade The Reality Star, and RTS Channel of the Year was Channel 5.
New this week: Celebrity Murder Mystery (C5, from Fri) does exactly what it says on the tin: take some celebrities, lock 'em in a country mansion, and see if they can work out who's bumping people off.
Elsewhere, The Family Chase returns (ITV, Sun), and it's the final for Portrait Artist of the Year (Artsworld, Tue). A new series of In for a Penny next Saturday (VM1 and ITV), but the University Challenge Boat Races (BBC1, next Sun) have been cancelled.
Photo credits: Maverick, Fizz / Nice One, EBU.