Opportunity Knocks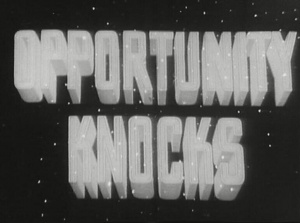 Host
Hughie Green (1949-78)
Bob Monkhouse (1987-9)
Les Dawson (1990)
Broadcast
BBC Light Programme (radio), 18 February to 29 September 1949 (33 episodes in 1 series)
Radio Luxembourg, 1950s
Associated-Rediffusion for ITV, 20 June to 29 August 1956 (11 episodes in 1 series)
ABC for ITV, 11 July 1964 to 27 July 1968 (120 episodes in 5 series)
Thames for ITV, 7 August 1968 to 20 March 1978 (341 episodes in 12 series)
BBC1, 21 March 1987 to 2 June 1990 (48 episodes in 4 series, 1987-9 as Bob Says Opportunity Knocks)
Synopsis
Infamous talent show whose major gimmick / selling point was the infamous "clap-o-meter", basically a decibel meter which measured the volume of reaction from the studio audience (though it did rather end up looking like a man moving a pointer about on a whim).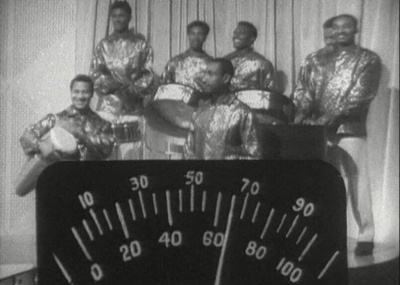 The studio audience clap. We rattle our jewellery.
Nevertheless, it was the home audience that decided who the winner of each week was by writing in on postcards. The winning act got to come back as a returning champion of sorts.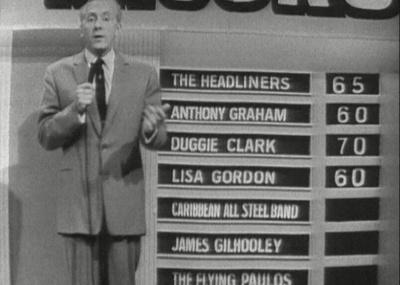 It's looking good for Duggie Clark
The BBC revival saw a return of the clap-o-meter (which we'd assume was a bit more scientifically measured) with the act receiving the biggest applause of the evening coming back for the live final, decided by telephone vote. Although the starometer did seem to leap forward far more for cheers than for applause.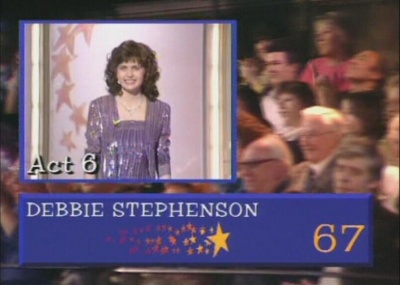 Debbie Stephenson takes in the applause.
Key moments
The TV muscle man who performed to the tune of Wheels Cha Cha was Tony Holland - see http://www.maxalding.co.uk/holland/holland.htm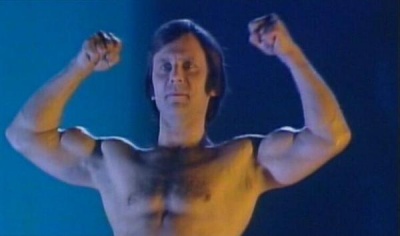 Catchphrases
"Tonight, Opportunity Knocks for..."
"And I mean that most sincerely, folks."
"Remember, the clapometer is just for fun."
Monkouse era: "When opportunity comes your way, don't knock it!"
Inventor
Hughie Green devised the original format. When the BBC came back with Bob Says...', there was a legal wrangle in 1987 when Green tried to prove he held the copyright. The matter was resolved by putting his name on the credits as "programme advisor".
In 1989, Green sued the Broadcasting Corporation of New Zealand who had broadcast a talent show called Opportunity Knocks in 1975 and 1978. This had several similarities to Green's format including the identical title, a clapometer, and catchphrases including "For (contestant's name)... opportunity knocks". The case was dismissed, on the grounds that Green couldn't conclusively prove that he invented these elements (the clapometer was used on other formats, for instance), particularly as there were no formal scripts and no "format bible" to express the unique elements that made up the show. The incident is still quoted as a key point of case law in format disputes.
Theme music
1960s version: Music performed by Bob Sharples and the Oppor-tunes with the ABC Television Showband.
Bob Monkhouse version: Star by Kiki Dee.
Trivia
The black and white images in the synopsis section above come from the edition of 31 July 1965. According to the British Film Institute, the acts were:
The Headliners' (two men and a woman with guitars [Reliably identified to us as John Mills, David Lewis and Mary Lewis - Ed.]) who perform their own composition `That's The Way I Must Go'. Anthony Graham plays the piano and sings in a falsetto. Sponsor: Jimmy Spiers. Duggie Clark, comic. [well received]. Sponsor: Johnnie Riscoe. Lisa Gordon. Pop singer performing `All the Way'. Sponsor: Gladys Wragg. The Caribbean All Steel Band. The seven band members make their own instruments. They perform the instrumental `In the Mood' and sing `My Baby and Me'. Sponsor: John Lochead. James Gilhooley, tenor, sings `La Donna Mobile'. Sponsor: Ellen Preston. The Flying Paulos. Trapeze act. Sponsor: Harry Paulo.
Acts discovered through the programme include Spike Milligan, Mary Hopkin, Bonnie Langford, Les Dawson, Pam Ayres, Little and Large, Bobby Crush, Peters and Lee, Kelly Brown (later to find fame as "Feels Like I'm In Love" hitmaker Kelly Marie), Lena Zavaroni, Tom O'Connor, Frank Carson, Stan Boardman, Carol Lee Scott (of Grotbags "fame") and Freddie Starr. Many of them appeared on the very final show. In addition, the then-teenaged impressionist Debra Stephenson was a finalist in the first Monkhouse series. She performed some excellent impersonations of Esther Rantzen, Pam Ayres and Sandra Dickinson, among other things.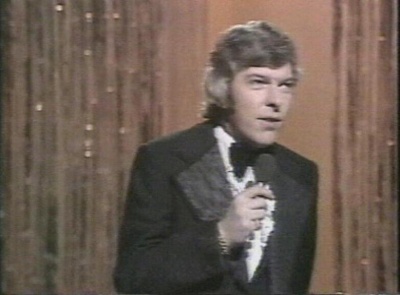 Tom O'Connor, one of the show's most successful discoveries
Among the more memorable acts to have appeared were Mr and Mrs Hubert Bell, a "hand balancing" act from Leeds; and Bruce Thompson, a one-man-band from Newbiggin-on-Sea, who went on to do the studio warm-up for Every Second Counts. In addition, there was Rosser and Davies, a Welsh duo who performed their own excellent comic songs: they won the first Monkhouse-series - and also Thames Brass, a brass quartet (or were they a quintet?) who very cleverly combined their playing with some superb (and mostly topical) humour. They were finalists in the Dawson-series.
The BBC radio version came off air after just one series, with Carroll Levis' Spot the Winner taking its place, leading Green to sue alleging corruption at the corporation. The case took five years to come to court, Green lost, and he was declared bankrupt.
Opportunity Knocks was the last programme to be produced from ABC Television's studios in Didsbury, Manchester - the studio had been a cinema in the ABC chain. The company was forced into a merger with Associated Rediffusion to form Thames Television, and relocated its business to London.
Although he was discovered on the programme that he later went onto present, Les Dawson did not win Opportunity Knocks. He won the audience vote but, according to Les's friend John Carey, the result was given to a singer who was the current girlfriend of a well known West End club owner. Les was offered a re-run on the (untrue) premise that there had been a mistake in the counting but he declined this offer and was given a Blackpool Night Out instead. He went down so well on this he was given a spot in the last show of the series and his fame started from that.
According to Hughie Green's 1965 autobiography, acts who were auditioned but turned down for the radio version included Alma Cogan and Tony Hancock.
The Jam also failed the audition in the dying days of the 1970s version.
Collectively, by 1978 Opportunity Knocks winners had appeared on 400 network primetime shows and won 46 Gold and Silver discs for record sales.
Su Pollard once appeared on the show, only to be beaten by a singing dog. Her big break came somewhat later.
The pop group New World were tried at the Old Bailey for trying to fix the outcome of the show on which they appeared. They had asked friends to send in bogus votes.
TV Brain tells us that many of the ITV episodes have been wiped from the archives with 18 of them surviving. These are the episodes that survived:
Series 3: Episode 5
Series 6: Episode 19
Series 12: Episodes 7-8, 22 & 25
Series 13: Episodes 13 & 23
Series 15: Episode 22
Series 16: Episodes 13-14
Series 17: Episodes 1, 7 & 15
Series 18: Episodes 16 and 25-27
Merchandise
An Opportunity Knocks - Winners! LP was released.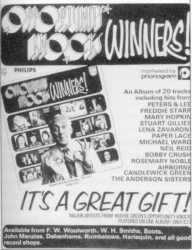 Advertisement for the Opportunity Knocks LP
Web links
Pictures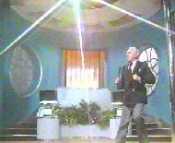 The obligatory light entertainment staircase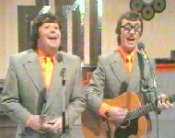 Little and Large, an Op Knocks "discovery"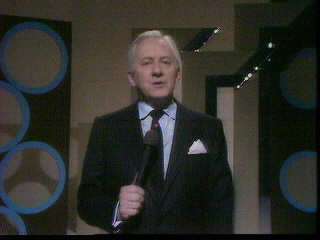 Host Hughie Green stands up to be counted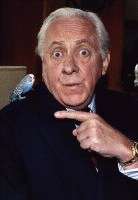 No idea what's going on here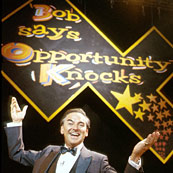 And if Bob says it, you'd better believe it.
Feedback