Weaver's Week 2017-12-17
Last week | Weaver's Week Index | The Week of the Year
This week's headline: A year-old repeat of Pointless Celebrities had more viewers than the final of The X Factor. More on that story later.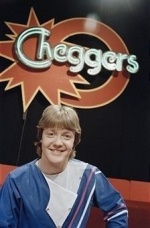 17 January 1957 – 11 December 2017
Whenever we write an obituary, this column tries to answer one question: what did our hero do? How did they advance entertainment, or television, or the shows we call game? For this year's closing obituary, the answer comes in a board game given away with Smash Hits in 1987.
In this counter-and-dice entertainment, you played a band trying to achieve the pinnacle of pop success (the cover of Smash Hits, naturellement). You wanted to avoid the greatest disaster, being down Ver Dumper. And, with the magazine's trademark sharp wit, squares riffed off the pop culture icons of the time. Such as, "You appear on the BBC's new Saturday morning show Lark About In a Damp Field With Keith Chegwin. Move on 2."
Cheggers was part of the furniture: everyone who read Smash Hits in 1987 knew him. And we all knew this was snark from Tom Hibbert; Going Live with Phillip Schofield, Sarah Greene, and Gordon The Gopher had already been announced. But what had Cheggers done to earn such familiarity?
Actor and swapper
Keith Chegwin was born in 1957 to Colin and Margaret Chegwin. He had a twin, Jeffrey, and later a sister, Janice. Keith was a child star – he was booked for Junior Showtime aged 11, and offered a part in the London production Mame. Licensing restrictions prevented him from taking that engagement.
Keith had lots of small television roles, including the pilot of Open All Hours in 1973. He was a regular on The Wackers, a sitcom from Thames. Criticised for its bad language, the Liverpool-based programme lasted just one series in spring 1975.
His idea to make a chat show for children was turned down, but Keith had come to the attention of the BBC children's department. With a new remit to fill hours on Saturday mornings, he was approached to be the roving reporter on The Multi-Coloured Swap Shop.
Keith's role was very simple. The Swap Shop van would go out to a large open space, somewhere in the country. A crowd of children would come, attracted by some stars and a band. The children would also bring items they'd like to swap, because when he's not talking to Noel Edmonds down the line, Keith would organise swaps amongst the crowd.
The editors liked this element because it got the show out to the viewers, it demonstrated that Swap Shop wasn't just that bearded bloke in London, it was theirs as well. The BBC bean counters appreciated the Swaporama, as they'd be very close to one of the day's sporting events, and the lines from Swaporama would be used for Grandstand that afternoon, or Match of the Day that evening. And Keith got to front a bit of the programme, he could do things that Noel wouldn't do in the studio.
Swap Shop was a massive shop window for talent. Imagine, if you will, that you are an aspiring pop star trying to get on the cover of Smash Hits. With one appearance on Swap Shop, you can get your record in front of four million young viewers. Some of them will want to go out and buy the single, propelling you towards Top of the Pops. Some will want to see you perform live. It really does pay to lark about in a damp field with Keith Chegwin.
And the stars appreciated the travelling show. Keith's Swaporama meant that stars didn't need to trek down to the Swap Shop studio in London. The show would come to them; during the morning, Keith might chat to a star from the local rugby club, hear from the local band playing the Civic Hall tonight, and treat the crowd to something spectacular.
And here's the first thing Keith Chegwin did to change television: he made the outdoor broadcast segment work. These days, we think nothing of throwing from a presenter in the studio to a roving reporter, and back again. In 1976, this was groundbreaking stuff. The idea may have come from the Swap Shop producers (suspects include editor Rosemary Gill, or host Noel Edmonds), but it wouldn't have worked without Keith. Not only was he at home on the outdoors, he was a prodigious talent, and could return to the studio right on cue. With a lesser presenter, the Swaporama could have been poor; with Keith Chegwin, it was unmissable.
A dash of Brown Sauce
One part of the burgeoning Swap Shop empire was its annual awards ceremony. The "Erics" went to the most popular stars of television and pop. Grange Hill always won Most Popular Television Programme, and Biddy Baxter would be displeased if her Blue Peter presenters didn't do well in their Most Popular Television Star categories.
For the 1981 awards show, Keith Chegwin – and fellow Swap Shop presenters Maggie Philbin and Noel Edmonds – made a pop video. "I wanna be a winner" was a throwaway piece from B A Robertson, and is perhaps best-remembered for its barely-rhyming couplet "Don't wanna rule like President Reagan, or kick a ball like Kevin Keegan." Nevertheless, the song tickled some young viewers, and the song was released for Christmas, we think in aid of Children in Need (but could be wrong).
Swap Shop was reskinned in 1982, after Noel Edmonds was replaced by Mike Read. Saturday Superstore saw Keith retain his job as "delivery boy", though he now spent more weeks in the studio. He also presented Playground (a retitled Junior Choice) on Radio 1, along with Maggie Philbin and Tony Blackburn.
Keith had married his co-host Maggie Philbin during summer 1982. For the Children's BBC side of the playground, this was Big News, it was the society wedding of the year. Keith and Maggie were the new Charlie and Diana, and the Superstore cameras were there to film the ceremony. Our friends watching ITV got pity and Danger Mouse.
Our ITV friends didn't get Cheggers Plays Pop. This show began in 1978, and ran for almost ten years. The format was quite simple, Keith Chegwin and a crowd of excited schoolchildren play a series of messy games in the studio, and there are pop bands to see.
"One game of rolling, revolving, and throwing", when we looked at a sample episode in February 2013. "Fill some pastry cases with jam", went another game, played over The Inflatable. There were silly voices in "On the Spot", and the "Hot Box Quick Quiz" featured the single most Cheggers image possible. To signal that they wish to answer, they press their buzzer, which causes a star on top of their hat to rise. It's simultaneously comical and genius.
Cheggers Plays Pop also featured some credible pop stars – on our sample 1984 episode, we had Blancmange, the Bluebells, and Modern Romance. (Equivalents for 2017? Respectively: Anne-Marie, Portugal The Man, and The Vamps.) All had gone up to the BBC's studio in Manchester for the recording, though only one would appear with the children. While they're up there, the groups could also do The Oxford Road Show, or leave a session for Radio 1. Perhaps it'll be played by Keith's sister Janice; she changed her name after marrying Trevor Long in the 1970s.
And here's the second lasting contribution from Keith Chegwin: The Inflatable. There was a time when games were played on the flat, all running about or shooting things through hoops. The Inflatable – a large and shaped plastic object, pumped full of air and filled with foam – made the shows ten times as messy, and ten times as much fun to watch. It's hard to imagine a show like Double Dare or 50/50 or Pigo dy Drwyn without an inflatable of its own.
"Where. Are. You. Keith?!"
As we've seen, the BBC chose not to commission Lark About In a Damp Field With Keith Chegwin, and he was suddenly off the telly. Cheggers Checks It Out (1987) was a one-off documentary series for children, but he didn't return when the series became The Lowdown.
Would Keith have been adept at documentaries? He would have had a learning curve – the weakest parts of Cheggers Checks It Out were the pieces to camera – but we know he was a quick learner and could bring out the best in people. Had the Children's department wanted to keep him on, they could. But 1987 was a renaissance year, there was a considered pivot to fresher faces, and Keith was indelibly associated with the old, more staid regime.
Keith Chegwin featured in the end credits of daytime music quiz Keynotes – he had an ear for music, and selected many of the show's nine-note tunes. And there were programmes for satellite television, including Sky Star Search. Here, KYTV made good on its opening pledge, "When it comes to quality, we stop at nothing."
Anyone who could claim a bit of talent would be booked, and critiqued by the judges. The programme was made on a production line, five episodes in one day, and the show would only be stopped if something Completely Awful And Utterly Unbroadcastable happened. Almost every episode featured something Completely Awful but not actually unbroadcastable, and it's best remembered for the many instances of talent going wrong. Sky Star Search also found Dave Spikey, so even this dark cloud has a silver lining.
This wasn't a good period in his life. Keith took to the bottle, his marriage to Maggie Philbin fell apart, and he opened up about his alcoholism on This Morning in late 1992. From this low point came hope. Keith charmed the producers on Channel 4's late-night show The Word, and they picked him up for The Big Breakfast. Again, Keith was the person to bring the programme out to the rest of the viewers. "Down Your Doorstep" saw Keith turn up on a street, and ask to be let into people's houses. Unscripted and unflappable, Keith could react to whatever happened, and the public loved him.
On and off, Keith would remain with The Big Breakfast for six years. During this time, he made Sale of the Century for those folk in the sky. He was a logical choice to host Channel 5's revival of It's a Knockout in 1999, and regretted the one-off Naked Jungle in 2000.
In the new decade, Keith took his doorstep knockings to GMTV, and he'd be employed in pantomime most years. He also pioneered the confessional vlog, Cheggers' Bedroom (2001) was a daily show years ahead of its time.
Keith revelled in his status, a legendary cheeky chappie who would make anyone laugh. He appeared in the character sitcom Extras, did Dancing on Ice, signed up for Celebrity Masterchef and subjected himself to Celebrity Big Brother. Swap Shop staff couldn't win the Erics, so his biggest career gong appears to be from the National Reality TV Awards, where he was given Lifetime Recognition in 2012.
Keith married his second wife, Maria Fielden, in 2000. She survives him, as does Maggie, and a child from each marriage. Keith died from the lung disease idiopathic pulmonary fibrosis, and spent his final weeks at Severn Hospice in Shrewsbury.
To answer our original question, Keith Chegwin has two big legacies. He pioneered the seamless outside broadcast, and he'll be forever associated with the inflatable. He's also a poster boy for "star who can take the rise out of himself, who never loses humility".
The Album Charts
With the clock ticking up to Christmas, it's time for our annual look at the album charts. Here's the game show talent (hosts, contestants, staff) with albums in the UK top 100 sales chart in the week to 14 December.
Ed Sheeran is number 1, but he has no connection to game shows, apart from the way he guests on all of them. Lucy Spraggan has a new single, "Drink 'til we go home", and it's as good as "Last night", but it's a single.
Michael Ball is number 4, with his friend Alfie Boe. The singer from the 1992 Eurovision Song Contest has made the album "Together Again". Last year's album, "Together", is at number 40.
Little Mix re-released "Glory Days" a few weeks ago, with extra tracks, and it's number 8. Their 2015 set "Get Weird" is number 72. They won The X Factor in 2011.
Alexander Armstrong is at 24 with "In a Winter Light". Bradley Walsh, his rival at teatime, holds 27 with "When You're Smiling". "Chasing Dreams", Bradley's album from last year, is just outside the top 100.
Sandwiched between the two is Tokio Myers, "Our Generation" is number 26 for the Got Talent champion. Eurovision Song Contest 1968 performer Cliff Richard ranks at number 30 with "Stronger Thru the Years".
Two from Strictly Come Dancing – "Christmas with Daniel O'Donnell" (2015 contestant) is 28, and professional dancer Anton du Beke is at 34 with "From the Top".
The One Direction solo albums: Niall Horan puts "Flicker" to 37, and "Harry Styles" is 55. Their erstwhile band was cast on X Factor in 2010.
Heading towards Ver Dumper: Shane Richie, whose album "A Country Soul" grazed the top 30 in mid-November... Jason Manford, whose "A Different Stage" made number 7 in mid-October... Nick Knowles, his "Every Kind of People" tickled the top 50 last month... Kelly Clarkson, the original and best Pop Idol has "Meaning of Life" just out of the top 100... Alistair McGowan, "The Piano Album" sold a few copies in October... Fizz, "The F-Z of Pop" sold to fans of the 1981 Senior Eurovision Song Contest winners and no-one else... Hans Zimmer "Live in Prague" somehow doesn't include his theme to Going for Gold... and this column may have the only store-bought copy of "Warmer in the Winter" from Got Talent and Ballroom With the B-List star Lindsey Stirling. We enjoy it.
This Week and Next
We're sorry to report the death of Heinz Woolf, the television scientist from The Great Egg Race. He explained some difficult mechanics and physics for a teatime audience.
Mixed news for fans of baking in the Americas. The Great Canadian Baking Show has been doing well for the CBC. It's a co-production with a local company, and it's a bit different from the show we knew and loved.
South of the border, the oven has gone cold. The Great American Baking Show has gone off air, just one episode into its run. Not because it's a flop or a failure, but because there are claims of harassment and abuse against judge Johnny Iuzzini. The winner of the series will be announced at a later date.
The Great American Baking Show goes out on the ABC network, owned by the Disney corporation. Disney has plans to buy the 20th Century Fox television empire, which includes our own KYTV channels. Reader: insert your own joke here, with payoff "Mickey Mouse channel".
No University Challenge this week, taken off for Nigella Lawson to play one-a-side football with chocolates, or something.
Mastermind went to Madeline Grant, a perfect round on the Harry Potter series steered her to the win with 25 points. Allan Cook (Rosalind Franklin) finished with 23 points, Peter Stiles (Battle of the Bulge) and Nick Gunatilleke (Waterloo campaign) ended in the teens.
Detectives and Arrowheads met on Only Connect. "What have we got? No budget! What do you win? No prizes! What's the point? Who cares!" Victoria was channelling the spirit of It's a Shame. It's a shame the Arrowheads didn't score for knowing Sharron Davies was Amazon on Gladiators, but the quiz gods threw a lifeline as the Detectives had never heard "Love in an elevator".
"Water always gets picked last" says Victoria. It's the 11th time (out of 36) this series that Water has been the final pick in rounds 1 or 2, but Horned Viper has been left till last in 14 rounds. Even the throwaway remarks get fact-checked.
The Arrowheads prove there's no budget when they demonstrate those times when an hour, minute, and second hand all line up, by moving their hands around their bodies. The match was lost on the wall, when the Arrowheads couldn't identify loan words from Portuguese, costing three points. They pulled back well on Missing Vowels, but the Detectives protected their lead and won 19-18.
Arrowheads drop into the Second Chance First Round, where the six losers from the Second Round Proper are joined by the two high-scoring losers from the First Round Proper. These sides play a two-round straight elimination tournament for the final two places in the group phase. No more second chances, this is the Second Chance Round already. The two winners from the Second Chance Second Round will join the six winners from the Second Round Proper for the Group Phase.
Look, file that paragraph away, and come back to it after your Christmas dinner. It'll make much more sense, as that's where they thought it up last year.
The BARB ratings in the week to 3 December.
Blue Planet II remains the most-seen show (BBC1, Sun, 11.45m). Strictly Come Dancing the top game (BBC1, Sat, 11.1m).
I'm a Celebrity remains in the Ten Million Club (ITV, Mon, 10.1m). The X Factor final took place (ITV, Sun, 5.5m).
Pointless Celebrities had a repeat of last year's Strictly special (BBC1, 5.65m). We'll just rub that in. A year-old repeat of Pointless Celebrities had more viewers than the final of The X Factor.
Masterchef The Professionals continues to lead on BBC2 (Thu, 3.3m). Celebrity Antiques Road Trip breaks 2m for the first time this year (Mon).
Top on the digital channels is I'm a Celebrity Extra Camp (ITV2, Fri, 770,000), followed by Christmas University Challenge (BBC4, Fri, 440,000) and Have I Got a Bit More News for You (Dave, Sun, 310,000).
More new digital shows: Landscape Artist of the Year (Artsworld, Wed, 250,000), Next Top Model (Lifetime, Thu, 180,000), Your Face or Mine (Comedy Central, Wed, 175,000).
Plaudits for shows getting their highest audience of the year: The Chase With Celebrities (ITV4, Tue, 300,000) and Cythrel Canu (S4C, Thu, 30,000).
Coming up
The week before Christmas has many finals. Masterchef the Professionals (BBC2, Thu), Next Top Model (Lifetime, Thu).
Lots of special episodes, too. Top Class (Sun) brings out the CBBC celebrities. The Chase (ITV, Sun) collects its bloopers. Festive edition of Mock the Week (BBC2, Wed) and A League of Their Own (The Satellite Channel, Thu), and a year-end round-up of Have I Got News for You (BBC1, Fri).
On the radio: Susan Calman has a show on Radio 4, Keep Calman Carry On.This Thursday, she's with Selasi from last year's Bake Off. Boxing Day has Clara Amfo going through The X Factor on Music By The Numbers (Radio 1).
The highlights next weekend: Pointless Celebrities and Partners in Rhyme (BBC1, Sat). The Chase (ITV, Sun) – and it's all over the Challenge channel for three days. Christmas University Challenge begins (BBC2, Sun), and we have Blind Date (C5, Sat).
Christmas Day: lots of repeats on CBBC in the morning. The big hitters are Strictly Come Dancing (BBC1, 6.30) and Bake Off (C4, 7.40).
The Big Fat Quiz of the Year takes its usual spot on Boxing Day evening (C4). Celebrity Mastermind (BBC1) and World's Strongest Man (C5) both kick off on Wednesday. There's a celebrity edition of Celwydd Noeth (S4C, Thu), and 8 Out of 10 Cats Does Countdown (C4, Fri). On Saturday the 30th, Guess the Star (ITV), The Price is Right (C4), and Blind Date (C5).
The Week will take next week off, we'll recap the shows we loved and loathed somewhere between Christmas and the New Year. Whatever you're playing this season, good games to you.
Photo credits: BBC, Sky, Planet 24, BAFTA, Initial An Endemol Company, Love Productions.
To have Weaver's Week emailed to you on publication day, receive our exclusive TV roundup of the game shows in the week ahead, and chat to other ukgameshows.com readers, sign up to our Yahoo! Group.