Weaver's Week 2019-01-27
Last week | Weaver's Week Index | Next week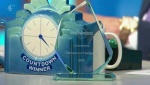 Numbers expert Rachel Riley had her work cut out with some tricky numbers games.
Championship of Champions 15
Quarter-finals
"If only I'd learned to spell," mused Jonathan Wynn after his quarter-final with Philip Aston. In round two, Philip had spelled the word "aeluroids"; Jonathan swapped two letters for "aleuroids". The word is about cat-like carnivores from the Americas about 34 million years ago, and Philip spelled the word correctly. That's an eighteen-point advantage, and accounts for the gap in Philip's 110-92 win. He'd scored the maximum in 11 rounds, including the opening round winner "Gamester". People play games professionally? Not on Countdown they don't!
Another close match saw Bradley Horrocks defeat John Cowen by 99-96. John had the night's first winning word, "Leucomas", but Bradley hit back with a sneaky six-small numbers solve. He had a two-point advantage for much of the game, it turned into a three-point lead after both players had a word disallowed late on. The crucial conundrum went unsolved.
There's no stopping Tom Chafer-Cook. Not in the quarterfinals, he beat Matthew Tassier 111-62. "Aphonia" the winning word in round one, "Operatees" a standout niner. As in the octafinal, Tom was perfect on the letters, but was bettered on some very difficult numbers rounds – it's perhaps the one weakness in his armour.
"Seismical". Zarte Siempre solved the conundrum to win the last quarter-final. Playing his great mate Tom Carey, Zarte opened with three niners and an eight – "Larcenous" was also spotted by Tom, but "Blowsiest" and "Divagated" evaded his opponent.
With both players on cracking form, the maximum rounds racked up. Tom would finish with 12, Zarte with 14. He missed perfection only from "Tiramasus". The mass noun can be pluralised under Countdown convention – if the producer can order two of them in the canteen, it's valid for the game. So the only differences were in three rounds, when a niner beat an eight.
Zarte's winning score is 150-122. One hundred and fifty is a new Countdown record score, eclipsing the marks set by Julian Fell in 2002, and Conor Travers in 2013. The stars aligned in a way they rarely do, and the right man was there to catch a shooting star.
Semi-finals
And the next day, Zarte Siempre came back. His opponent: Philip Aston. Again. These players met in the semi-finals last June, when Zarte won. They met in the heats last March, when Zarte won. Will there be a different outcome today? (SPOILER: No.)
Both players were perfect for the first five rounds, both missed a difficult second numbers game. Then Zarte made his move. "Modistes", the fashion club; "Sidearmer", one who has a sidearm. In two rounds, the gap has shoomed up to 26 points, and Philip is not going to close it. The duo are locked together for the remaining letters rounds, and Zarte scores on the final numbers. 106-73 the final score, a similar margin to their games last year.
Another re-match in the second semi-final: Tom Chafer-Cook beat Bradley Horrocks in the final last June. Tom picked up where he left off, with the winning word "Unasked". A winner in the very first round? There cannot be a better start.
After that, the show was flat. Flatter than a steamroller going through the polderland, flatter than this column singing "Too many broken hearts". Three letters rounds with a maximum of seven; one numbers round where two away is the best. Zarte needed luck to make his big score recently; this show has small points only. It only picked up a little afterwards: the numbers were possible, the letters were stuck in sixes and sevens. Bradley solved the third numbers game perfectly, and took a three-point lead into the final part.
The inevitable nine-letter word finally emerged in the penultimate letters game, "Imperials" scored both 18 points. Then Bradley struck gold with "Atheroma", something Tom didn't spot, and that proved to be game over. Tom solved the conundrum to narrow the gap, but an eleven-point gap was just too big. 111-110 the final score; both players were perfect in 13 rounds.
The final
Zarte Siempre and Bradley Horrocks met for the grand final. The culmination of three years' shows, and straightaway Zarte spots the winner "Hedarim". There's perfection on the letters rounds, correct solves of some numbers rounds. Both players have dubious words disallowed in the same round – neither "neurome" nor "wormen" are in the dictionary, not until someone's retconned a meaning to them.
Seven ahead from the start, Zarte consolidates his lead in the third numbers game, solving a deceptive three-large numbers game. Bradley knows he has to offer his best at every turn, but Zarte is always there to parry him, two fencers who will not give up an inch. It's spectacular television, it's extreme tension.
Bradley lunges in the final round, he offers "maided" just to remain with Zarte. It's not in the dictionary, and Zarte's final conundrum solve puts the icing on a 116-83 win. "Bonhomous", conducted in good humour, like this entire tournament.
Back on 6 August 2013, Zarte played Countdown against Dylan Taylor. Zarte was good, but Dylan was in top form, coming within one point of a maximum game. Though defeated in that series' final, Dylan was the Champion of Champions in early 2016. Zarte went away, practised some more, and turned "good" into "fantastic". It would be fascinating to see a rematch between these champions.
Such dreams are for the future. For now, let us hail the Greatest Countdown Player of the age.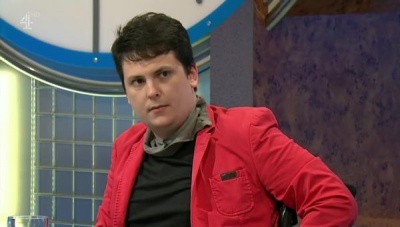 Elimination round, matches 5-8
Back before Christmas, Goldsmith's and Glasgow met in a match of two halves. Goldsmith's got off to a nightmare start, and at one stage trailed by 135 points, having three missignal penalties and no positive marks to show for their trouble. But Glasgow were never able to capitalise, often beaten on the buzzers and wrong in most of their bonuses. When Goldsmith's managed to get starter questions right, they soared back. It wasn't quite enough, Glasgow scraped to a 135-125 win.
This year, Durham played Keble Oxford, and Durham won by 200-100. The two halves here were "Durham win the buzzer race in the first half" and "neither side do much in the second half, perhaps they were all watching Liverpool – Wolves on the other side".
A Cambridge derby in the next match, Downing Cambridge against Darwin Cambridge. Easy first-round wins for both sides, and a feeling that this would have been better later in the series. Darwin had much the better of it, with a set on opera controversies to Downing's spelling of d̩partements du France. Ultimately, Darwin won the game on the buzzers, thanks to nine starters from Jason Golfinos, and 205-120 reflects their dominance. We've seen teams rely on one brilliant buzzer and come unstuck when he has a bad stack of questions РBalliol Oxford of 2001 spring to mind.
Warwick and Bristol played in the final match, and it was closely fought until the final minutes. "King George" "Which one?!", counties to border Wales, and events of 1962, such as the first episode of University Challenge. Bristol pulled away to win 190-125.
The group phase features these four winners, and the four winners from matches played earlier last autumn. We'll report on the first round of matches (no-one qualifies, no-one leaves) in four weeks.
Democracy Season
ITV had the ITV Network Television Awards this week. Very few surprises – David Walliams won Most Popular Judge, The Chase retained Most Popular Quiz Show, Ant and Dec were still the Most Popular Entertainment Presenters, This Morning is still Most Popular Daytime Magazine. The NTAs reward well-produced comfort television, and there's nothing at all wrong with popular programmes. Well done to all.
UKGameshows and Bother's Bar also had our awards, the Poll of the Year 2018. The Button was voted Best New Show, ahead of the revived Millionaire and singing show All Together Now. All of the top five look like they're coming back, except for The Button – maybe it will have a life on pay television, broadcast or otherwise.
The non-award for Worst New Show went to Wedding Day Winners, beating out For Facts Sake and Chase the Case. When BBC1 does shows well, they're rewarded; when BBC1 does shows badly, they're beaten up. There's very little ground between.
New categories graced the awards ceremony: Best Radio Show went to Just a Minute. The Best Online Web Click Click Click Thingy went to Lateral starring Tom Scott Of The Internet, just ahead of Fingers on Buzzers.
This column made notes from the live-stream. Inspired by Can't Sing Singers, we recommend our karaoke staple "Too many broken hearts" in the style of Jason Donovan before he took singing lessons. We agree with the panel that I'm Sorry I Haven't a Clue would benefit from new ideas, perhaps a new producer to replace John Naismith who has been in post since 1990. We link to our discussions of Fighting Talk in 2011, and Just a Minute in 2017, and regret the caption writer's inability to spell Prosiect Z. That's K-E-Y-N-S-H-A-M.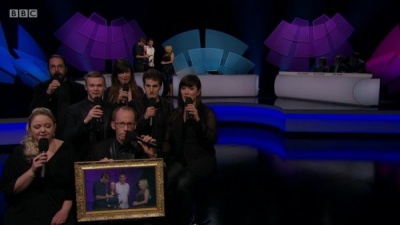 There was a major surprise in the Golden Five, awarded to the best show in production. There's been a swing against the Osman coalition, both Pointless and House of Games (3) had significant falls in their vote. The Jeremy Clarkson party has emerged from the marshes and claimed fifth place without evolving. The Rick Edwards party claimed third place – and that's without the international version of Wie is de Mol he hosts in an alternate timeline.
The Chase has been ousted as most popular game show, replaced by Only Connect. This isn't reflected in the ratings figures – both shows are still gaining more viewers than they're losing. This column suggests that healthy competition keeps all the shows on their toes; The Chase wouldn't be half as good as it is without the nudge from Pointless, and University Challenge has joined with Only Connect and its inclusive questions.
Here's to next year!
This Week and Next
TV Highlight of the Week: how Countdown contestants pass the time during simple rounds.
Good news for 5 Gold Rings fans, there will be two more series of the placement puzzle show. We hope that they'll get round to a Christmas special, with questions such as "where's the sixpence in the pudding" and "can you find the nice sweet in the chocolate selection?" Basically, we just want to see Schofe spend the whole show in a Santa hat.
And good news for international fans of Love Island; versions will be made for Polsat in Polish, and RTL in Dutch. Don't expect either to appear on ITVBe.
BARB ratings in the week to 13 January.
Call the Midwife is the largest show on television (BBC1, Sun, 9.1m). The top game is Dancing on Ice (ITV, Sun, 6.45m).
Next come the Saturday night crew: BBC The Voice (ITV, 5.85m) and The Greatest Dancer (BBC1, 4.95m). Top Richard Osman show was Pointless Celebrities (BBC1, 4.75m) ahead of Catchphrase (ITV, 3.65m). The Chase did better (ITV, Thu, 4.4m).
Top on BBC2 was Dragons' Den (Sun, 2.85m), with Only Connect (Mon, 2.3m) still ahead of University Challenge (Mon, 2.2m).
Channel 4's top game was Hunted (Thu, 2.25m). Catsdown in Friday primetime had 1.66m, daytime Countdown had 545,000.
Leaders on the digital channels: A League of Their Own Eurotrip (The Satellite Channel, Thu, 1.04m), imported Hell's Kitchen (ITV2, Wed, 530,000), and repeated Would I Lie to You (Dave, Sat, 405,000).
Missing Tenable (ITV)? That's back for your afternoon fun. Shipwrecked (E4) arrives each weeknight. Anne Hegerty fronts a new run of Brightest Family (ITV, Wed). And Countdown ends a remarkable month with its 7000th regular episode (C4, Wed).
We can't tell you what new show comes to ITV on Saturday night, because ITV has put it under embargo until Tuesday. Indeed, we can't even tell you if ITV is showing the England – Ireland rugby match that evening, that information is also embargoed. It must cost them a small fortune to police these restrictions and send the breakers to lands down the roads.
Photo credits: Yorkshire TV, Avalon, Panda Television (part of Objective Media Group, an All3Media company), RDF / Parasol.
To have Weaver's Week emailed to you on publication day, receive our exclusive TV roundup of the game shows in the week ahead, and chat to other ukgameshows.com readers, sign up to our Yahoo! Group.