Weaver's Week 2022-01-16
Last week | Weaver's Week Index | Next week
This edition of the Week is reviewing I Literally Just Told You. How do you know that?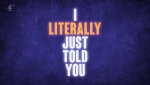 I Literally Just Told You
Expectation & Richard Bacon Media for Channel 4, from 16 December
The basic idea is incredibly simple. Contestants take part in a quiz, and are asked questions about what happens. All of the answers are in front of them, and a player who has an eidetic memory with perfect recall will always win. Two players with perfect memory will make a show that never ends: it's just one way this format can completely go off the rails.
Jimmy Carr is the host. Regular readers will know that this column has treated Jimmy Carr with an abundance of caution. On a good day, his deadpan snarking on dark topics can be painfully funny. On a bad day, he comes across as rude, snide, and the sort of person to make people feel small for no cogent reason. In small doses, and in a controlled environment like Blankety Blank, Jimmy Carr is fine. When he's on his own, we worry.
Jimmy Carr is not on his own
Mercifully, Jimmy Carr is not entirely on his own. The studio is populated by characters, most notably Emy Adamson and Maggie Aderin-Pocock the resident question-setters. Between them, these two are taking notes about everything that happens on the show, writing questions as we go along.
Jimmy also brings out some of the studio crew. That can be someone as famous as the format devisor and executive producer for Richard Bacon Media, Richard Bacon. Or it can be the studio runner Stan whose name was variously given on one episode as Emily, Dave, and Bill.
We've heard the answers already
Four players start the game, they sit on bar stools in a row on the studio floor. We see a short introduction clip about each player, where they're from, what they do, a joke about them. And then the first round of question: every player is asked a question about another player's clip. £250 for a correct answer, a bit of ridicule from Jimmy Carr if you're wrong.
The core conceit of I Literally Just Told You is that the contestants see all the answers before hearing the questions. The "Money Builder" round is a "this, that, or the other" decision. Is a famous person dead, alive, or fictional? Are this couple married, divorced, or never an item? The programme is part of Channel 4's youth strand, it goes out as an alternative to News at Ten, and the questions in this segment tend towards celebrity and such fluff. There's often some discussion around the questions, prepared facts and impromptu riffing provide ammunition for the later rounds. £250 for each of five decisions.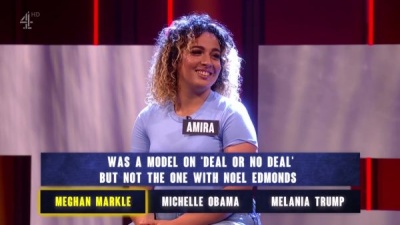 That's right, Meghan Markle was on Deal or No Deal (but not the one with Noel).
After this comes a memory round, based on what we've seen in the show so far. There are questions about the right answers. There are questions about the incorrect answers people gave. There are questions about random things that happened, like the spontaneous discussion that happened around the questions. Maggie made a throwaway remark about meeting a celeb at an awards ceremony, but it stops being throwaway when we're asked which ceremony. £500 for these three questions, marked with tense lighting and Jimmy walking down the line.
The lowest-scoring contender is eliminated at this point, with a tie-break if needed. Questions cannot be handed over to the others, there are no buzzers at all in this game. Which can be a bit unfair if one of the contestants gets particularly difficult memory questions, though there are a) independent adjudicators to help ensure fair play and 2) they're only easy if you know the answer.
It's now almost twenty minutes into the programme. Jimmy throws to a break, but a caption warns us "This may not be a real ad break". The steadicam operator rushes onto the set, everyone swigs from their water bottle, and Jimmy does an appeal for a charity. And then he breaks the news to the contestants: that wasn't a real ad break. He'll ask them questions about that fake ad break after this real ad break.
I Literally Just Told You demands attention
One question each about the fake break, for £750. Then it's another round of "this, that, or the other" questions for £750 each. After another (real) ad break, there's a filmed insert – Fred Siriex talking about François Mitterand, or a film starring the Green Cross Code Man – before another round of memory questions based on anything in the show so far. We're up to £1000 for the first three rounds, and £2000 for the final question. At the end of this, the top two scorers go through to the final.
The final: contestants choose three questions from a selection written by Maggie and Emy, and ask them to each other like in a penalty shootout. The winner scoops the cash earned by both players. In theory, there's £25,000 to be won, if both finalists have played a perfect game. In practice, the winner tends to be somewhere in the £15,000 to £20,000 range: a very tidy sum for anyone.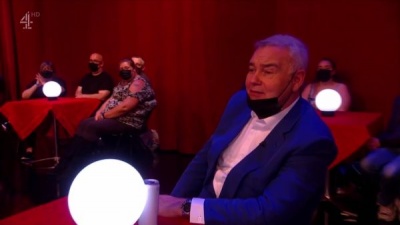 Eamonn Holmes shows his standards of pro-social behaviour to explain where he is today. Wherever that is.
I Literally Just Told You is a show to watch carefully. It demands full attention, complete concentration. Someone is going to say something, and it could be vitally important in the next memory round. It could be crucial in the final test. And, for the players, there's a lot to remember – we viewers only see the most important 40 minutes of filming, the players have to remember everything that's happened through a whole day.
Does the show work for people joining part-way through? Certainly it's more difficult to play along, but you can still enjoy Jimmy Carr being Jimmy Carr.
Each episode builds up a motif, a recurring comedy theme runs through the episode. It's like on The Wheel, where Michael McIntyre will repeatedly call back to some throwaway line someone made in the first few minutes. For the first televised episode, the theme was "the one where they're doing very well", Jimmy let the contestants answer questions correctly.
Later in the series, there was "the one with celebrities", and "the one where Eddie entertained everyone, but was let down by sloppy question editing". What happened? Eddie was asked how old Ariana Grande was, but this hadn't been included in the conversation in the studio, and the verifiers hadn't picked up the mistake. Eddie got his money, and a moment on stage with Jimmy Carr at the Millennium Dome.
"An hour of Jimmy Carr punching down"
Episode two was "the one where the format fell apart". Not because the contestants had memories like an elephant: quite the reverse. Memory rounds were marked by a string of incorrect answers, and scores so low that the England cricket selectors were interested. Our friends at Buzzerblog called it "the funniest game show episode in years". This column was spoiled by social media and being away for Christmas, and knew roughly what happened before we saw it. We found it jaw-dropping, and felt quite grubby having our jaws dropped in this way.
A regular correspondent crystallised our problem:
It was as much an hour of Jimmy Carr punching down as I had feared.
I absolutely feel for the contestants; they're bright people, but that must be such an atmosphere that it's very easy for the players to panic and get into their own very negative headspace, thinking about nothing other than their inability to remember.
The show does nothing obvious to help them out of that headspace and show what they're capable of; it doubles down on the overload. Channel 4, like other broadcasters, have duty of care obligations, and I hope that they are thinking hard about how they may, or may not be, following them in this case.
There were points where I was laughing; one where Jimmy Carr does some quite meta jokes about Hitler, and where Jimmy Carr cannot believe the absurdity of the questions he's asking and so cracks up while asking them. This isn't a justification.
The show leaves a lot of questions unanswered about context, and we might consider the concept of laughing at people in stressful situations at large.
Producers need to be seen to be careful with their contestants.
This column has said before that producers need to be careful with their contestants, in a way we hope is happening here. Perhaps merely being careful is no longer enough, and producers need to be seen to be careful with their contestants. Yes, it's true that Jimmy Carr did point out that they'd selected easier memory questions for the last round. But he did it in a sarcastic, almost bullying tone.
Did it actually help the contestants to say "Now, because you've all been so bad this evening, we've changed the format. We've made the questions easier for you. That's how bad you've been." Audience laughter. Jimmy Carr slaps his hand as he says, "You. Broke. Our. Show."
It's a shame that the "independent adjudicator" is not also able to act as an independent advocate for the contestants, in the way Walk the Line had a Welfare Producer. Maybe there's a gap in the market for such services to be offered by third parties; we can understand if adjudicators Beyond Dispute would not wish to add contestant welfare to their portfolio.
Ultimately, we have to ask: if I Literally Just Told You was hosted by someone else, would it be the same show? Can we imagine Michael McIntyre's I Literally Just Told You descending as quickly into bizarre television? Would Kemah Bob be able to be as engaging and entertaining? How would Chris Evans be able to bring something unexpected? What would Sue Perkins' show look like? We'd actually like to see all of these programmes.
But the choice is between Jimmy Carr's I Literally Just Told You or no show at all. And given that alternative, we have to pick Jimmy Carr's I Literally Just Told You, warts and problems and tax-dodging host and all. Rightly or wrongly, Jimmy Carr is the right host for Channel 4, he's the right host for the 10pm slot, and the show would not be on air without him.
I Literally Just Told You is certainly worth a watch; this column is prepared to live with problematic faves being problematic. Every episode's been worth a look, and we hope for a further series.
Voting has now closed for the UKGameshows/Bother's Bar Poll of the Year. The ballots are now being counted and verified, and the results night programme will air at 9pm on Monday night.
This column is one vote amongst many, and here's how we cast our ballot.
Hall of Fame for Best New Show of 2021
All of these shows were authentic, they built out from a clear and coherent central idea. All of the shows had an element to make us smile, whether it's the physical comedy of Apocalypse Wow, or the upfront comedy of Quizness, or the gentle wit of The Answer Trap.
We narrowed the shortlist down to six: Moneybags is the show to fall, because it waved huge sums in our face and never seriously intended to deliver them. If there's a big prize, there's got to be a credible path to win it. Others we considered were Outsiders, Handmade, and Can I Improve My Memory?. I Literally Just Told You, like Lingo, fell away because we like the show but we'd much rather watch the show in our head – whether that's without Jimmy Carr, or with some actual element of the titular bingo.
Hall of Shame for Worst New Show of 2021
We've critiqued Walk the Line and Moneyball recently, and we fully expect Bank Balance to win the category. The Complaints Department showed Comedy Central at its weakest: formulaic ideas, predictable bookings, celebrities punching down is not funny. TV Showdown with Paul Sinha was a rush production at the start of the year, and it felt like a rushed production, joyless to watch and with no atmosphere. We hope the second series is better, we'd love a good Telly Addicts revival.
Others on our longlist included The Masked Dancer and Ready to Mingle. We considered putting Murder Island on both lists: it was a tremendous artistic achievement, but had zero playalong value.
Golden Five for Best Show on Broadcast Media
The common thread here is the warmth of human connection. Whether it's the entire civilised world uniting to say "What's with the walking hand?", or millions of people gathering to be stumped by impossible questions, or Tom Allen going 15-to-the-dozen with a fast-paced quiz.
Hewlfa Drysor gets a vote, it's the Welsh-language treasure hunt in a car. Allowed us to peek at places we didn't know, and tap into local lore we would never have been aware of. Just a Minute had a very good year, picking up with guest hosts in a tribute series to Nicholas Parsons, then allowing Sue Perkins to take the chair.
If we had six votes in this category, we'd have added CBBC's Crackerjack!; it loses because we watched for the comedy and not really for the game. No space for House of Games, in part because we want to shake up the G5 and in part because there's been just too much and in part because the guests haven't been as much fun. Pointless had a better year than House of Games, the jackpot jumper has allowed the main game to be a little bit tighter, Alexander doesn't waffle quite so much. The Wheel and Lightning also got serious consideration.
There's also a Best Non-Broadcast Media category. We didn't vote in this section, because there have been so many broadcast shows we can't spend enough time with Ash and Dan and Royal Flush and Fingers on Buzzers and I Got That One and Het Jachtseizoen.
But enough from us, the Poll of the Year 2021 winners are announced tomorrow night.
In other news
"Like Ali versus Foreman" – Richard Osman
Quizzy Mondays had two titanic battles. On University Challenge, Reading beat Birmingham by 35 points. It turned out to be a one-question shootout, although the "one question" was the penultimate starter. We'd wondered what would happen when Birmingham met a team that could use a buzzer, and now we know. Plenty of great buzzes – "tabernacle" was a great spot for Michael Joel Bartelle of Birmingham, while Reading's captain Michael Hutchinson thought on his feet, and came up with "kernowite" after he'd buzzed.
Both teams leaped for the buzzers when Paxman asked about the RICE method of treating sprains: rest, ice, compression, elevation. The host didn't know that one of the producers had sprained an ankle just before the show, and been treated by the Granada Studios' duty medic, muttering precisely that acronym. Ultimately, Birmingham lost from their poor bonus conversion rate, 50% included a run of nine dropped bonuses.
Only Connect had the second semi-final, Data Wizards beat the Ramblers by 24-22. Perfection on the walls, Gefragt-Gejacht (German for The Chase) in the connections, and a throwback to much earlier in the series in sequences. Back in episode 2, the Gamemakers recognised a wall group of fictional pigs, including Wilbur from Charlotte's Web; this week, we recall the messages written in the web.
By comparison, a quotidian episode of Mastermind, won by Lucy Westall with a very impressive display of quizzing knowledge – both on the films of Pedro Almodovar and a dozen of general knowledge nuggets.
Again, we wish the specialist questions could be that little bit more concise. It was brought home in the specialist round for runner-up Morgan Walmisley-Davies. His final question began just before the ten second countdown, during which the scorebox changes colour, and we could see the box drain of colour as Clive Myrie asked the War and Peace of questions. Which would finish first? And how come the questions are so prolix?
The Voice of Holland of the Netherlands shut down. RTL has stopped broadcasting The Voice of Holland after serious allegations were made. BNNVARA's investigative programme Boos has alerted RTL to a "very serious and shocking" claim, involving various people including the leader of the live band. While an independent investigation takes place, the show is off the air.
"For whatever reason, despite your expensive education, you've got it wrong. You are then, because of a personality flaw, unable to climb down and admit it. So, both of those things combined, mean this is where we find ourselves." Richard Osman also skewered the chances of a sometime Have I Got News for You host reaching high office: this time, Alexander Armstrong. Not that any other high-profile HIGNFY hosts are set to cause a vacancy.
Tonight, Dancing on Ice begins a new series (VM1 and ITV): let's hope for smoother ice than last year. An old friend returns, Watercolour Challenge has been picked up by Channel 5 (weekdays), and we think it could prove a gentle hit. S4C finds something new to do with a successful walking show – turn it into a dating format. Am Dro Cariadon (Thu) is just about the only way for people to meet in Wales right now.
Next Saturday's The Weakest Link features Marcus Brigstocke and Tony Blackburn; The Wall Versus Celebrities has Storm Keating and her husband Ronan; Pointless Celebrities is the mixed bag kicked into touch by the football last week; The Wheel features Dermot O'Leary and Nikki Fox. Over on ITV, Stephen Mulhern's Celebrity Catchphrase has Roisin Conaty, Limitless Win continues, and The Masked Singer features tomorrow's answer on Wordle.
We don't intend to publish next week, as we want to properly honour the Only Connect final on 24 January.
Pictures: Expectation & Richard Bacon Media, Talpa (a division of ITV Studios).
To have Weaver's Week emailed to you on publication day, receive our exclusive TV roundup of the game shows in the week ahead, and chat to other ukgameshows.com readers, sign up to our Google Group.