Weaver's Week 2020-12-13
Last week | Weaver's Week Index | The Week of the Year
This column's lottery numbers are e, π, g, φ, 1/p, and the Erdõs-Borwein constant. Will any of them appear in today's winning line?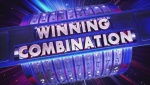 Potato for ITV, 16 November – 11 December
Around this time last year, ITV tried something different in its afternoon schedule. The Switch was a decent idea from an ITV Studios company, but felt confusing and looked cheap on screen. Host Sanjeev Bhaskar wasn't in comedy mode, and the show sank without trace. (Or, indeed, without a review in this column: it's been accepted for the A-Z entry.)
This year, ITV tries something different in its afternoon schedule. Winning Combination is a decent idea from an ITV Studios company. It's got an equitable tempo, and looks exactly as we'd expect a daytime show to look in 2020. Host Omid Djalili drops in a few comedy one-liners. Is that enough to earn a second series? Might well be.
Nine contestants come to the studio. They'll remain with us for the entire show, and be gone by tomorrow. Before the programme began, each contestant was assigned an integer from 1 to 9. They stand behind a podium bearing that number, and their number shows as they give their name, location, and occupation.
Omid Djalili starts us off with a question on the buzzer. Whoever gets it right is going to play the first board: six possible answers, of which only two are correct. Find both correct solutions to progress to the next phase.
Winning Combination has two unusual features, and this board round is one of them. Six artists, which two are French? Six musicals, which two were written by Andrew Lloyd Webber? It's different from straight question and answer, which is always a welcome bonus. The answers tend to be carefully graded, so that one is obvious ("Evita" for Mr. Lloyd Webber's works) and one requires a bit more thought ("Starlight Express", wasn't it?)
Find both right answers on the board, and you're through to the battle round. Give an incorrect answer and you're straight back in play for a buzzer question. Mess up a buzzer question and you're frozen out of the next one – and as the buzzer questions tend to be easy, you're effectively frozen out of the next board.
So, eventually, we find five players able to give correct answers to board questions. They'll play in the first Battle Round. Each player starts with four points. Give a correct answer and you pilfer a point from an opponent you nominate – it's a peg-back-the-leader round writ large. Make a mistake and you're docked a point. Whoever's in the lead after two minutes will win the round, Omid will ask a tie-break question if he needs to.
The winner of this round is going to play in the final combination at the end of the show. They need to pick a position: Thousands, Hundreds, Tens, and Units. Remember the digit everyone got at the start of the game? This is where it comes into play, because it's the prize the finalists play for at the end of the show. This is the other innovation from Winning Combination: the contestants form their own prize.
Tactics tend to be clear. So if you're a 9, stick yourself in the Thousands, guarantee a prize fund of over £9000. When you're a 4, you should have an inkling about which other players are more likely to qualify, and that'll help decide whether to put yourself in Tens or Hundreds.
The player in the combination is through to the final, and can sit back. The remaining players start over: use buzzers and boards to find five players for the second battle, from which another emerges and puts themself in the combination. And continue for the third and fourth digits, spiralling towards the end game like matter circling a black hole.
Omid Djalili hosts with a deft touch. He's an assertive character, asks the questions with authority and clarity. He'll make sure to talk to each contestant at some point in the game, and gives little one-liners from time to time. He's able to make people feel at ease, and to entertain as he goes along. The pace is good – swift without ever being so fast we lose our breath.
Of all the shows, we're reminded of Going for Gold – a host with a good deal of wit, a format that is just a little too short to fill the time available to it, and contestants who remain with the programme until they've had four chances to win through to the final.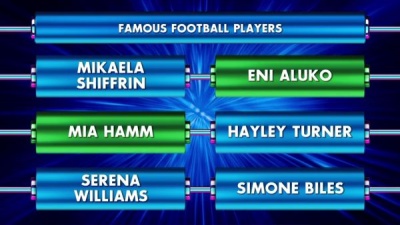 Here's the answer from earlier: Akulo played for Chelsea and Birmingham, Hamm in Major League Soccer.
The final on Winning Combination can be tense. It would be much tenser if ITV was canny about where to put the slide saying "Next: it's Tipping Point" – don't put it a fixed distance from the end, but while Omid is explaining the rules to this final round. Tell the viewers, "Yeah, this rules bit is bo-ring, but look! Tipping Point is on after the weather forecast!".
Where were we? Each contestant in the combination has a number, and must answer that many questions correctly to release the prize. You've come into the final as a 4? You need to get 4 questions right. The player in the Units position goes first, if they succeed then play passes to the Tens, the Hundreds, and the Thousands.
The final is a timed event, and timed in an interesting way. The finalists start with 30 seconds on their shared clock. Time runs down while Omid asks the question, while the contestant answers, and if Omid needs to give the right answer. A right answer from the contestant adds 5 seconds to the clock. Once the player in Units has done their bit, the clock stops, and that remaining time is passed to the Tens. The time cannot rise above 30 seconds, which feels like a little bit of a swizz.
It's a properly tense endgame: the game remains winnable until the team have lost. 30 seconds' grace allows for seven errors across the team, perhaps more if you're quick on the right answers. Not knowing how much longer is left in the show adds a lot to the excitement.
As it turns out, winners on Winning Combination are pleasantly rare – there's about one victory a week. It's an achievement to win the show, and the achievement's rewarded by cash. It's cash shared between the players – somewhere in the range £2000 to £2400 each.
Over the course of the hour, we become familiar with many of the players, we're surprised at what they do know, and depressed by what they don't know. The boards are interesting – and are slow enough to play along at home. The battle rounds are fast and furious, and designed so that the lead is in doubt until the very last moment.
All things considered, Winning Combination is a worthwhile format. It's one we can see coming back next year, in a way we couldn't see The Switch returning.
The Album Charts
Our annual look at the LPs, CDs, and cassettes released by stars of game shows.
"Music Played by Humans" is the confident title of Gary Barlow from The X Factor and That Show Where They Find A Take That Tribute Band Without Ever Mentioning They Haven't Got Any Lines. Played by humans, but agreeable to none.
Michael Ball (Eurovision Song Contest 1992) is recording with Alfie Boe on "Together at Christmas". Their old album "Back Together" is also selling into the top 100.
Cliff Richard (Eurovision Song Contest 1968, 1973) is still in the recording studio, "Music the Air That I Breathe" his new LP.
Little Mix won The X Factor in 2011. Nine years on, their latest album is "Confetti", another strong collection of songs. From the previous year's series, Harry Styles is still selling "Fine Line".
The house band on Dick and Dom in Da Bungalow were Creamy Muck McFly; "Young Dumb Thrills" their new release.
Sheku Kanneh-Mason from Young Musician 2016 has worked with his siblings, Michael Morpurgo, and Numberwang star Olivia Colman on "Carnival", a version of "Carnival of the animals".
Former Deal or No Deal researcher Robbie Williams put out "The Christmas Present". The Banker's nemesis, George Michael, is credited on the "Last Christmas" soundtrack album.
ABBA "Gold – Greatest Hits" is still selling for the Eurovision Song Contest 1974 winners. No release on this side of the channel for Ériu, the new album from 1996 ESC winner Eimear Quinn.
Amanda Holden's put out an album. The Got Talent judge recorded "Songs from my Heart", perhaps she might like to make songs from her mouth next time.
Speaking of second attempts, Chris Kamara has been allowed into a studio again. The Ninja Warrior reporter wishes us "...And a Happy New Year". It's into the album charts at number 90, with an anvil.
In other news...
Luke up! In his Countdown heats, Luke Johnson-Davies was a very strong player. 1024 points, and an average of 12 maximum rounds per show. Luke's had a year to polish up his performance, and return for this week's quarter-finals. On his return, Luke scored a maximum in every single round, which made for the first Perfect Game in six years.
Luke hasn't won the series yet, it doesn't finish until next Friday.
Nick's off Nick Hewer is to leave Countdown at the end of next year. During this year's enforced downtime, the host has been forced to consider his advancing age this year, and has concluded that ten years is quite long enough in the Leeds studio. Speculation is rife as to who will host the show, which shows just how important Countdown is to all viewers, even those who don't watch it.
(And if anyone cares, we're fine with Colin Murray, especially if they invite Edith Bowman for Dictionary Corner.)
The Chase is Statistically On A wonderful post from Matter of Stats, which tries to work out a probability of each Chaser winning an episode, given the number of players in the final and the target they've set. The post also posits a ranking of Chasers from best to worst.
At one point, this blog had a little thought game for Final Chases. After the team's set their target, offer each player a cash amount to leave the game and not take part in the pushbacks. This post gives some guideline prices. For example, Jenny Ryan facing a team of three, £45,000 and a target of 20? She'll pay anyone £6000 to leave right now, and still be quids in over the long run. We're glad ITV didn't go down that road, The Chase is not Divided, it's all about teamwork and not personal reward.
No game show winners in the Rose d'Or awards. Studio Entertainment went to the nostalgia-reunion show The Wonderbox, Children's to First Day, and Innovation to James Corden.
Some more press releases have come fluttering in. Just a Minute will return to Radio 4. They can't possibly replace Nicholas Parsons with one person, so they'll have a Host of the Week. Names already tapped for this role are Paul Merton, Gyles Brandreth, Jo Brand, Lucy Porter, Stephen Fry, Nish Kumar; others are to be nominated by the Comedy Controller.
ITV have talked about their plans for the new year. The Real Games will be hosted by Holly Willoughby and Freddie Flintoff, the Jayne Middlemiss and Jamie Theakston of the moment. The series was originally planned for summer 2020, but, you know...
What's on the telly?
We have a new show this week! Chef vs Corner Shop (C4, weekdays) challenges a chef to find a cheap meal in a corner shop. With the calendar resolutely showing "December", it's the season for Strongest Man (C5, Mon) and I'm a Celebrity A Castle Story (ITV and VM1, Sun).
It's also the season for festive specials. Gigglequiz, Hey Tracey, and There's Something About Movies all have theirs on Wed, A League of Their Own, Celebrity Juice on Thu. And it's finals week: Masterchef The Professionals, Taskmaster, Countdown, and Portrait Artist of the Year all announce their winners.
Christmas week begins with Celebrity Mastermind (BBC1, Sat) and the Strictly Come Dancing final. Two members of McFly take on The Cube, and Bradley Walsh tells us How to Win a Game Show (ITV, Sun). Celebrity University Challenge begins (BBC2, Mon 21st), it's The Big Quiz (2) on ITV with Stephen Mulhern, and 8 Out of 10 Cats Does Countdown (C4). There are Celebrity Masterchef special episodes (BBC1, Mon and Wed).
Rejoice! A QI special is on BBC2 (Wed 23rd). Christmas Eve gives us The Wall Versus Celebrities (BBC1), Celebrity Catchphrase (ITV), Would I Lie to You at Christmas (BBC1), The Price is Right (ITV), and 30 Years of Have I Got News for You (BBC1). The highlight is The Christmas Bake Off (C4).
Christmas Day includes Tenable and The Chase (ITV), Strictly Come Dancing clip show (BBC1). Michael McIntyre spins The Wheel, and Bradley Walsh hosts Blankety Blank (both BBC1). There's a Got Talent Christmas spectacular (VM1 and ITV). Regionalia has the final of Irish talent show Réalta Agus Gaolta (TG4) and celebrity quizzing with Mastermind Selebs Cymru (S4C).
St Stephen's Day on the 26th includes In for a Penny in Bath, another The Chase Christmas Special, and the first in a new series of The Masked Singer (all ITV). World's Strongest Man kicks off (C5), and Sewing Bee has a celebrity special (BBC1). Family Fortunes and Millionaire both have celebrity editions (ITV), and The Big Fat Quiz of the Year comes to C4. Sunday 27th has The Chase The Bloopers. Boxing Day on the 28th has Richard Osman's Ho-Ho-House of Games (3) (BBC1).
We'll pick up the rest of the festive break, and the new year schedule, when we publish the Week of the Year on the 27th or 28th. Until then, we wish you compliments of the season, however you're celebrating it this year.
Photo credits: Potato, BBC Studios Entertainment, Thames.
To have Weaver's Week emailed to you on publication day, receive our exclusive TV roundup of the game shows in the week ahead, and chat to other ukgameshows.com readers, sign up to our Google Group.